14 Shade Tolerant Water Lilies
Many pond owners opt to locate their water garden in a shady location of the yard. This way, they can enjoy watching their fish while being protected from the heat of direct summer sun. While a shaded pond is ideal for cooling off in the summer, it can pose a problem for enjoying the beauty of water lilies. Most water lilies typically need a minimum of six hours of direct sunlight in order to produce beautiful blooms. Fortunately, there are a few hardy varieties that will bloom their hearts out with as little as three hours of sunlight per day. Following is our list of favorite shade tolerant water lilies categorized by color, along with their sunlight requirements.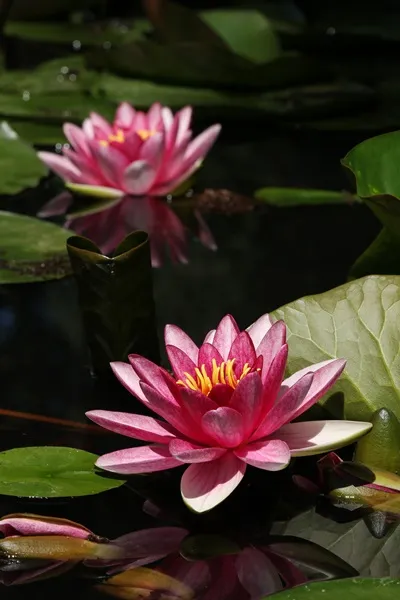 Red
James Brydon – 3 hours sun
Little Champion – 3 hours sun
Red Attraction – 3 hours sun
Yellow
Comanche – 3 hours sun
Texas Dawn – 3 hours sun
Joey Tomocik – 3 hours sun
Pink
Somptuosa – 4 hours sun
Arc-en-ceil – 4 hours sun
Peach
Peaches n Cream – 4 hours sun
Sioux – 4 hours sun
Miniature Varieties
Berit Strawn – 3 to 4 hours sun
Graziella – 3 to 4 hours sun
Helvola – 3 to 4 hours sun
Hermaine – 3 to 4 hours sun
Toss aside the notion that you can't enjoy water lilies if you have a partially shaded pond. You can find shade tolerant water lilies at your local water gardening store, or you can order them online from a reputable aquatic plant retailer.

More Water Lily Articles:
Why Choose Tropical Water Lilies
Related posts
Aquatic plants are a very important step in achieving a truly balanced ecosystem pond. Regardless of why you got into the water gardening hobby, adding aquatic plants to the pond is an important part of the water garden.

Waterlilies come in a variety of colors and are easy to grow, making them a favorite choice among water gardeners. If you'd love to try your hand at growing these beauties but don't have a pond yet, you can grow them in a large water-tight container and place them anywhere in your landscape – although…