The Aquascape Pond De-Icer prevents winter fish loss by keeping a hole open in the ice during the cold winter months.  The Pond De-Icer helps ensure there is sufficient oxygen levels and proper gas exchange in the pond helping to prevent fish loss…even during extreme weather conditions.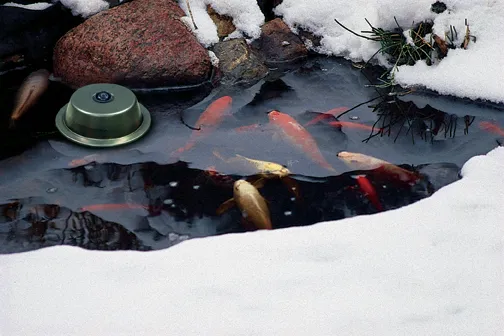 Energy Efficient
The Aquascape Pond De-Icer is energy efficient, requiring only 300-watts of electricity.  The low energy consumption of the Aquascape Pond De-Icer results in a heater that costs 5x less to operate than traditional Pond De-Icers you would find in the market.
Stainless Steel Construction
The Pond De-Icers stainless steel construction is extremely durable and prevents corrosion, cracking or issues caused by extreme weather.  A built-in LED light at the top of the De-Icer allows you to look out the window of your warm home and see that the De-Icer is still operating.
Taking the time to properly prepare your water feature for winter will make sure the fish survive their winter slumber.
Watch the Aquascape Pond Squad video and see how to properly install the 300 Watt Pond De-Icer.
Related posts
Your pond pump is one of the most important pieces of equipment in your pond, so why not learn how to take care of it properly?

BioBalls are a great addition to your pond filtering system.

With today's busy lifestyle, it can be difficult to enjoy your pond during the day. Underwater lights create a whole new experience by your pond after the sun goes down.