Imagine sinking into your favorite Adirondack chair and propping your feet up by the pond as the sun slowly disappears below the horizon. Without having to peel yourself from the chair to flip a switch, your pond takes on a new life as the twinkle of lights behind the waterfall pop on. You catch a glimmer of koi dancing around light beams under the pond's surface.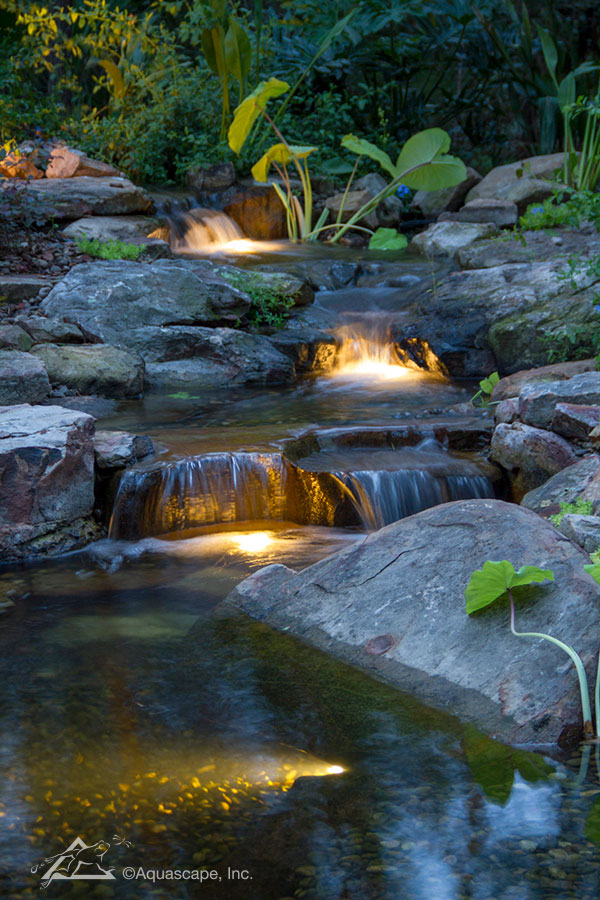 With today's busy lifestyle, it can be difficult to enjoy your pond during the day. Underwater lights create a whole new experience by your pond after the sun goes down. And if you opt for LED lights, you'll save on energy costs while lengthening your hours of pond enjoyment.
Aquascape LED lights use approximately 80-90% less electricity and last 10 times longer than their halogen counterparts. This is especially advantageous in a water garden setting where a submerged light can be difficult to access. The new Pond & Landscape LED Light Kit is a great choice for those looking for convenience in lighting options.
The Aquascape LED Garden and Pond Lighting Kit is preassembled and pre-wired making installation a snap. Simply plug in the transformer, and your lights are ready to go. The kit includes 3 single-watt LED light fixtures. Each fixture includes a high-output LED light combined with an optical lens, which provides an extremely powerful light output for such a small fixture.
The waterproof design of the LED light fixture makes the unit extremely versatile, allowing it to be submerged underwater, as well as used alongside the water to highlight waterfall cascades, fountains, or even plants and trees surrounding the water feature.
What's more, the Pond & Landscape LED Light Kit includes a built-in photocell that automatically controls the lights, turning the fixtures on at dusk, and off at dawn. The ability to use these lights above or below the water provides you with many creative ways to design them into any water feature setting.
Watch a short video about Aquascape's Garden & Pond Lighting System:
Related posts
Inspired by our own construction crew, the Aquascape Spillway Bowl, Basin and Stand allows for an unlimited amount of installation possibilities.

Your pond pump is one of the most important pieces of equipment in your pond, so why not learn how to take care of it properly?

The Aquascape Pond De-Icer prevents winter fish loss by keeping a hole open in the ice during the cold winter months.