Canna australis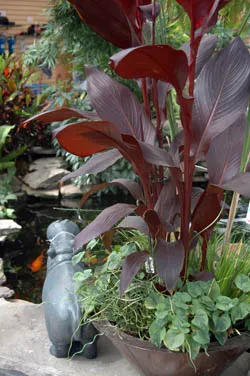 The leaves of any colored-foliage Canna can't be beat, but Red Leaved Canna (Canna australis) beats them all, and yes, it loves water! Dark, deep-chocolate, reddish leaves seem to radiate in the sun and are so thin they allow the light to shine through.
The plant produces an abundance of red flowers and, at three to five feet in height, not only does it make a great backdrop plant, it makes a big statement when used in a container water garden, too!
They enjoy full sun and grow at a medium rate. Butterflies and hummingbirds love this plant, which you can place in the water garden or bog, or even use in flower beds provided you keep their feet wet.
If you use tender Cannas in your pond or container water garden, you'll need to find an indoor spot to protect them from the winter in Zones colder than 6 or 7.
Related posts
From colorful water lilies that dance on the pond's surface to aquatic Forget-Me-Nots that hug the edges of your water garden, it's the amazing pond plants that put the "garden" in "water garden." You can apply many of

Summer has officially began! Your aquatic plants are looking healthy and beautiful. You may be considering adding more plants this summer but need help deciding on which ones would fit your water garden best. Here are a few favorites that may help you…

Often used as groundcover or as an accent plant in containers, Creeping Jenny fares excellently when used in water gardening applications.