Canna australis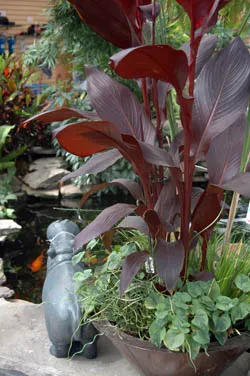 The leaves of any colored-foliage Canna can't be beat, but Red Leaved Canna (Canna australis) beats them all, and yes, it loves water! Dark, deep-chocolate, reddish leaves seem to radiate in the sun and are so thin they allow the light to shine through.
The plant produces an abundance of red flowers and, at three to five feet in height, not only does it make a great backdrop plant, it makes a big statement when used in a container water garden, too!
They enjoy full sun and grow at a medium rate. Butterflies and hummingbirds love this plant, which you can place in the water garden or bog, or even use in flower beds provided you keep their feet wet.
If you use tender Cannas in your pond or container water garden, you'll need to find an indoor spot to protect them from the winter in Zones colder than 6 or 7.
Related posts
Adding plants to your water garden has many benefits such as naturalizing the landscape, creating smooth transitions for edges and improving the water quality and ecosystem as a whole. But did you know that many common pond plants can be invasive…

Every water gardener has their favorite aquatic plants, but how well do you know the varieties available? Test your aquatic plant knowledge by taking our short quiz!

Is there any other aquatic plant as beautiful or graceful as the lovely lotus? It belongs to the genus Nelumbo and consists of only two species.