Is there any other aquatic plant as beautiful or graceful as the lovely lotus? It belongs to the genus Nelumbo and consists of only two species … the yellow-flowered American lotus (Nelumbo lutea) and the pink Asiatic lotus (Nelumbo nucifera). These two species have been grown and bred for centuries, resulting in hundreds of hybrids that range in size and color.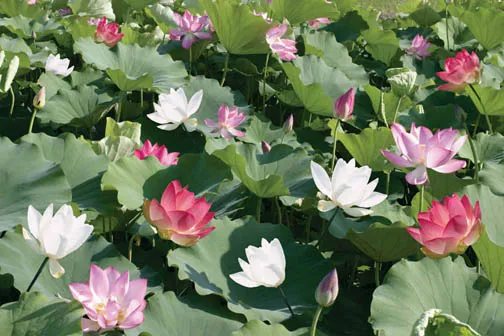 A sea of lotus are quite impressive in any pond or bog. These prolific plants will spread over the years so if you want to keep them contained in a specific area, it's best to plant them in pots.
If you plan to add a lotus to your pond or a container water garden, keep in mind that this beauty needs at least 5 hours of midday sun to bloom. Also keep in mind that fertilizers too high in nitrogen will hinder flower growth. Be sure to use a 10-14-8 Pond Plant Fertilizer formula, or similar.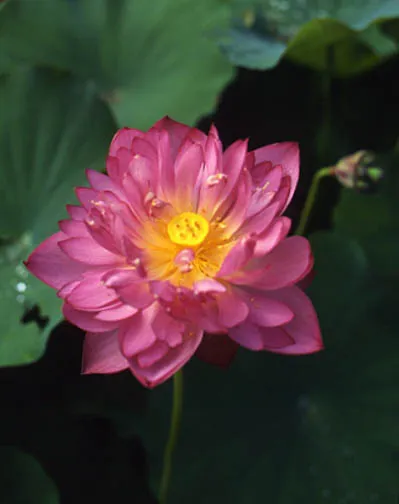 The Chinese Double Rose Lotus makes an impressive appearance in the pond, with its multiple petals and sunny yellow center. The flower is 10-12″ across and grows 2-3′ tall. The leaves grow up to 20 inches across.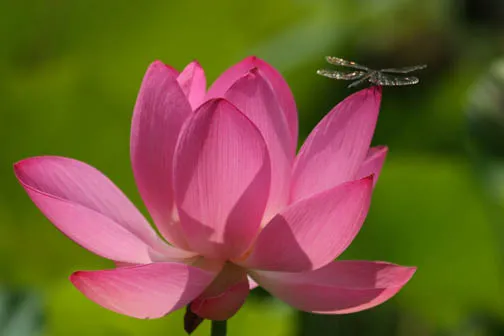 A beautiful pink lotus attracts a shimmering dragonfly for an afternoon rest.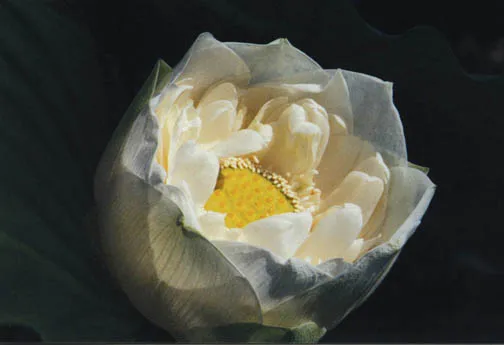 Even when not fully opened, the lovely Shiroman lotus displays an ethereal elegance. This double white flower contains over 100 petals!
A stunning pink lotus towers over a sea of beautiful Pink Grapefruit waterlilies. Aquatic plants are a great way to expand your gardening repertoire. Every avid gardener should have both terrestial and aquatic plants in their landscaping.
A half opened lotus resides next to a bud while the lotus leaves capture the remaining sunlight of the day.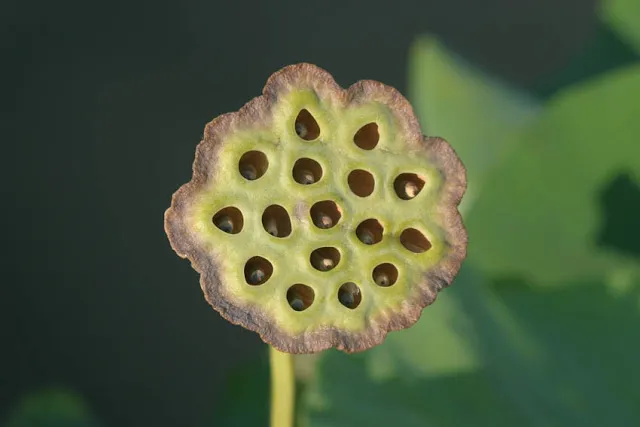 Even the lotus seed pod has a beauty all its own. Once dried, they make beautiful additions to floral arrangements.
You'll find a variety of lotus species to add to your pond or container water garden. Check with your local water gardening store for options.
Watch this time-lapsed video to enjoy a lotus opening its petals from bud to flower!
Related posts
Summer has officially began! Your aquatic plants are looking healthy and beautiful. You may be considering adding more plants this summer but need help deciding on which ones would fit your water garden best. Here are a few favorites that may help you…

Floating aquatic plants can be a very effective way of adding filtration and surface coverage to a water garden. Since these are free-floating plants (having no roots anchored in soil), they draw 100 percent of their nutrients directly from the water…

Aquatic plants are a very important step in achieving a truly balanced ecosystem pond. Regardless of why you got into the water gardening hobby, adding aquatic plants to the pond is an important part of the water garden.