Landscape Ideas: Small Space Water Features
Decorative water features are a unique and beautiful way to give your landscape a fresh face. Fountains and Patio Ponds are quick and affordable landscape ideas to add a splash of water to your outdoor living spaces. We've gathered some of our favorite small space water features to inspire you to add the sound of water to your gardens.
Our newest fountain is the Stacked Slate Sphere that looks great in any setting! Enhance a walkway or patio with this water feature that's available in three sizes. Group them together for a statement piece in your landscape.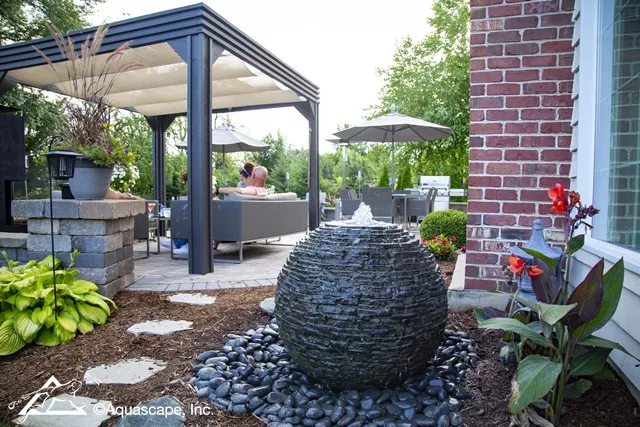 The Stacked Slate Sphere is available in three sizes and you can light it up at night, too. Birds and butterflies will visit the fountain for refreshment and you'll enjoy gazing upon its beauty both day and night. Fill an unused space in your yard with this stunning fountain.
Made with the same finish, a Stacked Slate Wall is impressive wherever you tuck it into your landscape. You can link these together to create a unique focal point. Of course, they look great as a single fountain too.
Decorative fountains are popping up in yards all over the country as more homeowners look for unique ways to improve the curb appeal of their house. An underground reservoir holds the pump and water that recirculates through the fountain. You'll find a variety of fountain styles to suit your taste and budget.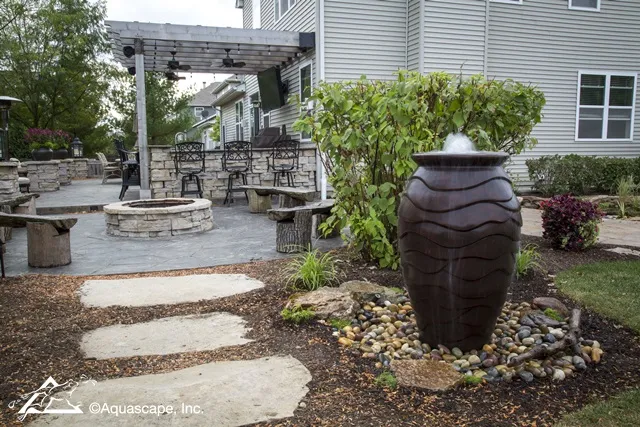 A trio of stone fountains welcomes visitors to this suburban home, adding to the home's value with its increased curb appeal. Rather than an expanse of grass or a large bush, the homeowners opted for beautiful fountain rocks which can be seen through their living room picture window.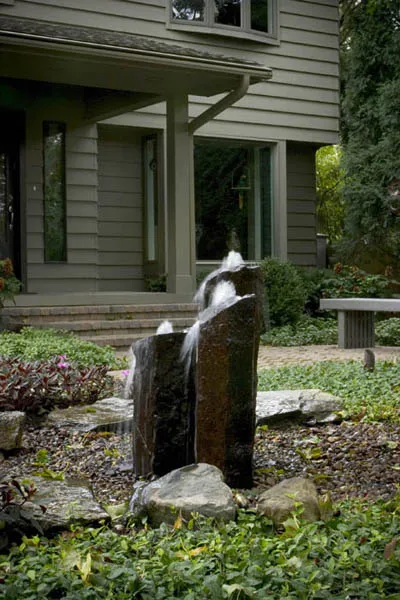 If you prefer something a little more elegant, you might enjoy a series of bowls spilling into each other. The best part of Aquascape Spillway Bowls is that you can link several together in a variety of patterns.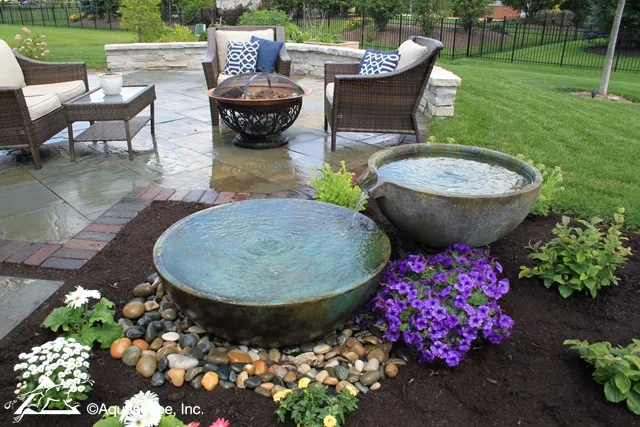 Birds and butterflies enjoy visiting outdoor fountains to enjoy a refreshing splash or nourishing drink. Every nature lover will enjoy the many benefits of decorative small space water features. And why stop with just one fountain?  Place them in nooks and crannies throughout your garden spaces.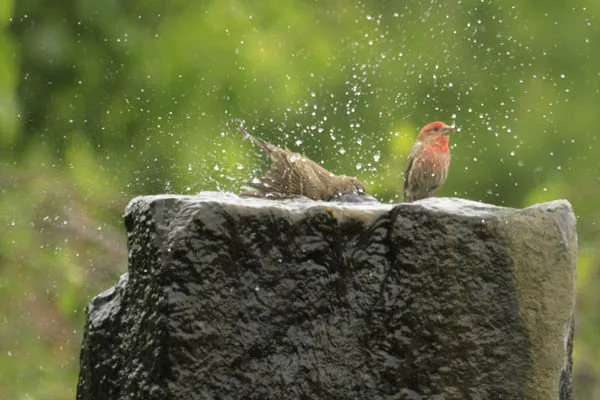 Miniature water gardens, also known as Patio Ponds, are becoming increasingly popular on patios and decks. These small-scaled ponds provide the opportunity to enjoy beautiful waterlilies in a variety of colors. You can even add small fish like Rosy Reds. Kids love watching the tiny fish swim and you can bring them indoors when winter rolls around.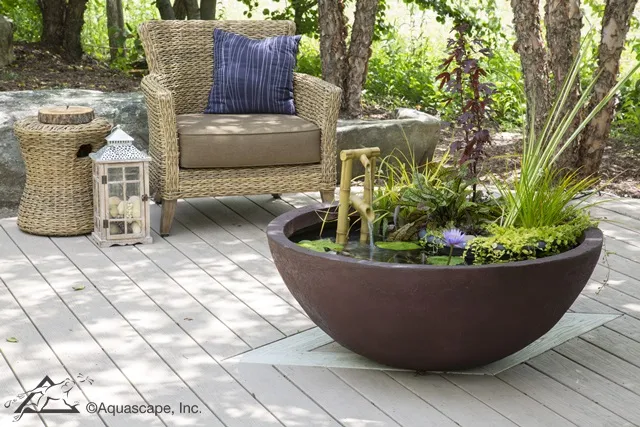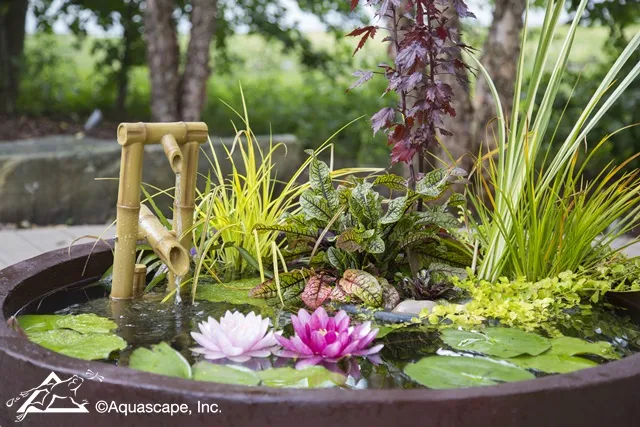 Whatever you choose, you're sure to enjoy the beauty and refreshment that a small water feature adds to your outdoor living spaces!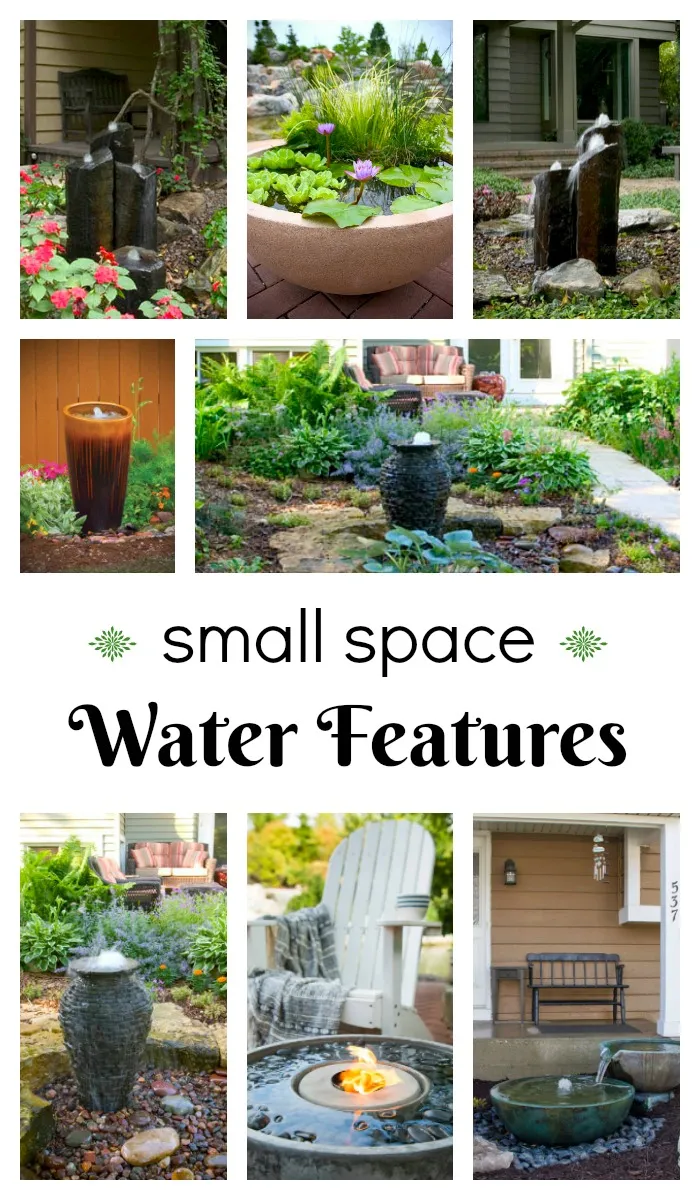 Enjoy more inspiration by visiting our backyard landscape ideas filled with water feature inspiration!
Related posts
Improve the appearance of your home by incorporating a waterscape into your front yard. Water adds a great touch to your landscape and can help make your home more inviting.

Newlyweds living in the suburbs of Chicago yearned for an entire backyard makeover after moving into their first home together.

You're finally taking the plunge. You've decided you want the soothing sound of water in your landscape but aren't sure where to begin. Start by asking yourself, "What made me think about adding a water feature in the first place?