Kids and Ponds: Let's Go Outside!
In a world of "tech neck," social media, and constant connection, it's far too easy for kids to overlook nature's beauty. Beyond being a welcome change of scenery from screens, ponds and outdoor play offer a multitude of other unique benefits for young minds. And now that much of our country is practicing social distancing, it's even more important to connect with nature.
What's the Problem?
Research from the National Recreation and Park Association (NRPA) shows that kids are spending less and less time in the great outdoors. On average, children only spend four to seven minutes of the day in unstructured outdoor play. Compare that to the seven and half hours, on average, that they spend in front of electronic media. The lack of physical activity could put children on the fast track for chronic diseases, including obesity. In 1980, 7 percent of children aged 6-11 were obese. In 2010, that figure had climbed to nearly 18 percent. The NRPA notes that this could create a troubling national trend for the future of conservation as well as health and wellness.
Fortunately, there are easy ways to turn this trend around – and now is the time to take action. Having access to a water feature, and the great outdoors in general, affords great ways to get kids outside and moving!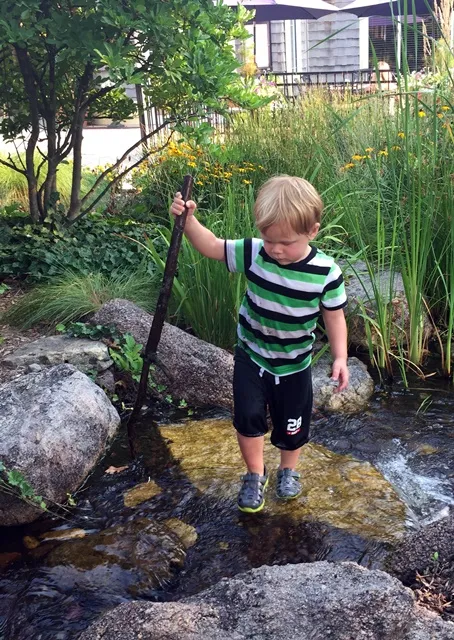 Nature Does a Body Good
Simply being in an outdoor setting benefits developing minds and bodies, especially when contact with their friends is limited – like the world's current pandemic. According to the American Academy of Pediatrics, outdoor play allows children to use all of their senses, which in turn helps them build skills such as spatial awareness and balance. It can also help improve their attention span.
Additionally, research by The National Wildlife Federation has shown that outdoor time:
Helps make children lean and strong;
Enhances imagination and attention span;
Decreases aggression and;
Boosts classroom performance.
A policy statement from the American Public Health Association noted that people of all ages and abilities enjoy greater health and well-being when have nearby nature in parks, gardens, greenways, schoolyards, and playgrounds as well as natural landscaping around homes and workplaces.
Other benefits of spending time outdoors include:
A confidence boost. Playing outside is a lot less structured than playing indoors, giving kids their power to control their own actions and adventures.
Creativity and imagination. The great outdoors allows kids to think more freely, design their own activities, and approach the world in their new and creative ways.
Responsibility. Children who are tasked with caring for a living thing, such as a plant or fish, learn what happens if it's neglected or not cared for properly.
Unique stimulation. While nature seems less flashy and high energy than a video game, it does an amazing job of stimulating the senses. Kids can see, hear, smell, and touch outdoor environments.
"Blue Mind"
Marine biologist Wallace J. Nichols coined the term "blue mind" to refer to the calm, peaceful sense of happiness that is triggered by being in or near water. Being around water gives our overstimulated brains and senses a rest. Creativity thrives in this relaxed state, as the brain is able to make new and unusual connections because it is not overly distracted by visual and auditory stimulation.
Nature Is Its Own Classroom
In 2013, Kaneland High School in Maple Park, Illinois, transformed a previously unused outdoor courtyard into a koi pond with help from Aquascape. Over the course of three days, members of the school's Student Council, FFA, and Science Club worked to turn the space into a stunning pond.
During the school year, the pond is maintained by students in the school's horticulture classes, who feed the fish, check the pond's water level, and tend to the plants. They've even added enhancements to the pond area, including additional water plants and building a runoff to help direct water that was coming down from the school's roof.
Kaneland staff credit the project for not only demonstrating commitment to the school but showing how community partnerships can provide valuable learning experiences. Kaneland's pond was even featured on an episode of Pond Stars on the Nat Geo Wild network.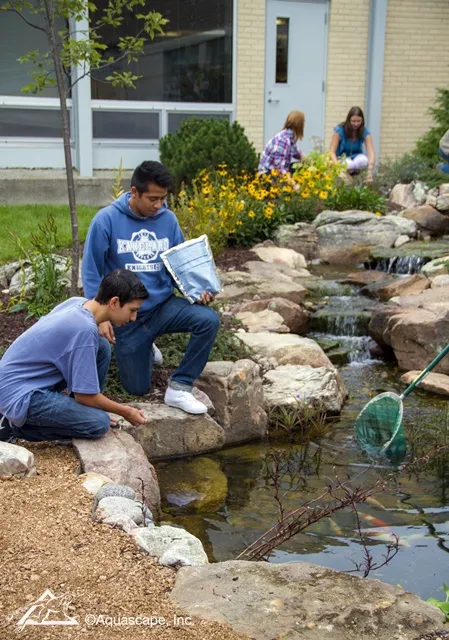 Don't Forget Fun
There are so many things to love about ponds. There are fish to feed and frogs to find. If they move quietly, they might just discover butterflies resting gently on the plants surrounding the water. And on a hot day, there's no better feeling than taking off your socks and wading right into the pond.
Here are some ideas we love for fun in the great outdoors.
Have a treasure hunt. Make a short list of things for your children to seek outside. You could even tailor the list to include things found around your pond. How about a plant that grows in water, a shiny rock, or a fish? As they search for items around the pond, they'll naturally take in its other cool features.
Identify plants and animals. Go online and print out pictures of the plants and animals that make their home in your pond. Then head outside with your child and match the pictures you printed to the living things in and around the pond.
Photograph nature. In this instance, technology isn't totally banned. Have your child use a camera, or even the camera on your phone, to take pictures of the pond and the nature surrounding it. Explore how lighting impacts the photographs, and have some fun playing with the different camera settings.
Create art. Claude Monet was famously inspired to paint water plants – why not your child, too? Bring art supplies outside and encourage your child to sketch or paint the pond.
Try for a "Green Hour"

The National Wildlife Federation encourages families to commit to a "green hour" every day in which children play and learn outdoors in nature. Regular positive experiences with nature also help children develop a lifelong concern for wildlife and the great outdoors.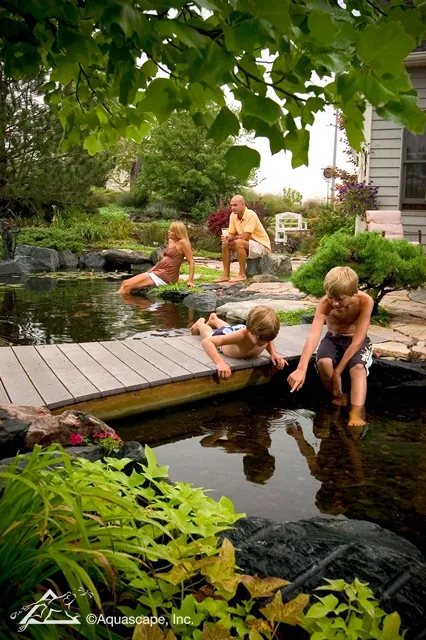 Safety First
Pondless Waterfalls are a perfect choice for families with very young children. They allow children to enjoy nature in and around the waterfall/stream – birds love to bathe in it and frogs will visit! – without the safety concerns of a pond. A pond can always be added to the waterfall once children are older.
During this time of pandemic concern and social distancing, be sure your kids spend time in nature. Your backyard is a great place to start!
Pin it for later: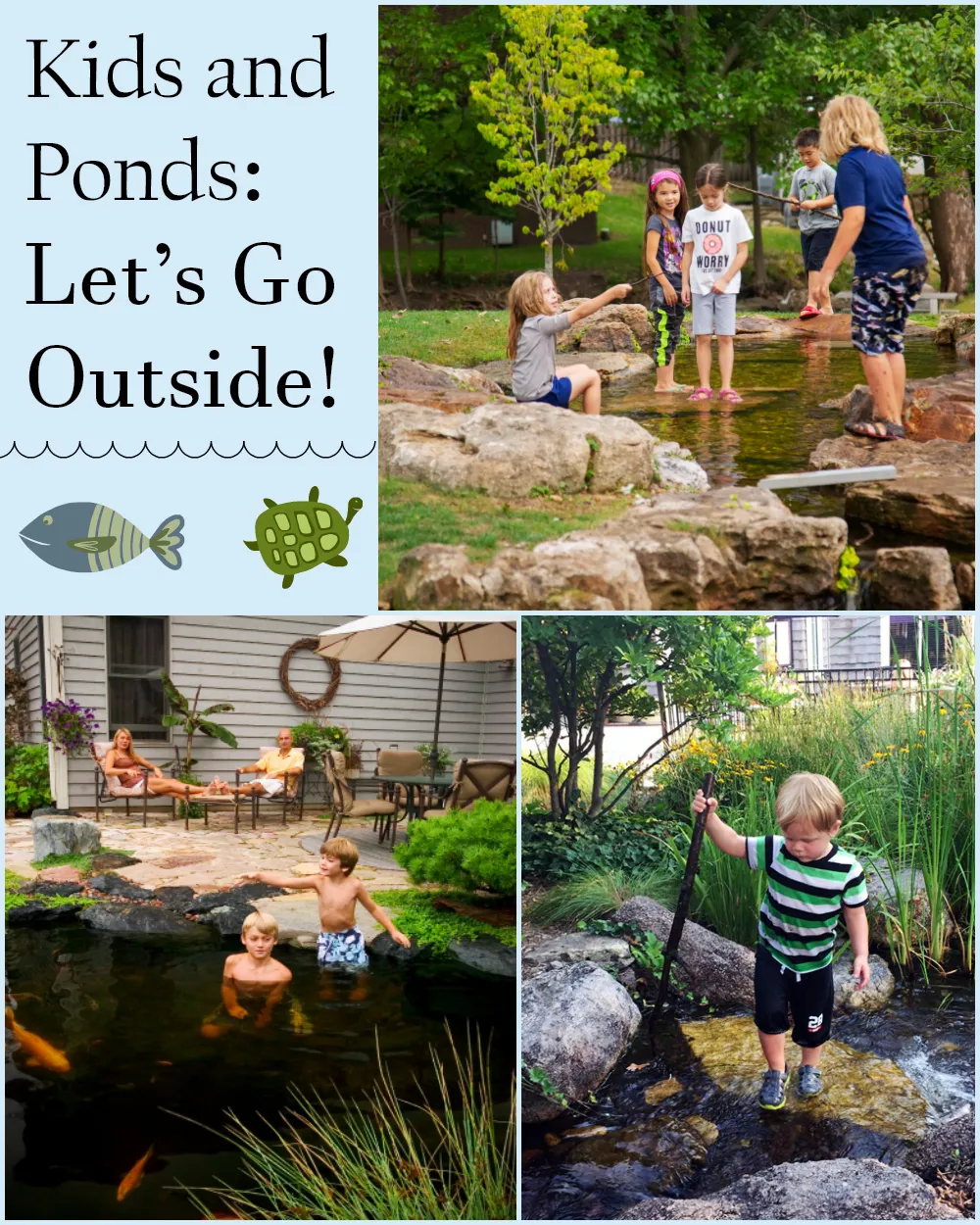 Aquascape Lifestyles Magazine
Click Here to sign up and receive your own copy of Aquascape Lifestyles magazine, delivered quarterly to your inbox!
Related posts
Some people love water features and others are downright passionate about them. The owner of this suburban Chicago residence wanted something grand and peaceful in his backyard, all at the same time. The typical suburban expanse of grass with a patio…

Newlyweds living in the suburbs of Chicago yearned for an entire backyard makeover after moving into their first home together.

Backyard rustic waterfalls can take the shape of small, babbling brooks or loud, thunderous falls. Rock choice makes a big difference in the appearance of your waterfall, and many homeowners choose a rustic appearance for their water feature.