Inspiration from Our Lead Designer's Backyard Pond
Your pond is likely your favorite place to be when you're home. And just like any room in your house, you eventually want to make changes to the water garden to enhance your experience with it. We can't think of a better pond to inspire you than the water feature owned by our lead designer and vice president of construction – Brian Helfrich! You'll be amazed by how he's converted his suburban backyard into a private retreat with all the bells and whistles you could possibly want for the ultimate in outdoor living! When you enter the space, you'd never know you were in a suburban backyard just miles from Chicago.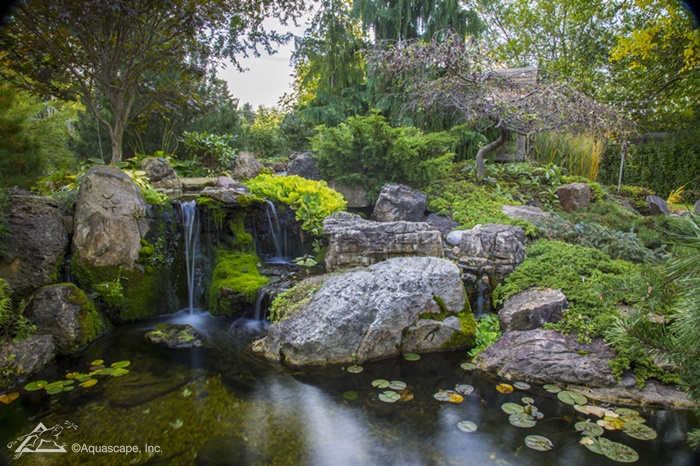 Brian has chosen a wide variety of plants and trees to frame his backyard water feature. Tall conifers add privacy and block unsightly views. Hostas and evergreen shrubs hug rocks and cascade over the edges of stone, helping to naturalize and soften the waterfall. The result is a breathtaking scene you'd expect to see while on a nature hike.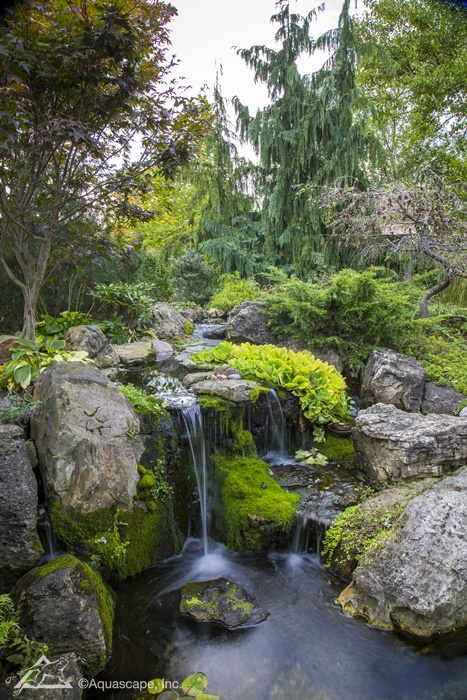 A more expansive view of the property shows the proximity of the water feature to the house. A lot of people place their ponds in an unused corner of the yard, but Brian prefers locations near the home where it can be seen and heard from indoors. Brian also likes to incorporate a variety of elements into a waterscape. Look carefully and you'll see a recessed fire pit next to the stone steps at right. Fire and water is becoming an increasingly popular landscape combination.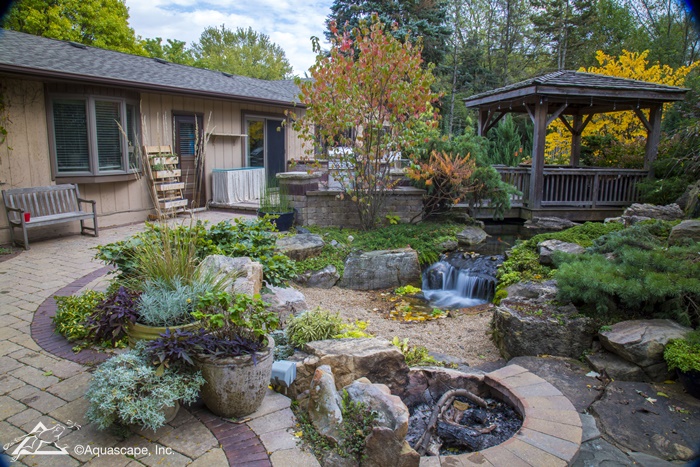 The Helfrich water feature extends across the width of the backyard and includes several waterfalls and interesting elements. Brian's house has several large windows and his pond design took each view into consideration.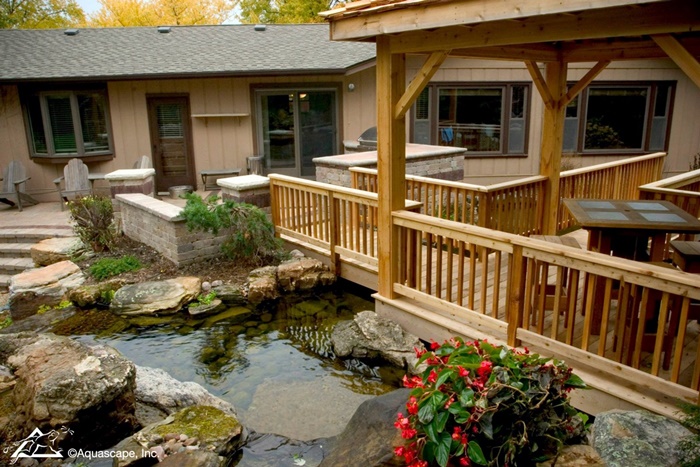 The lower level Pondless® Waterfall empties into a pebble beach where the kids love to play. Small native birds enjoying using this area as their personal oasis and bird bath.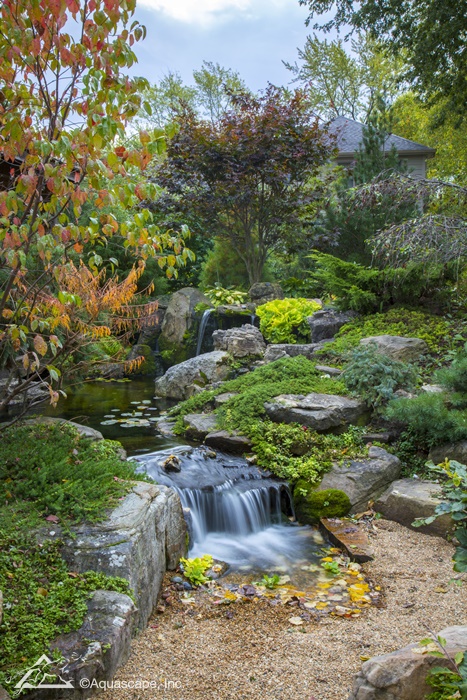 The pond is more than 10 years old now and has accumulated a nice collection of moss on the rocks. Ground covers and creeping evergreens add to the soft carpet of green. Note the use of water lettuce where the waterfall descends into a subsurface reservoir. Floating aquatics like hyacinth and water lettuce are perfect for shallow areas.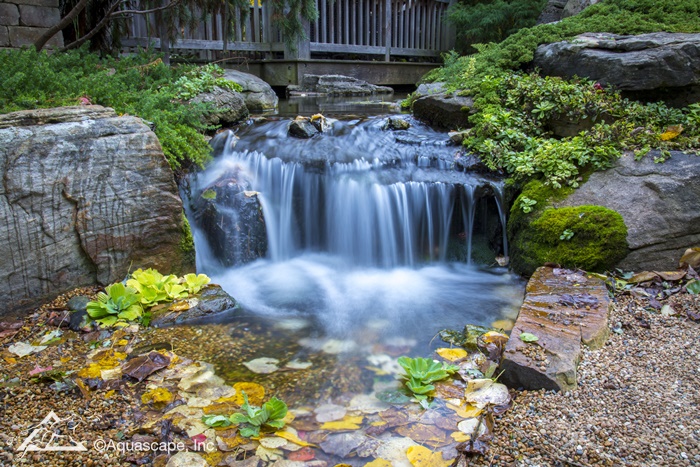 Suspended above the middle of the pond is a rustic gazebo that provides 360-degree views of all areas of the pond and backyard. It's a cozy place to relax, dine, and enjoy the water feature – even during a soft rain.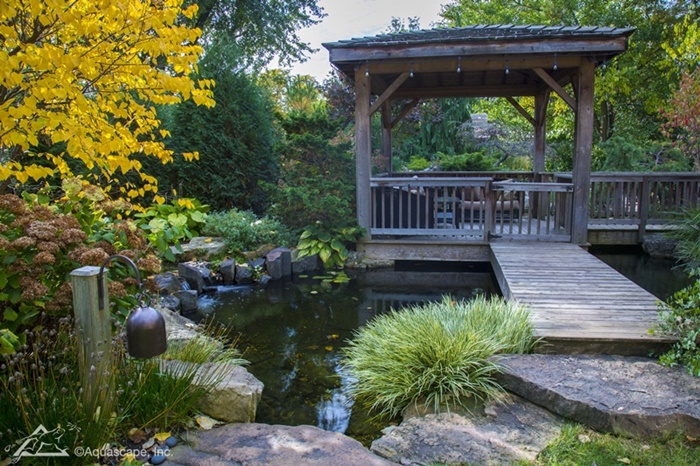 A bridge creates a walkway to the side of the home. Notice how shrubs and plants soften the rocks and stone wall surrounding the outdoor kitchen area. When landscaping ponds, Brian creates intrigue by making it difficult to notice where the water stops and the land begins.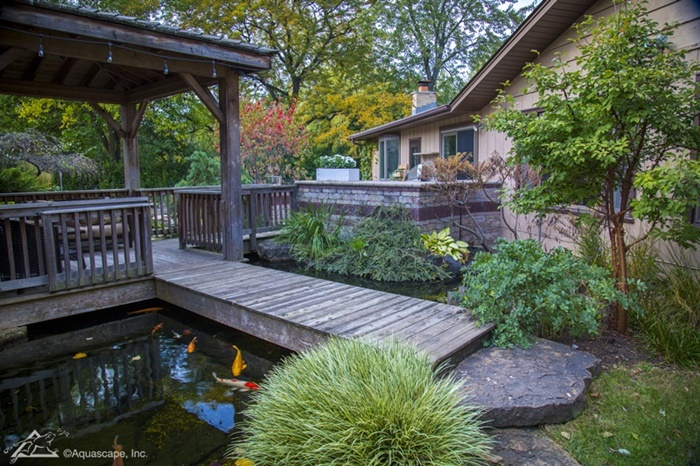 The Helfrich children and their friends love feeding the koi from the wooden bridge. Whenever Brian designs a water feature, he always thinks about interactive areas where the pond or waterfall can be fully appreciated. Bridges are a great place to dangle your feet into the water, and large flat rocks near the water's edge create a vantage point for feeding fish.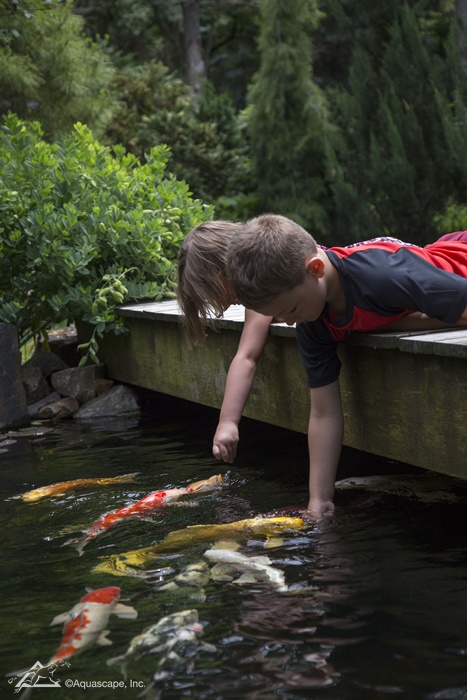 When building a waterfall, most rocks are laid horizontally, but Brian placed several basalt stones in a vertical pattern for added interest. If you've ever moved rocks around in your waterfall, you'll notice a change in the sound it creates. Each one of the waterfalls in his pond is unique in its own special way.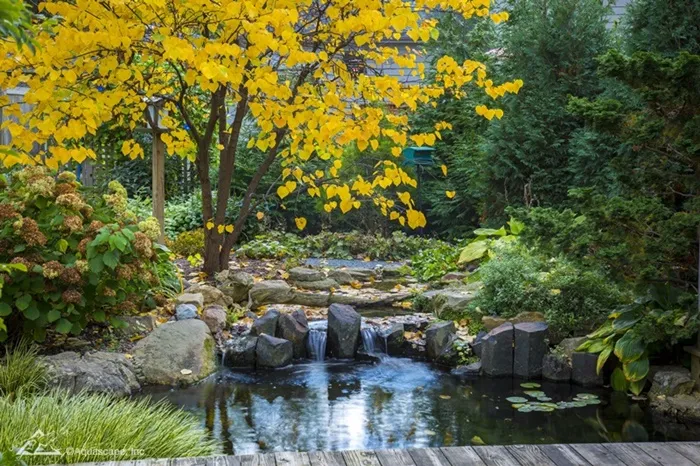 When choosing trees and shrubs, Brian recommends thinking about how they look each season. A stunning redbud tree adds brilliant color in the fall with neon yellow leaves popping off the backdrop of greenery. In the spring, the tree puts on a show of tiny rose-colored flowers clinging to the branches. Brian says the redbud is a great choice near ponds because it doesn't have an aggressive root system.
On the west side of the gazebo is a rustic style waterfall that's located near an intimate patio where friends and family can gather for meals and celebrations. When designing water features, Brian thinks of the landscape as a journey. He often incorporates bridges and pathways that lead to intimate areas for enjoying the pond. Take a look at your own water feature – you're likely to find areas where you can add a small bench or gravel patio.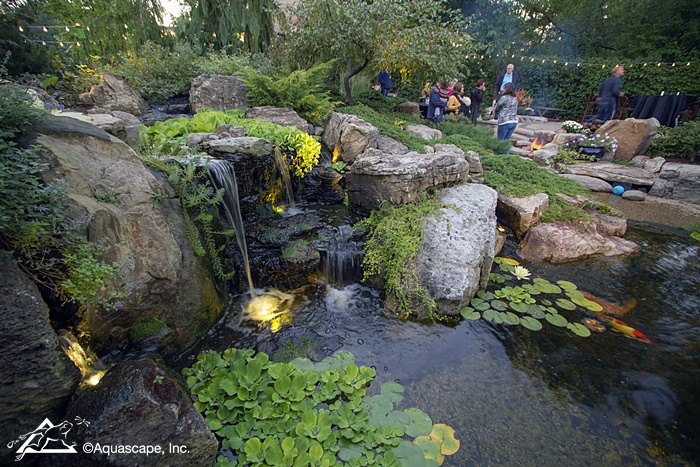 As night descends, the pond and waterfalls light up with a special ambiance that makes the yard feel almost magical. Brian designed his own water feature, but it was built with the help of Certified Aquascape Contractors across the country.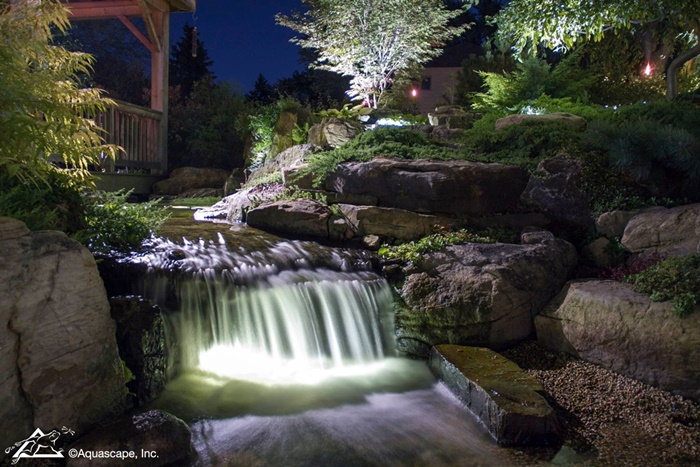 Here's our list of design take-aways from Brian's pond:
Use fast-growing conifers like Green Giant Arborvitae or Norway Spruce to create privacy or block unsightly views.
Add smaller plants like hostas and ground covers to soften rocks.
Locate your water feature near the house where it can be seen and heard from indoors.
Add a fire pit near the water feature for a mix of earth elements.
Incorporate interactive areas near the water like a patio, deck, large flat stone, or pebble beach.
Add a bridge or path to create a journey experience in and around the water feature.
Choose trees and shrubs that add color throughout the seasons.
Add pond and landscape lighting to create ambiance at night.
Watch our video to learn more about the making of Brian's pond: