How to Make a Halloween Pumpkin Fountain!
This Halloween, do something you've never done before and create a festive pumpkin fountain that's sure to delight all the little goblins in your neighborhood! You'll love the simplicity of this Halloween project and the local trick-or-treaters are sure to think you have the best decoration on the block! See the instructions below to create your own pumpkin fountain. You can also watch the tutorial video at the end of this post.
Pumpkin Fountain Instructions
For this project, you'll need: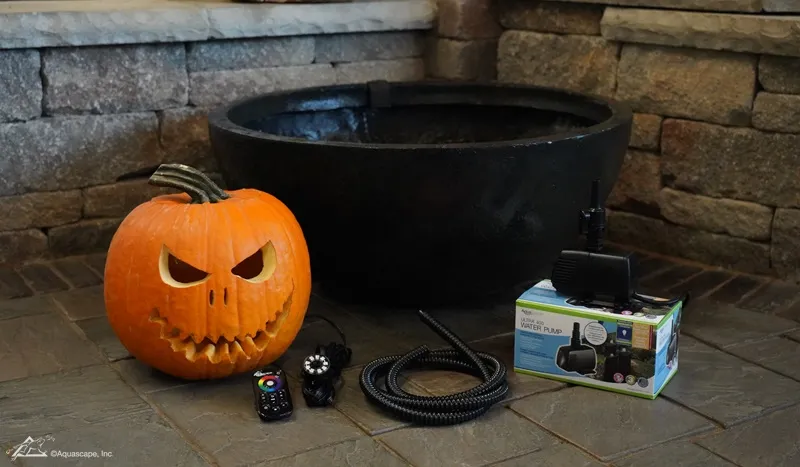 Although you can use any water-tight vessel for the base of your pumpkin fountain, the Patio Pond is advantageous since it has a built-in shelf and cut-outs for easy management of cords and pipe. They're available in a range of sizes and colors. Once you have your container, you'll want to find a location and set in place near a GFCI electrical outlet.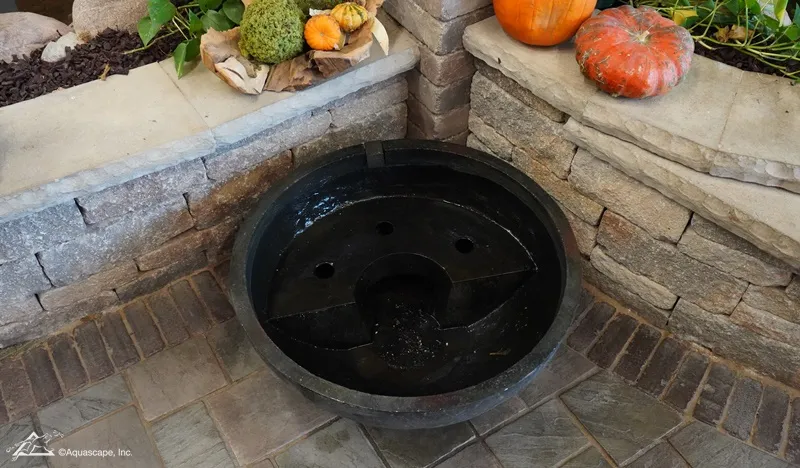 Remove the fountain pump from the box and attach the kink-free pipe to the pump discharge.
Place the pump at the bottom of the Patio Pond (or whatever container you're using) and feed the kink-free pipe through one of the pre-drilled holes.
The Patio Pond has a cut-out where you can place the power cord. If you're using a different container, simply drape the cord over the edge of the container.
Fill the Patio Pond with water using a garden hose.
Place rocks or brick on the shelf of the Patio Pond to help elevate the pumpkin.  If you're using another container, use as many stones or bricks as it takes to elevate the pumpkin above the water level.
Set the Jack-o-Lantern in place. You want it high enough so that when water flows out of the mouth, it creates a waterfall effect.
Carve a small hole toward the top of the back of the pumpkin and feed the kink-free pipe through the hole.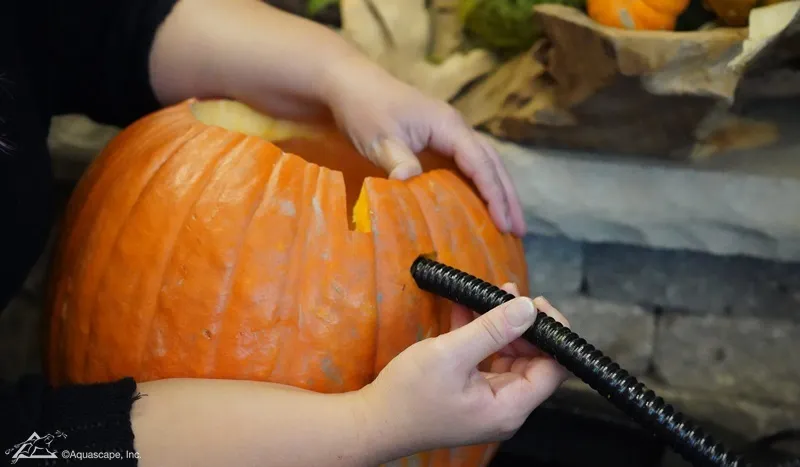 Unpack the fountain light kit and place the light inside the pumpkin letting the cord drape over the back edge of the pumpkin so it won't be seen. You can then place the pumpkin's lid on top of the Jack-o-Lantern.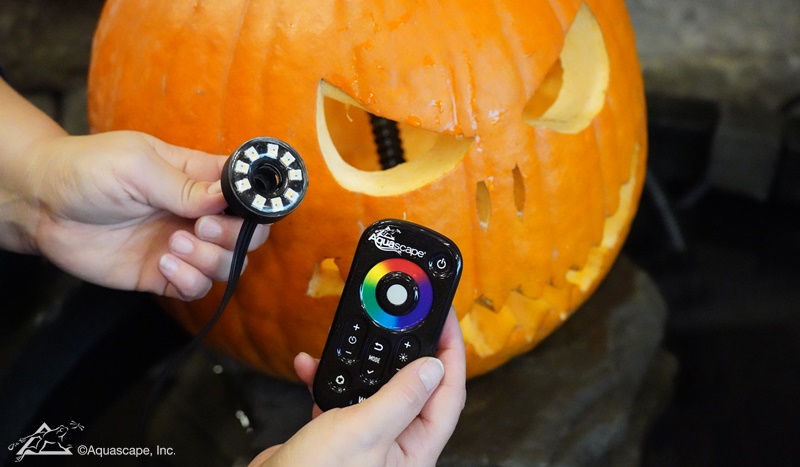 If desired, add decorative elements to the Patio Pond like decorative wood or spooky Halloween adornments.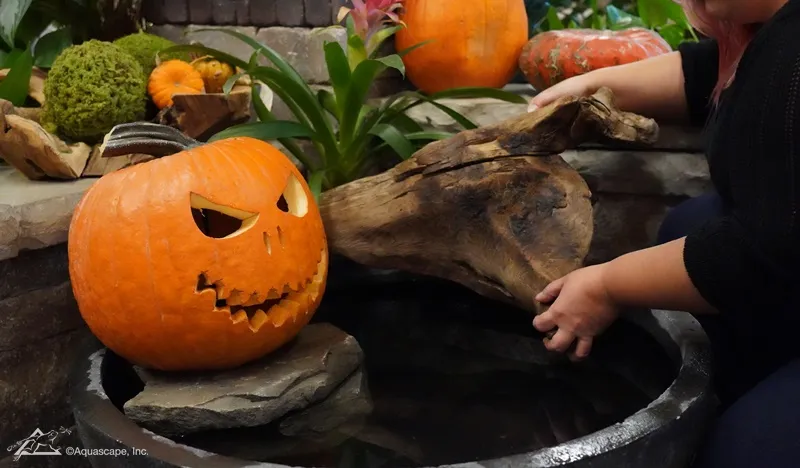 Plug in the light and pump, and sit back and enjoy! You can use the remote included with the light kit to control the color display of the light.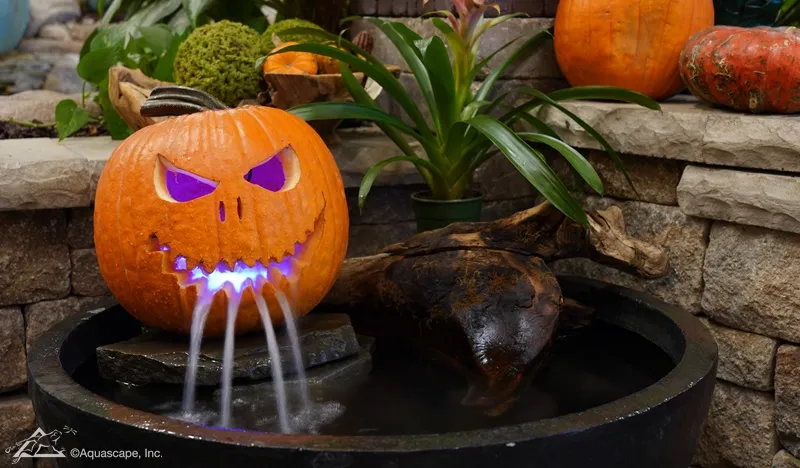 Here are a few other Halloween pumpkin fountain ideas for you to try!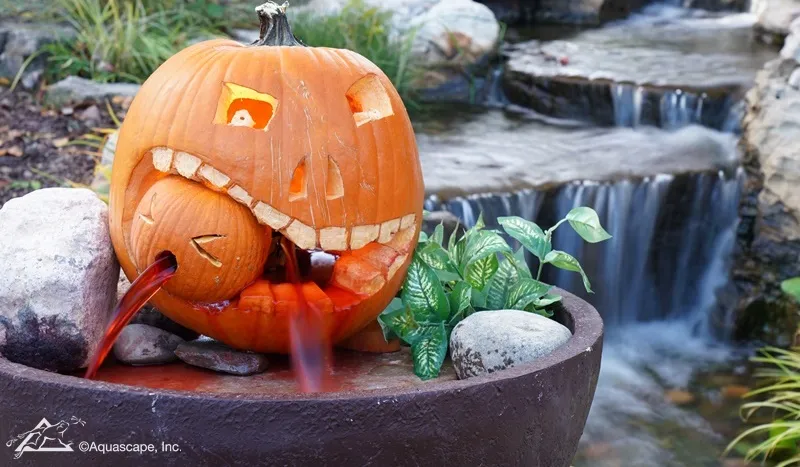 If you have a pond, you can position a pumpkin fountain on the edge like a spitter. Add a fogger to the pond for a truly spooky experience!
Watch our step-by-step video on how to create your own pumpkin fountain for Halloween!