How to Enhance Your Pond with Easy Add-On Features
Once you have a pond installed, your life immediately changes. That might sound dramatic, but it proves true. The beauty alone is an added benefit to any landscape, but along with that beauty comes peace, relaxation, new plants, and new pet fish. Water features create an outdoor experience that no other landscape element affords. Whether you've had your pond for many years or just a few months, you might find yourself wanting to tweak it for ultimate enjoyment. Keep reading to see our top choices to enhance your pond with easy add-on features.
1. Pond Lights
Watch your water garden come to life at night with underwater lighting. Tuck lights into the waterfall and enjoy the shimmering effect of the light on nearby bushes and trees. Place lights underwater to shine across the pond so you can see your fish during evening hours. In the spring, you'll see frogs dart across the shadows of the pond's surface. Warm white lights create special ambiance while color-changing lights create a spectacular display.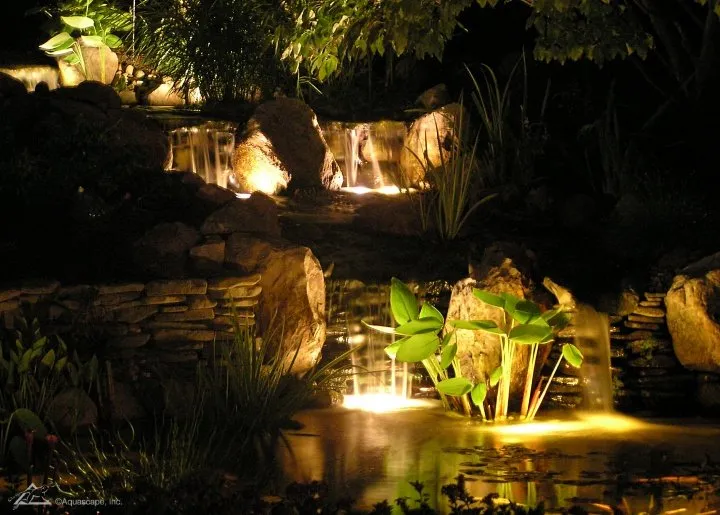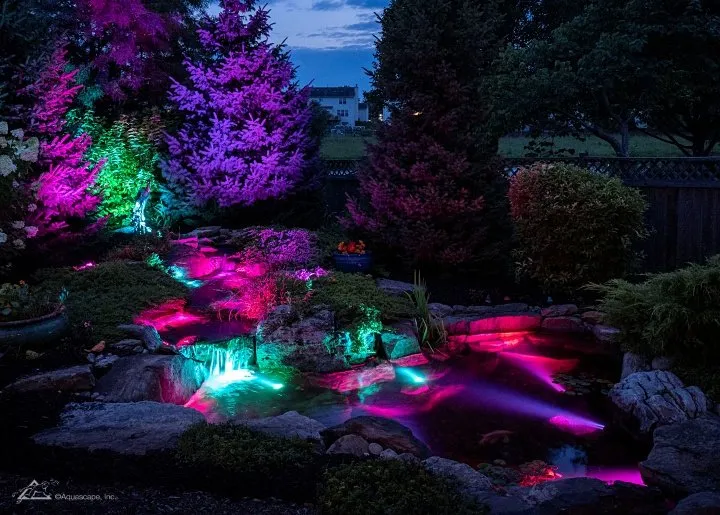 2. Driftwood Accents
Faux Driftwood is ideal for concealing water feature components or adding a realistic decorative accent to any location. Aquascape offers two versions of beautiful, decorative driftwood made of heavy-duty polyresin. The addition of faux wood looks great in and around your pond – however you choose to use it.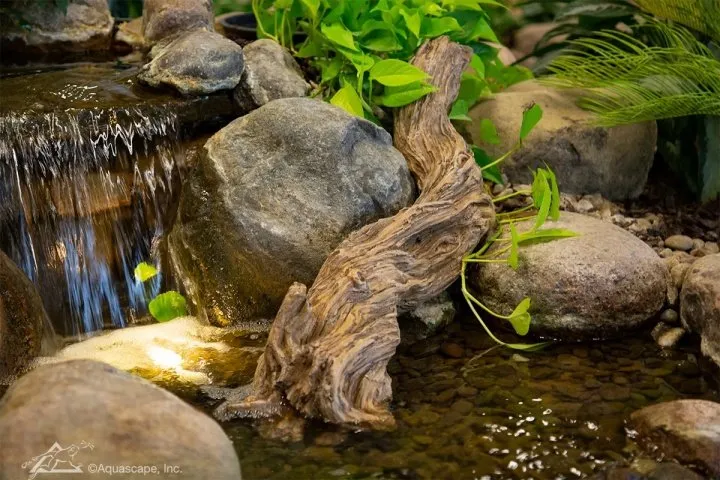 3. Faux Log Fish Cave
Enhance your pond and give your fish extra protection when you add a fish cave to your water garden. Simply lower the Faux Log Fish Cave into your pond and watch your fish swim through it, or use it as a place to hide from predators. The cave also provides shade for your finned friends during the hottest days of summer, and it looks extremely realistic.
4. Automatic Dosing System
It's no question. If you have a pond, you'll benefit from the Automatic Dosing System, which is an electronically-operated dispenser that accurately and consistently applies your choice of specially-formulated water treatments. You'll no longer need to to manually add Beneficial Bacteria or other treatments to your pond – the dosing system does it for you. There are four water treatments that can be used with the Automatic Dosing System. All you need to do is program the system to suit the size of your pond, and swap out treatments if there are specific water issues that need to be addressed. Otherwise, leave Maintain for Ponds in the doser for the majority of the season. Read our free ebook to learn more about this simple way to enhance your pond by adding water treatments electronically.
5. Decorative Spitters
Spitters add a touch of excitement and a flow of water to your water features. Decorate your pond or waterfall with a toucan spitter, lazy frog spitter,  naughty dog, or any of our impressive spitters. There's one to suit your taste and style.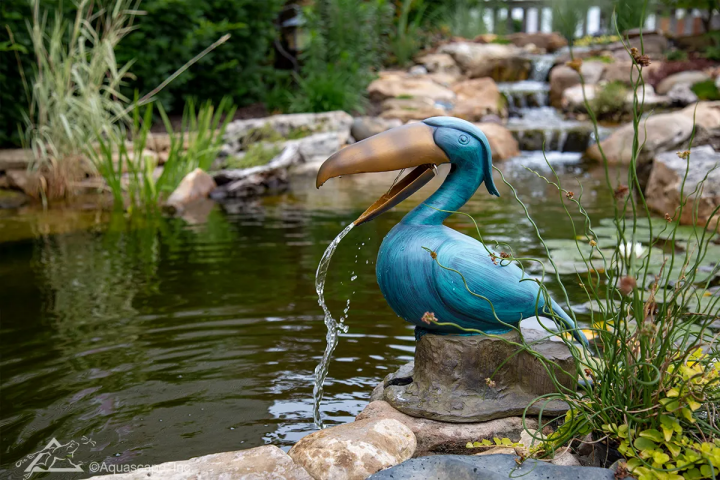 Related posts
Some pond enthusiasts like to actively tinker in and around their pond, while other water gardeners prefer to relax by the patio listening to the sound of the waterfalls. Maybe you're like most pond owners who enjoy a little of both activities!

Newlyweds living in the suburbs of Chicago yearned for an entire backyard makeover after moving into their first home together.

When I think of the perfect backyard, something like this one comes to mind. It has a little of everything … patios, fire pit, plantings, stone pathway, and of course, a pond and waterfall! The design is flawless as one area leads to the next…