How to Build a Koi Pond Using a DIY Kit
See how easy it is to build an Aquascape ecosystem pond using our tried-and-true 20-steps process and DIY Pond Kits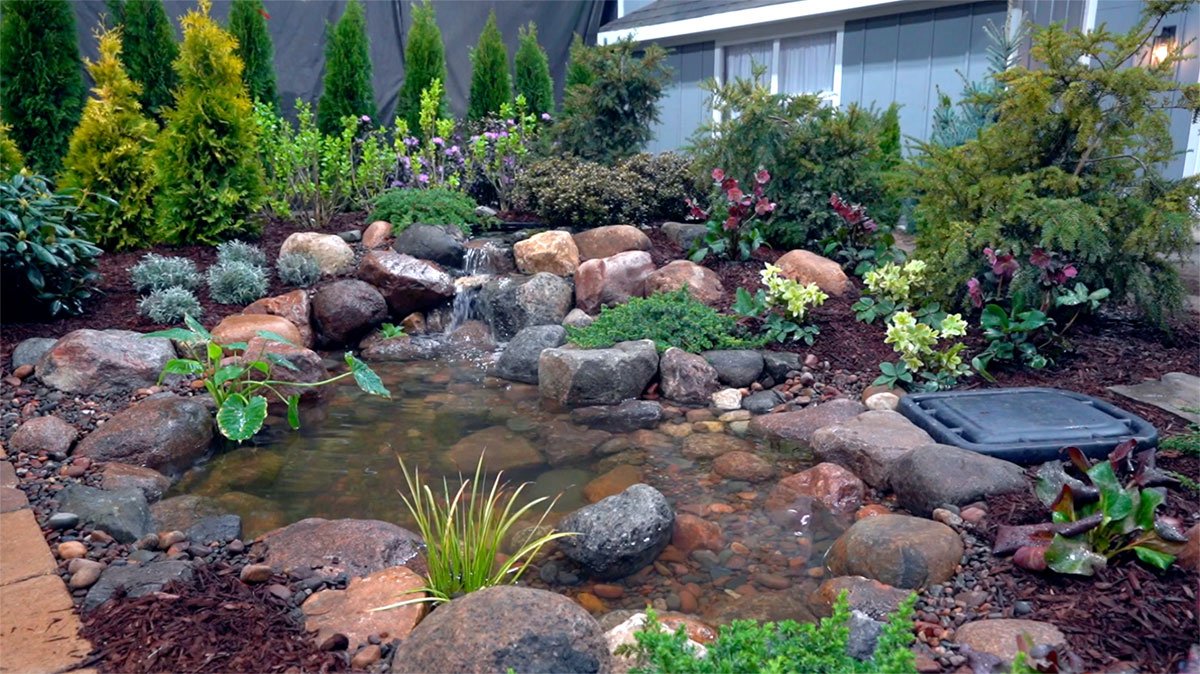 Learn how to build a DIY pond in your own yard. The Aquascape approach to backyard ecosystem ponds is to create a complete low-maintenance system that works with Mother Nature to provide food, shelter, and safety to the wildlife in and around it. A well-built ecosystem pond provides a proper balance of circulation, filtration, plants, fish, and rock and gravel. Explore the videos and articles below and learn how easy it is to build a do-it-yourself pond in your yard.
How to Build a Koi Pond with a Kit: Introduction
How to Build a Koi Pond: Step 1 - Select and Mark Out Your Area
How to Build a Koi Pond: Step 2 - Place BioFalls® and Skimmer
How to Build a Koi Pond: Step 3 - Lay Plumbing
Select and Mark Out Your Area

Use a garden hose to outline the shape of your pond. Mark the outline using spray paint.

Place BioFalls® Filter and Pond Skimmer

Place your BioFalls and skimmer at opposite ends of the pond. Since the BioFalls is the start of the waterfall, face it toward the viewing area.

Lay Plumbing

Lay the pipe from the BioFalls to the skimmer. You'll cover it with the dirt you excavate for your pond.

Hook Up and Level BioFalls Filter

Connect the pipe to the BioFalls and make sure the filter is level.

Excavate Your Pond Basin

Start digging in the center of the pond, working your way to the outside edges. Dig down around 8″ deep to create a shelf; then another 8″ to create a second shelf.

Install Underlayment and Liner

First, place the underlayment and work it down into the excavated area. Then place liner over the underlayment, working it down and removing as many folds and wrinkles as possible.

Install the Pond Skimmer

Excavate the area for the skimmer and make sure it's level.

Add Rocks and Gravel

Start rocking in the pond, working from the bottom up.

Wash Rocks and Gravel

Rinse down the rocks, removing any dirt and debris. Run a cleanout pump during this process to remove the dirty water.

Complete Skimmer and Pump Installation

Attach liner to the skimmer using the faceplate. Install pump and connect to pipe.

Add Water

Fill the pond with water.

Attach Liner to BioFalls Filter

Attach the liner and waterfall lip to the BioFalls filter.

Build the Waterfall

Take your time with this step and use a bit of creativity to create a natural looking waterfall. Look at pictures of waterfalls for inspiration.

Bring in Topsoil and Build Retaining Wall

If needed, bring in topsoil to add to the dirt excavated from the pond to build a berm and retaining wall.

Add BioFalls Filter Media

Place the filter pads and BioBalls inside the biological filter

Turn on Waterfall

Time to turn on the waterfall and see your creation come to life.

Trim Liner and Finish Edging

Never cut the liner around the pond perimeter until the pond is up to it's fullest level. Doing so could make the liner too short and create a leak. Fine tune the liner around the pond's edge by folding and back-filling while creating the pond edge. Once complete, trim any excess liner.

Clean Up

Recycle your pond kit box, throw garbage away, and sweep surrounding areas free of dirt.

Landscape and Mulch

Add plants and mulch around the pond. For best results, use natural mulch that has not been dyed.

Enjoy!

This is the most important step. Pull up a chair and sip your favorite beverage by your new pond. You deserve it after creating your new paradise.
See how easy it is to build an Aquascape ecosystem pond using our tried-and-true 20-steps process and DIY Pond Kits
Related posts
Koi people tend to fall into two categories – those that love keeping them as pets in their pond, and those that collect them like a prized car that's only driven on Sundays. When you stop and think about it, there are quite a few analogies that can be made between koi and cars. …

Many pond owners opt to locate their water garden in a shady location of the yard. This way, they can enjoy watching their fish while being protected from the heat of direct summer sun. While a shaded pond is ideal for cooling off in the summer, it can pose a problem for enjoying the beauty…

Veterinarians warn you not to feed table scraps to your pets. But did you know that koi are the exception to this rule?