The Ultimate Backyard Oasis
Close your eyes for a moment and envision your idea of the perfect backyard. What would it include? You'd probably want a patio or deck with ample seating for entertaining. If money is no object, you might even toss in an outdoor kitchen and fireplace too. And if you're all about rest and relaxation after a hard day's work, you'd probably see a waterfall and pond in your vision.  Now open your eyes because we've just described this ultimate backyard oasis which has everything we just mentioned, and more!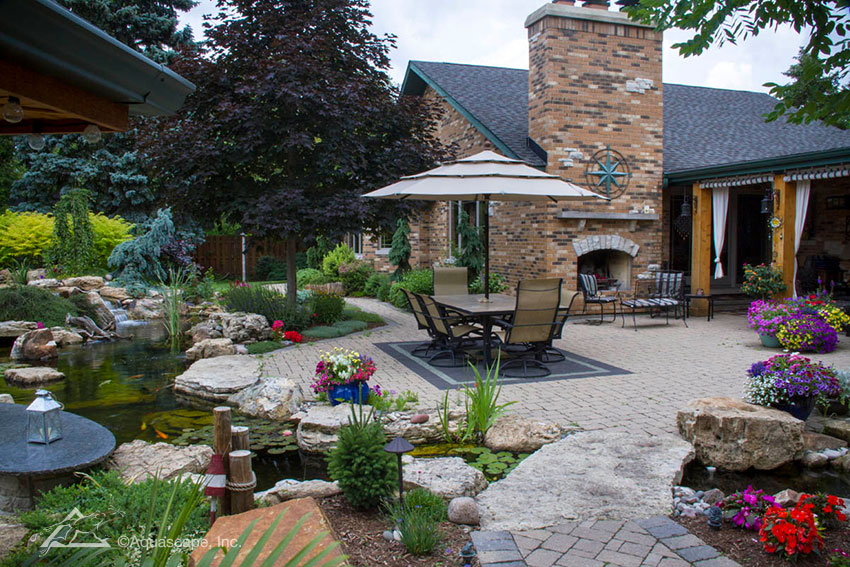 With a pond to the left and a fireplace to the right, the outdoor dining area is perfectly situated. Splashes of color are added throughout the backyard living space with potted annuals.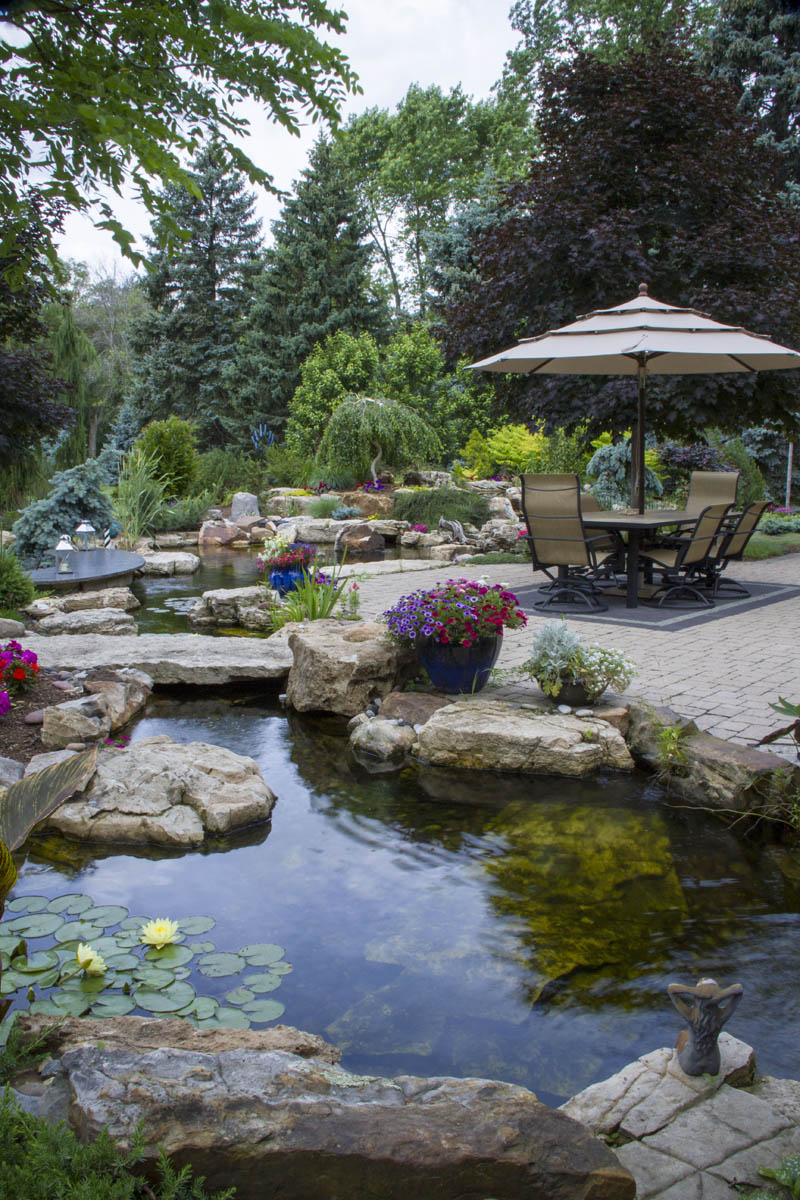 A stone bridge dissects the pond, encouraging you to explore more of all this water feature and landscape have to offer.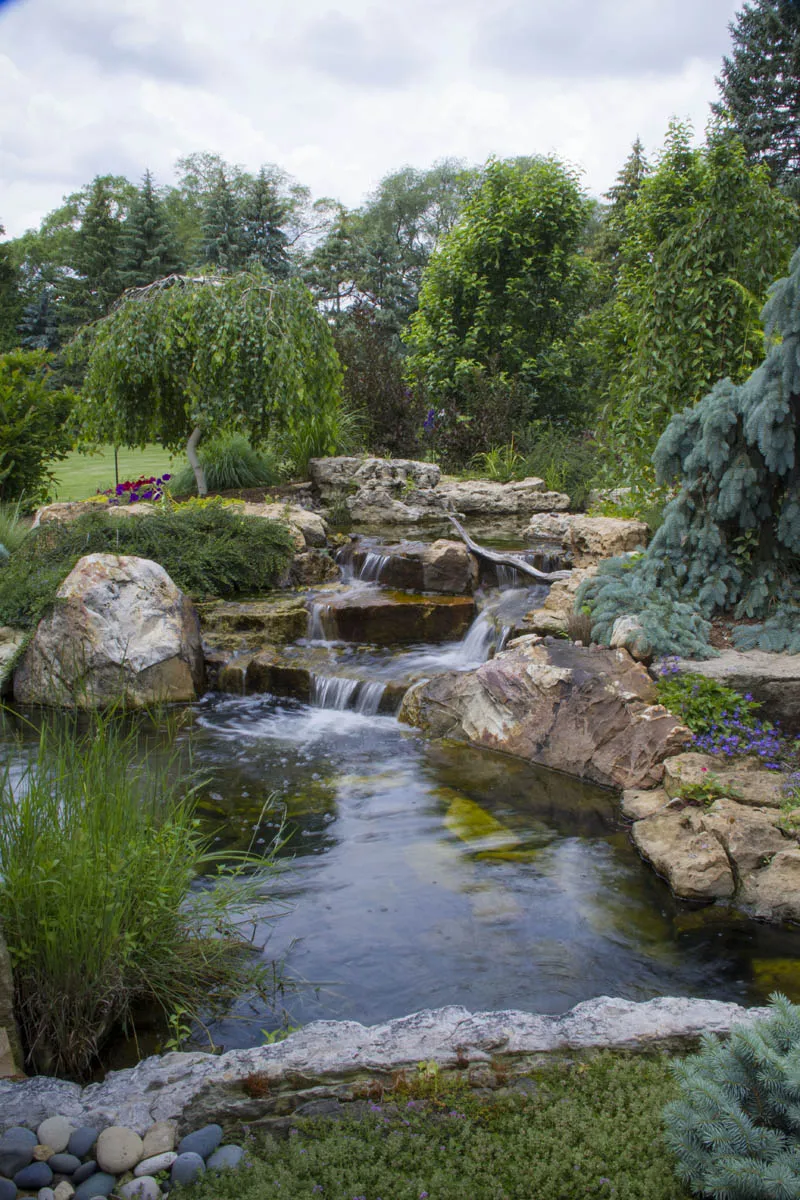 Waterfalls cascade over large stone into the pond, helping aerate and filtrate the water. The rugged rocks make the feature appear as though it was carved into the landscape long ago.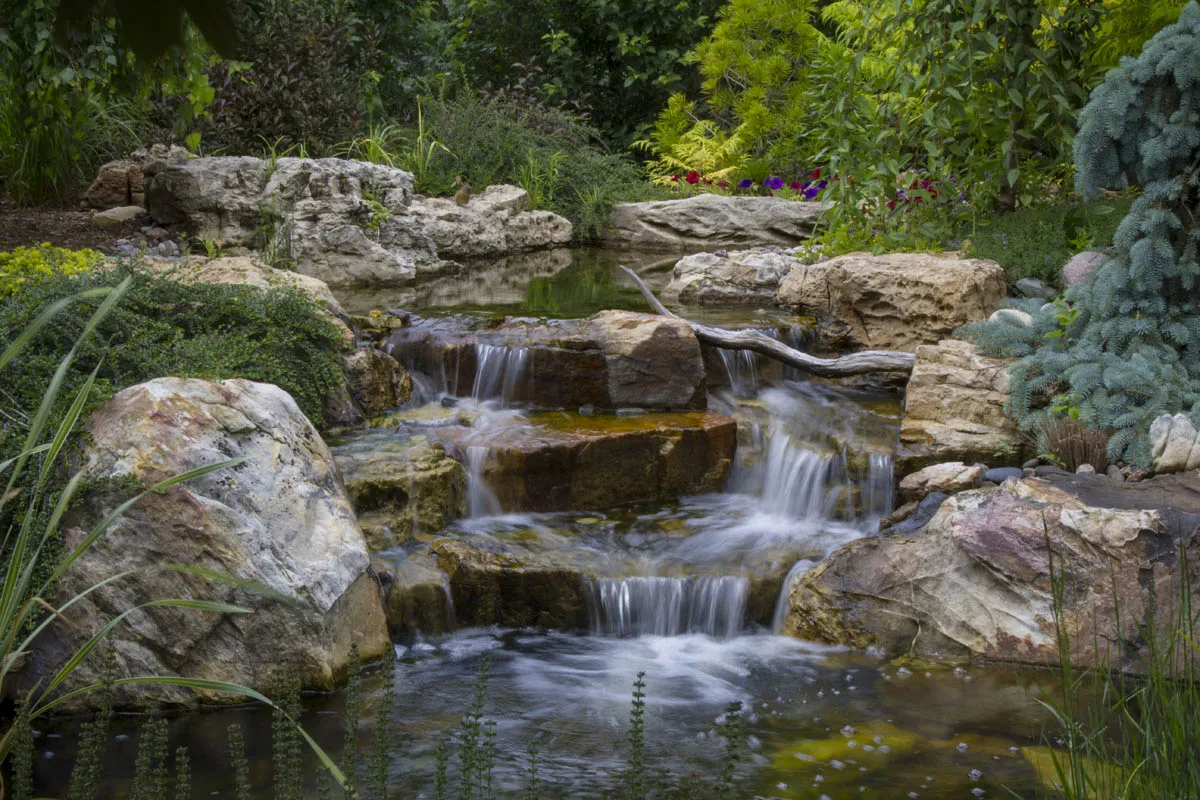 Lush plantings help to soften the edges of the cool, hard rocks. The waterfalls also add the soothing sound of running water throughout the day and night.

A pergola on the other side of the pond houses an outdoor grill/kitchen area.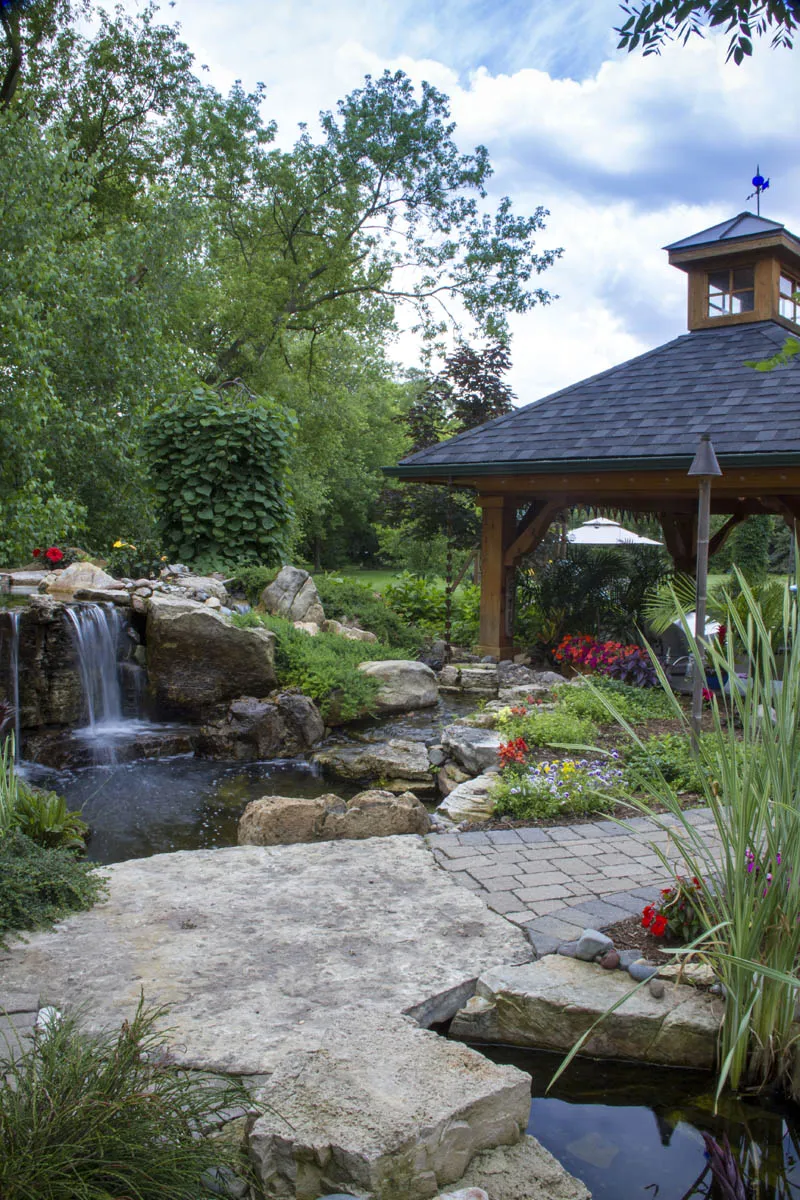 The lush plantings truly provide a mature look and feel to this ultimate backyard oasis. Birds and butterflies flock here to refresh themselves on warm summer days.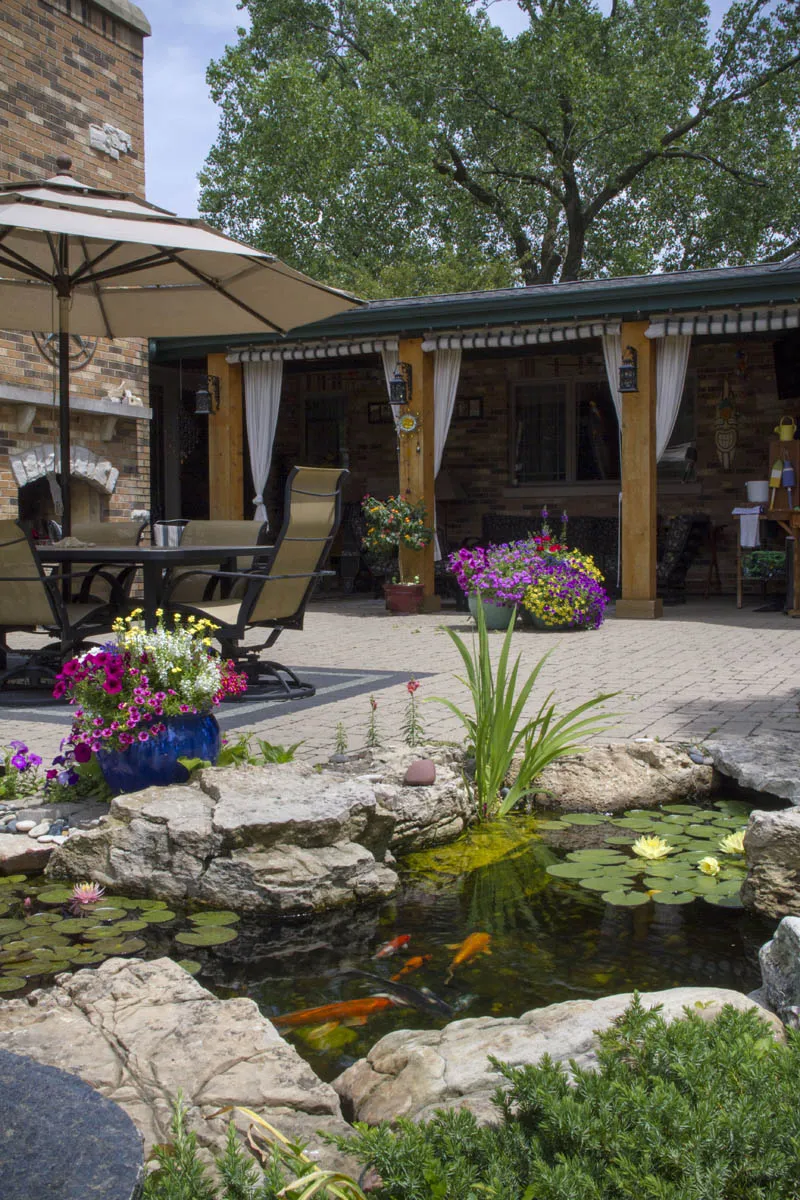 A cabana area next to the home provides a welcome retreat from the sun on hot summer days. Truly this suburban backyard has it all!  You can dangle your feet in the water to cool off while watching the fish swim.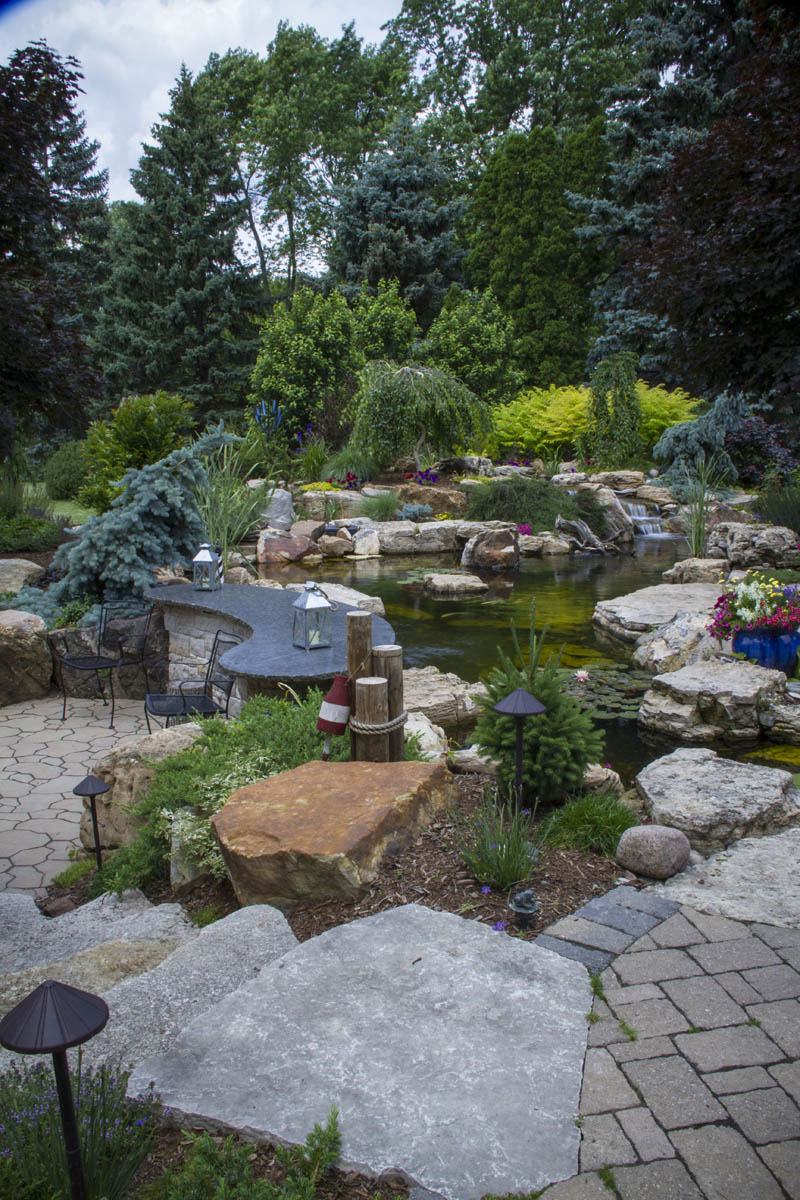 The upper patio descends to a lower patio with bar on the opposite side of the pond, making this multi-level landscape a true paradise. There's so much to explore and enjoy!
Related posts
More and more people are sprucing up their backyards to create outdoor living environments where they can relax, de-stress, and entertain friends and family. We took a virtual trip across the country, compliments of Houzz, looking for gorgeous ponds…

Some people love water features and others are downright passionate about them. The owner of this suburban Chicago residence wanted something grand and peaceful in his backyard, all at the same time. The typical suburban expanse of grass with a patio…

Newlyweds living in the suburbs of Chicago yearned for an entire backyard makeover after moving into their first home together.