Top 10 Features to Add to Your Pond
You add new plants to your gardens, and you might even add a new patio or deck in your yard. Why stop there? Consider adding a new item or two to your pond this year to change things up. We've drafted a list of our top 10 favorite features to add to your existing pond in 2015!
1. Fountain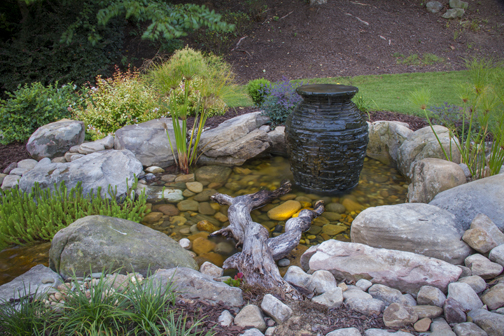 Fountains not only add beauty to your pond, but they provide valuable aeration as well. If you think your existing waterfall isn't adding quite enough oxygen to your pond, consider adding a fountain. You can place it in the center, or near the edge of a pond for drama.
2. Water Lily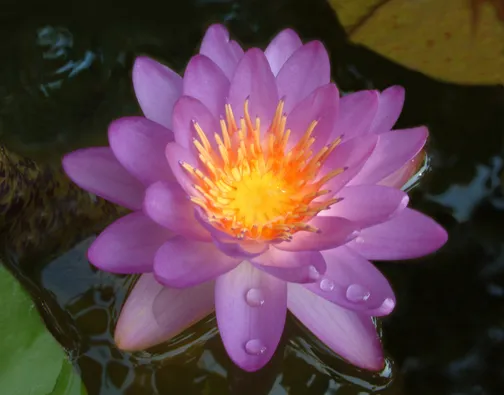 Go ahead and splurge on a beautiful water lily. Not only will it add gorgeous color to your pond, but the lily pads help shade the pond and give your fish a place to hide from predators. Available in hardy and tropical varieties, you'll find an endless assortment of water lilies, which you can purchase online or at your local pond store.
3. Lighting

The addition of garden and pond lighting extends your viewing pleasure well into the evening hours. Lights placed behind waterfalls create excitement and drama during the nighttime hours. Underwater lights at the edges of the pond reflect off the fish as they swim by. Set your lights on a timer so you never have to worry about turning them off and on.
4. Fish

Adding fish to your pond is a great way to enhance the water feature lifestyle. You'll enjoy feeding them at the pond's edge and will feel the stress melt away as you watch them swim about. Why do you think so many doctors' offices have aquariums? To help you relax! If you already have fish, consider adding a pond fish that's currently not a part of your pond habitat.
5. Adjustable Flow Pump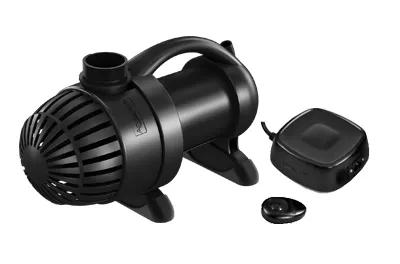 An adjustable flow pump with a remote control lets you turn the volume of your waterfalls up or down! Want a quiet dinner by the pond? Keep the volume low. Having a large party? Turn up the flow to create your "party waterfalls!" You don't even have to get up out of your Adirondack chair to change the mood!
6. Spitter

Spitters create whimsical focal points in the pond and can be added just about anywhere. Don't feel you need to keep the spitter in the middle of the pond. You can add one at the edge of a stream or tuck it in an unexpected location.
7. IonGen™ System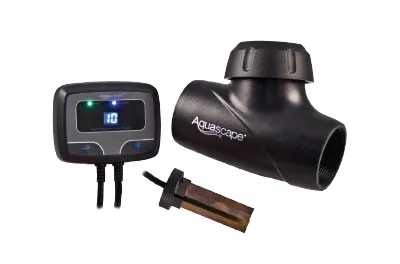 Everyone wants an algae-free pond and the IonGen® electronic algae controller effectively kills algae without the use of traditional liquid chemicals. You can purchase the IonGen™ and install it yourself, or hire a local Certified Aquascape Contractor to do it for you!
8. Floating Plant Island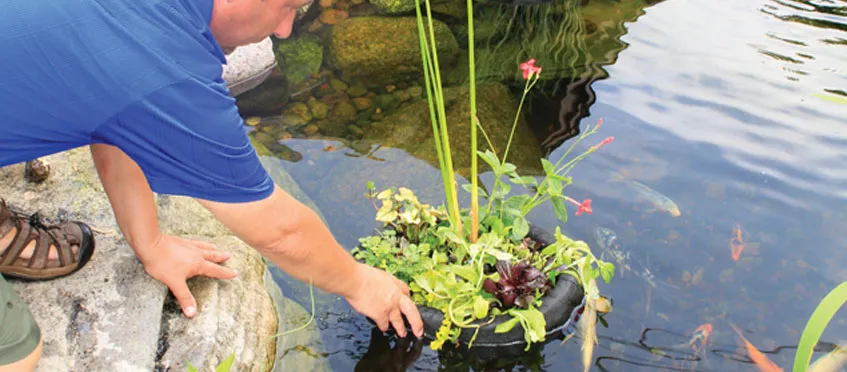 Use a floating plant island to display plants in deeper areas of your pond where there aren't any plant shelves. The floating planter keeps the soil intact and lets water in while protecting the plants from your fish.
9. Automatic Dosing System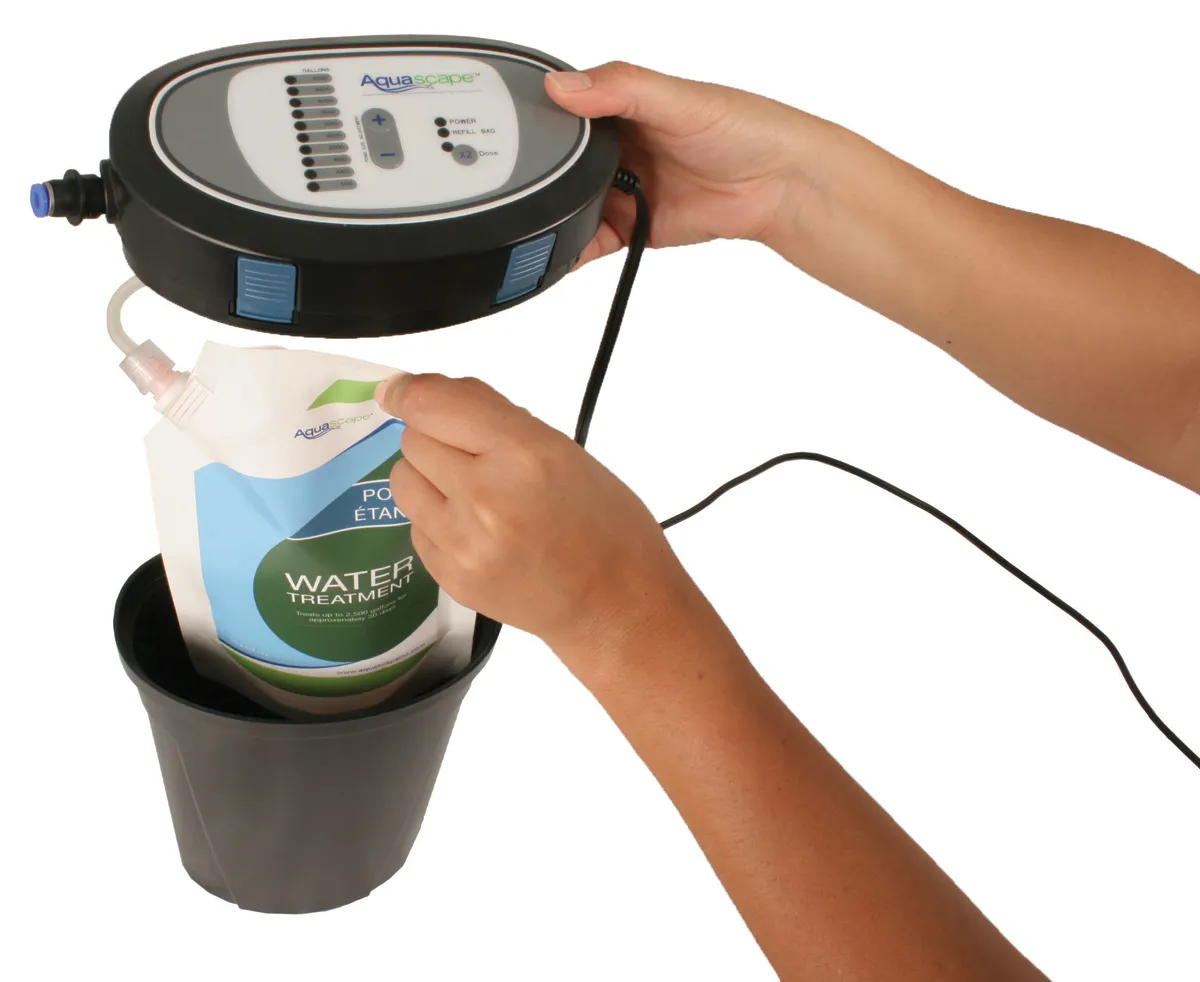 The Automatic Dosing System is a brand new product for ponds and we had to add it to our list of must-haves! The system accurately and consistently applies your choice of water treatment throughout the pond season. You'll no longer need to hassle with the guesswork or routine of adding water treatments to your pond or fountain. We think you're gonna love it!
10. Waterfall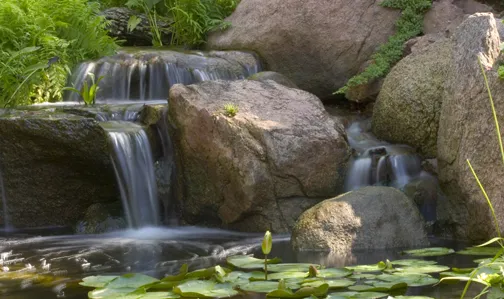 It might not seem possible, but not everyone includes a waterfall when they build a pond, but there's no reason it can't be added later on. Waterfalls provide valuable aeration to your water feature while creating the soothing sound of running water. If you already have a waterfall, consider adding a second, smaller one for added interest. If you like to build with rock, you can also tweak your existing waterfall, creating new sounds for the summer.
Related posts
Fortunately, you don't need a degree in environmental science to understand the cycle of nature that can influence the health of your pond.

Backyard rustic waterfalls can take the shape of small, babbling brooks or loud, thunderous falls. Rock choice makes a big difference in the appearance of your waterfall, and many homeowners choose a rustic appearance for their water feature.

Waterfalls are perhaps the most beautiful feature in a water garden. You can argue that you love your fish the most, or that your gorgeous water lilies are the favorite part of your pond, but the waterfall is what really makes it special.