Why Every Deck Needs a Pond
If you're like most Americans, you probably have a deck, patio, or balcony where you can enjoy the great outdoors from the privacy of your own home. You kick your feet up in your Adirondack chair and enjoy the summer breeze blowing through your hair, but something's missing. All you see from your deck is an expanse of grass and a few trees, and what you hear are the neighbor's kids crying and their dog yapping. Your deck needs a view. And better yet, that view needs to replace irritating noises with melodic sounds. What I'm trying to say is … your deck needs a pond!

The owners of this deck enjoy a view of a meandering stream that spills into a pond by their lower level patio. A wooden bridge invites you to sit a spell and dangle your toes in the water.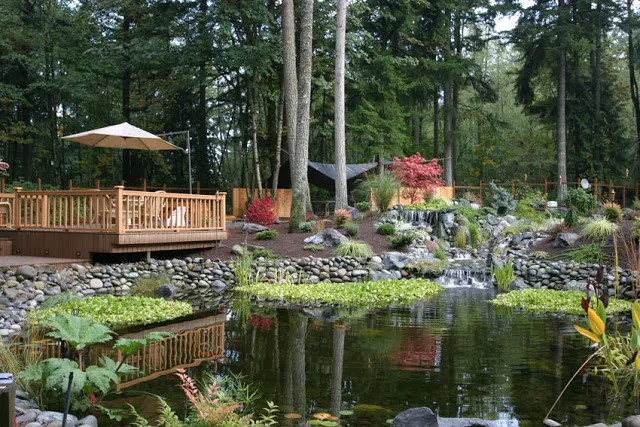 Is this someone's backyard or a vacation resort? Yep, it's a backyard alright!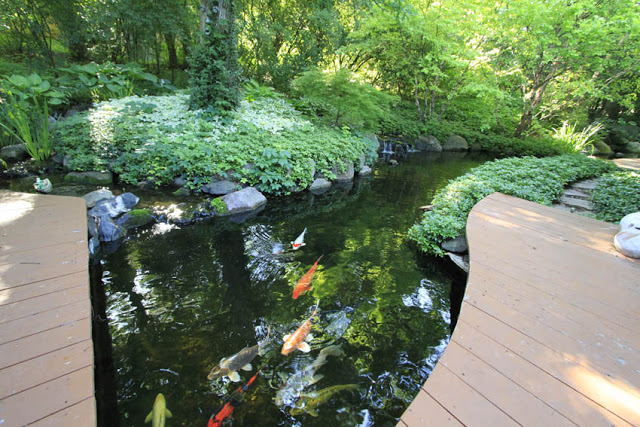 This deck wraps around the house and leads to a stone path that follows the stream along the back of the house. And the best part? There's no lawn to mow!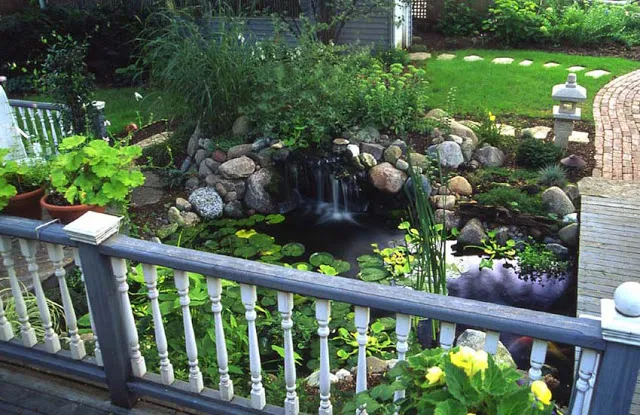 Isn't this the perfect spot for a morning cup o' coffee or a fruity glass of wine in the evening? The waterfall creates the added dimension of soothing sounds.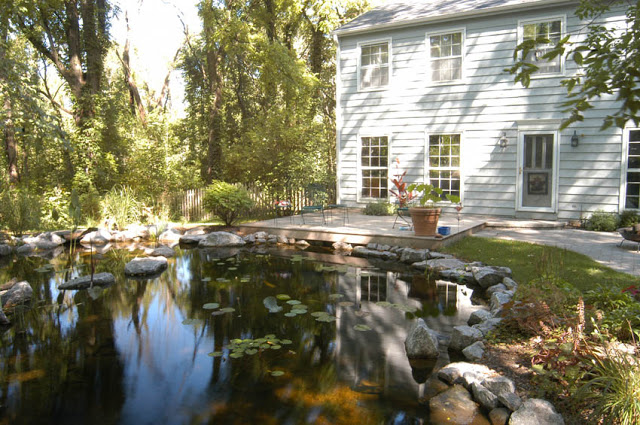 Here's a switch. This deck is at the front of the house with a beautiful, reflective pond to welcome visitors.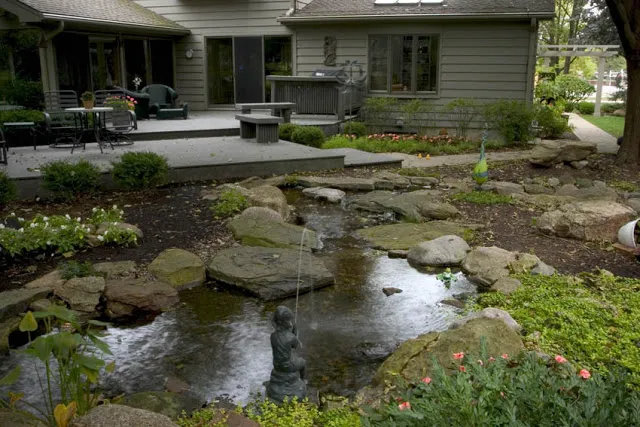 A gentle stream flows alongside the shady deck while a brass boy spitter provides an element of whimsy for those who linger and admire the scenery.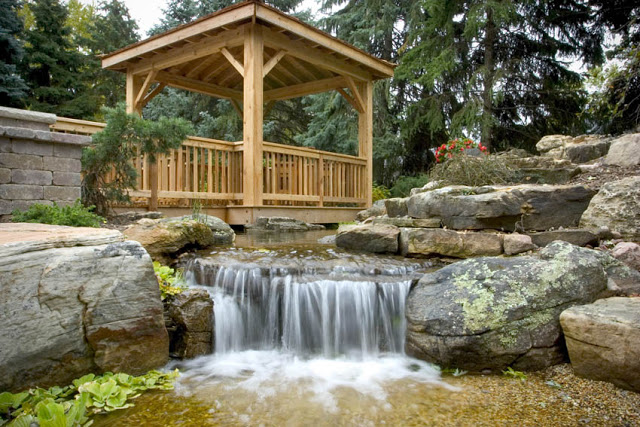 Who wouldn't love this floating deck overlooking a waterfall that cascades into a pebble beach? The children love hauling their pails and shovels to play in the water and gravel.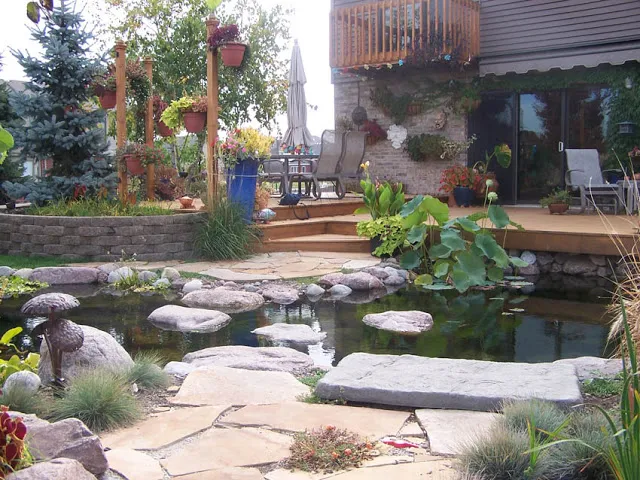 A balcony and lower deck provide great views of this water garden. Relax on the patio furniture or take a trip across the stepping stones to see the fish up close.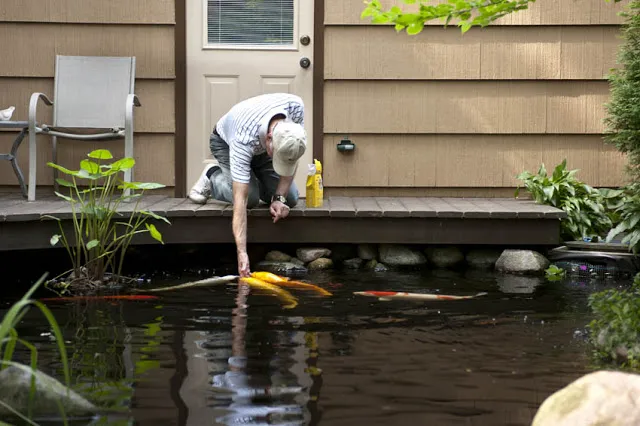 Decks provide great feeding spots for fish. Koi will learn to eat food right from your hand.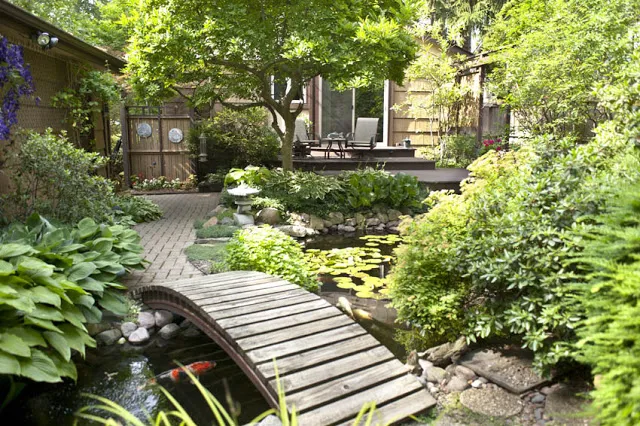 A deck by the house wasn't enough for these lucky pond owners. A brick patio extends from the deck to a wooden bridge that takes you further back into the yard for more water garden delights.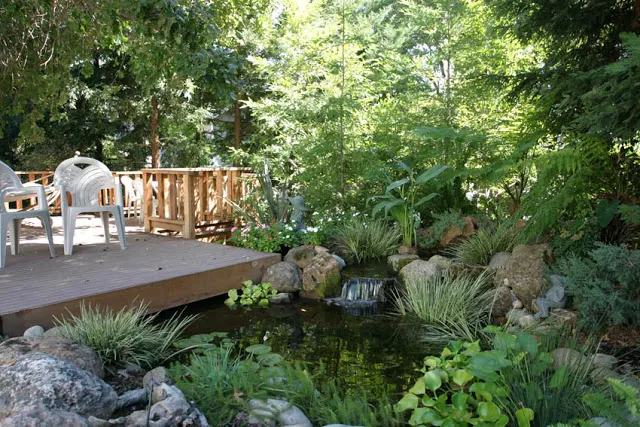 A shady spot on the deck provides cool relief on hot summer days, while the pond helps to lower the temperature.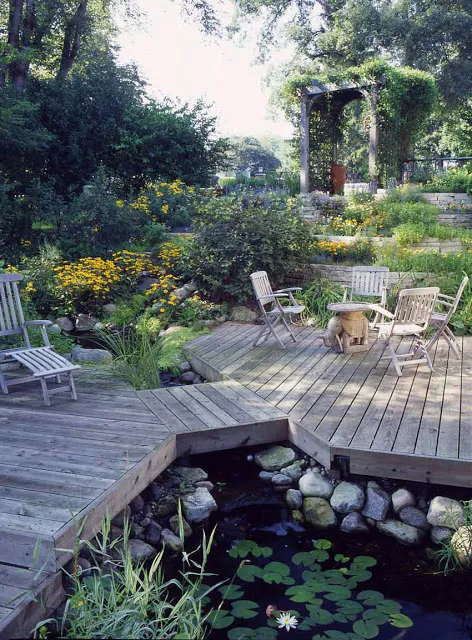 This unique deck dissects the pond, providing multiple viewing areas to enjoy the abundant aquatic plants and surrounding landscape.
So if you've got a deck that overlooks your lawn and all you see is grass and a few flowers … why not turn it into waterfront property by installing a water garden or waterfall of your very own? You won't regret it!
Related posts
Some pond enthusiasts like to actively tinker in and around their pond, while other water gardeners prefer to relax by the patio listening to the sound of the waterfalls. Maybe you're like most pond owners who enjoy a little of both activities!

More and more people are sprucing up their backyards to create outdoor living environments where they can relax, de-stress, and entertain friends and family. We took a virtual trip across the country, compliments of Houzz, looking for gorgeous ponds…

You're finally taking the plunge. You've decided you want the soothing sound of water in your landscape but aren't sure where to begin. Start by asking yourself, "What made me think about adding a water feature in the first place?