Does a Water Feature Improve the Value of Your Home?
What is the value of a water feature? This might be a question you ask yourself before contacting your local pond builder to install a beautiful pond or waterfall in your yard. The true value can be very difficult to quantify as it's similar to other forms of art. The value is not the sum of the individual components (cost of the canvas and paint; it's in how you use the materials to create an emotional experience to connect with viewers.
But not everyone feels this way and they want to see numbers, data or reports on how their investment will appreciate over time. I found some statistics and articles written by third parties, which is important because they do not have a financial tie to water feature design, installation or maintenance.
Will a water feature add to the value of your home? Possibly not, says John Bredemeyer, spokesman for The Appraisal Institute, an organization of industry professionals. In higher-end neighborhoods where expensive landscaping is the norm, it could boost your home's value to the top of the price range, he says. But at the lower end of the market, cash-strapped buyers could see a water feature as extra work for them or an added expense in the way of a maintenance service. They may prefer using the outdoor space on features their children would enjoy, such as a play set or a big lawn.
This totally makes sense; I've seen this firsthand for years but I see this as an opportunity because there's nothing better for children than a water feature! I speak from experience with this because our backyard was a magnet for all of the kids in the neighborhood.
Our boys learned how to snorkel with our koi, giving them an appreciation and understanding of nature and the environment. I couldn't think of a better investment for our family. In my opinion a water feature is a much better investment than a swimming pool, especially in Illinois and other northern states that have limited swimming days.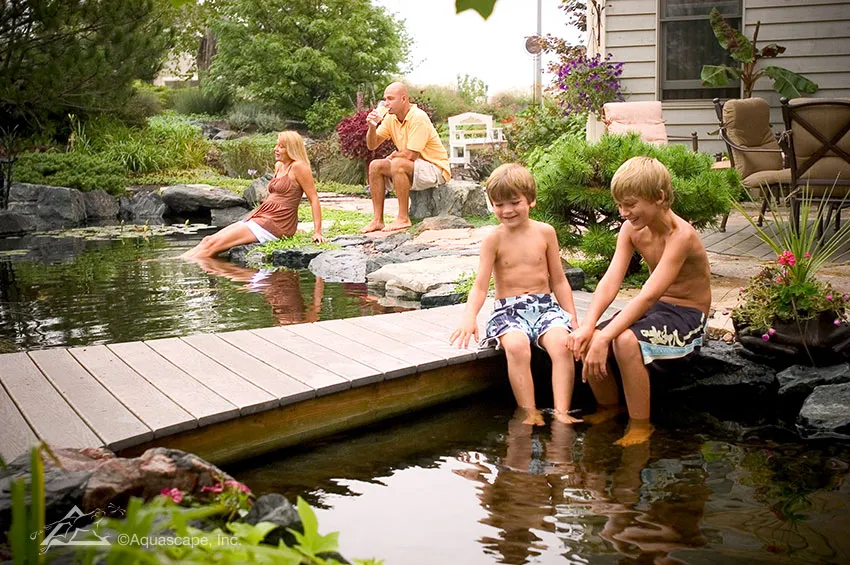 Speaking of swimming pools; here's some information on the value of pools. Swimming pools are one of those features that can be both functional and aesthetic and can add value — or detract — depending on the type of pool and type of home buyer or owner.
A 2004 National Association of Realtors' study of home sales in the Philadelphia area from 1996 to 2003 found in-ground pools added 8% to the sales price of home. However, all of the landscape designers we talked to said for a pool to add value to a property, it has to be custom-made and not a prefabricated pool that can be found in any backyard.
A basic customized concrete pool can cost $60,000 to $80,000. Throw in a hot tub and water feature, such as a waterfall, and you could spend well into the six digits. The problem is that landscape designers say some home buyers want nothing to do with a pool and will steer clear of houses with one — regardless of whether it is custom-made or prefabricated. So a pool actually could lower the value of your property in some people's eyes.
What's interesting is that pool sales are still strong. They've seen a dip like everything else in recent years but overall pools are still being installed despite the information that they can detract potential buyers. Why?!
Because the customers value them and the price of the pool is irrelevant compared to the experience and the years of enjoyment and memories that the family will have from their own backyard resort.
(HIT) – As the housing market slump continues, homeowners are looking for ways to make their homes stand out and increase resale value without spending their life savings. According to a survey of 5,000 U.S. home owners by Remodelestimates.com, the interest in remodeling remains high for homeowners though they are more conservative about costs in light of declining home prices.
With so many options available for the do-it-yourself (DIY) homeowner, it can be confusing to know where to start. Homeowners should consider the following questions: What remodeling project will give you the most value impact for prospective buyers? What is the price range for remodeling and addition projects?
According to Remodeling Magazine's "Cost vs. Value Report 2007," the national mid-range average for a deck addition was more than $10,300; a mid-range kitchen remodel (major) was more than $55,500; and a sun room addition was nearly $70,000.
A much less expensive alternative is to add a water feature to enhance your backyard landscape. Water features not only add aesthetics to a yard and home but also provide a calming, serene and eco-friendly environment that everyone can enjoy.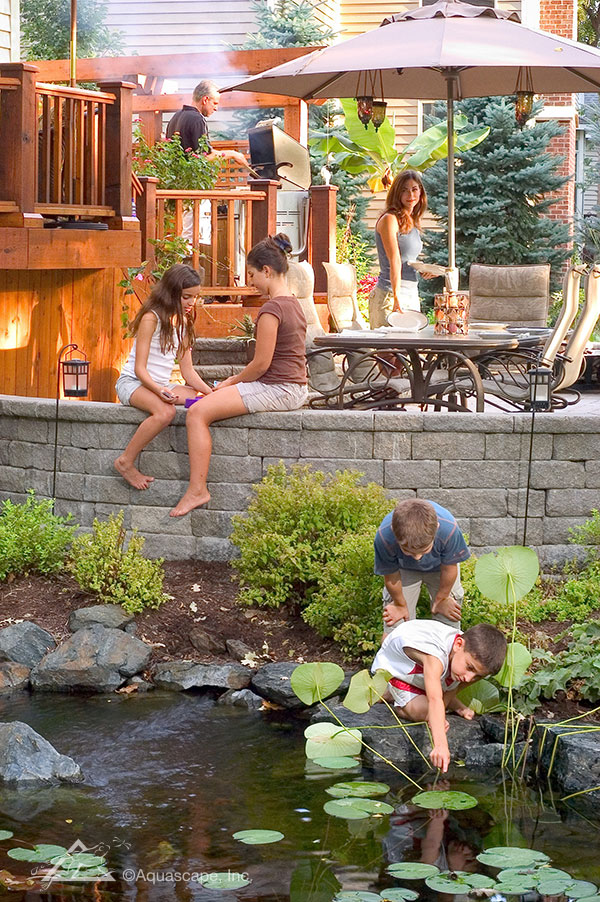 "Landscaping and the appearance of your yard is a critical point to making your home stand out in today's market," said Mark Munley, vice president of sales and marketing for Firestone Specialty Products. "You don't have to be discouraged by today's high remodeling costs because something simple, such as installing a backyard water feature, is easy, cost efficient, and can provide you with a higher resale value."
This is great information! The installation of a small water feature will help your home stand out in front of the competition! This is exactly what everyone needs to hear.
Backyard water features, like ponds and waterfalls, go a long way toward adding monetary value to your home. But there's an added benefit: homeowners who spend time enjoying these man-made pieces of nature can boost their mental health, too.
Imagine returning to your suburban home from a long commute to the city and relaxing in your nature-inspired backyard, complete with a rippling stream that flows into a pond. Sounds peaceful, doesn't it? Well, it can add more than value and aesthetics to your yard.
According to a recent study on "green exercise," spending as little as five minutes in the presence of nature, can improve self-esteem and mood. Destinations with water offer even greater benefits. The study by Jo Barton and Jules Pretty analyzed data on 1,252 people from 10 prior British studies.
Green exercise is the combination of physical activity and nature. Taking a walk, practicing yoga, or gardening near a fish or wildlife pond are among the activities that can influence feelings of happiness, appreciating the moment and coping with stressful situations, researchers noted.
Forget about the return on your investment. We all need a break from the day to day grind; this is priceless.
So if you want to increase the value of your home, or create a serene environment that will increase the quality of your life, a water feature is the answer.
Related posts
You're finally taking the plunge. You've decided you want the soothing sound of water in your landscape but aren't sure where to begin. Start by asking yourself, "What made me think about adding a water feature in the first place?

Watch Backyards and Community Spaces Transform Into Tranquil Retreats

There's more to having a pond than having fun. You can learn stuff from a pond too. When Mr. Osbourne asked me to write about the things I've learned from growing up around a pond, I wasn't sure if I could do it.