A charming bench awaits your company. It's calling your name, beckoning you to make time for yourself and drink in the view of the peaceful water garden. You answer the call and set a spell while the stress of the world slides from your shoulders.

Lush greenery and a soothing water garden help cool the climate.

A teak bench provides front row seating for this beautiful display of water, rocks, flora … and maybe even some fauna.

Adirondack chairs are a popular choice among pond owners. This couple placed the pond front and center, as opposed to tucking it away in the backyard.

A wrought iron table and chair lends an elegant touch to a brick patio lined with frothy ferns. Sunlight dapples on the pond's surface just beyond.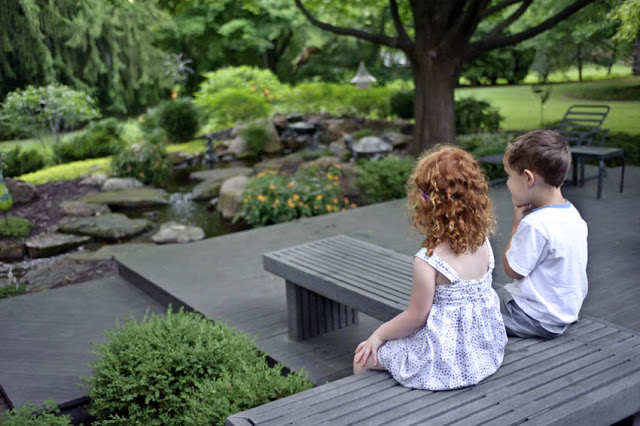 Kids always seem to have the right idea … relaxing from their day of play.

Who can resist the tempatation of a rustic swing in the landscape?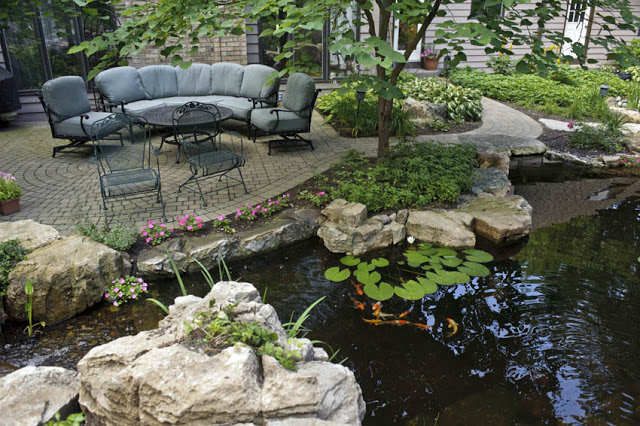 Ample seating lets you enjoy the scenery with family and friends.

So come, set a spell and let the worries and hurries of life take a back seat.
Related posts
More and more people are sprucing up their backyards to create outdoor living environments where they can relax, de-stress, and entertain friends and family. We took a virtual trip across the country, compliments of Houzz, looking for gorgeous ponds…

When I think of the perfect backyard, something like this one comes to mind. It has a little of everything … patios, fire pit, plantings, stone pathway, and of course, a pond and waterfall! The design is flawless as one area leads to the next…

Improve the appearance of your home by incorporating a waterscape into your front yard. Water adds a great touch to your landscape and can help make your home more inviting.