Choosing the Perfect Water Feature for Your Yard
You're finally taking the plunge. You've decided you want the soothing sound of water in your landscape but aren't sure where to begin. Start by asking yourself, "What made me think about adding a water feature in the first place?"
Maybe you were on vacation and enjoyed lounging by the lake or ocean. Perhaps you visited a shopping center and were drawn to the sound and beauty of a fountain where you could rest your weary feet. Or maybe you were thumbing through the pages of a magazine and saw photos of children interacting with fish in a pond and you envisioned your own family enjoying time spent with Mother Nature.
Your intent for adding water to your landscape will be the first step in helping you determine what type of water feature to install. If you envision hours of interaction with nature, then an ecosystem pond with fish and plants is in order. If you simply want to enjoy the sound of running water while sitting on the deck or patio, then a Pondless® Waterfall will suit your needs. Or maybe you're thinking of enhancing your home's curb appeal, in which case a stylish fountain near the entrance to your home will do the trick. There are 4 basic types of water features you can select for your home.
Ecosystem Pond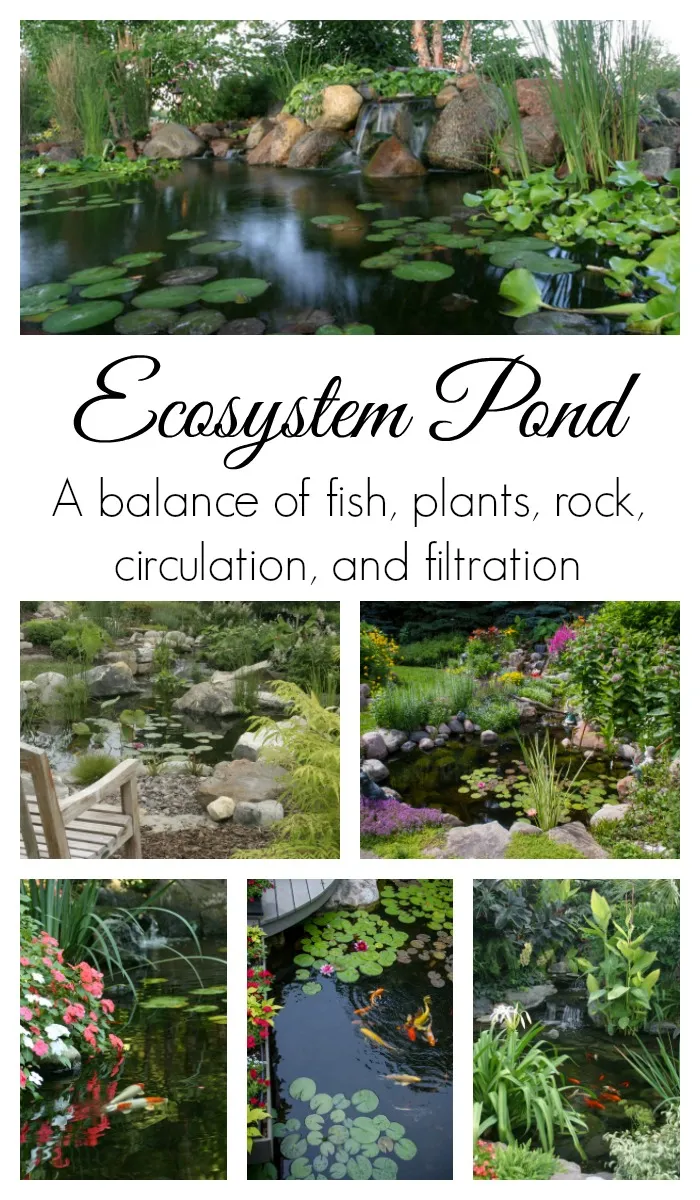 An ecosystem pond is made of 5 basic elements that work together to balance the system so that your water garden is truly a low-maintenance experience.
Filtration
Circulation
Rocks and Gravel
Aquatic Plants
Fish
You can choose to hire a Certified Aquascape Contractor to install your water garden, or you can purchase a pond kit if you want to do it yourself. Large or small, you're sure to enjoy watching your colorful fish swim in your new pond.
Pondless® Waterfall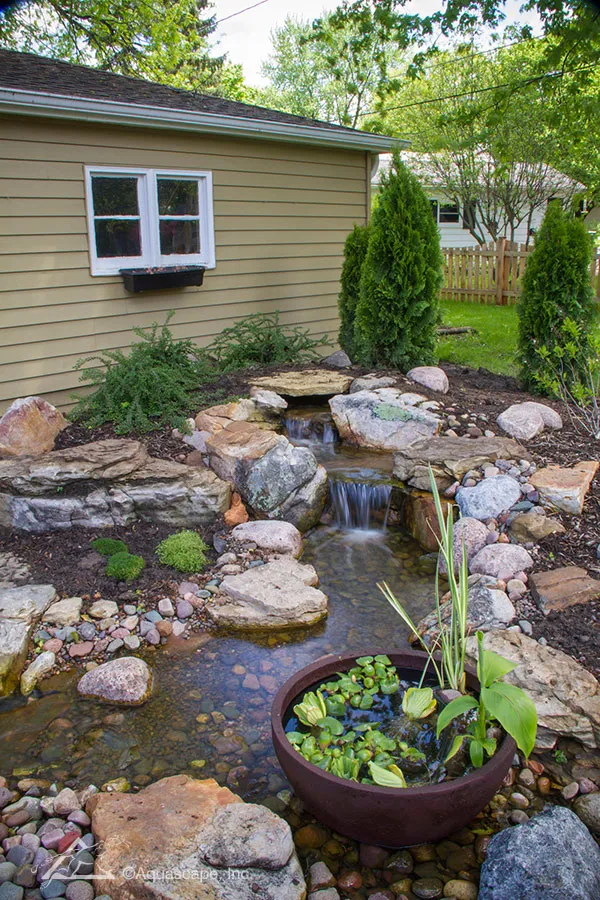 Pondless® Waterfalls are simply a re-circulating waterfall and/or stream without the presence of a pond. You can tuck them into a small space, like an unused corner near the front door. Or you can create a more expansive waterfall and stream that twists and turns its way through your back yard, inviting you to explore more. You can purchase a DIY kit to install your own waterfall, or you can hire a professional to do it for you.
Fountainscape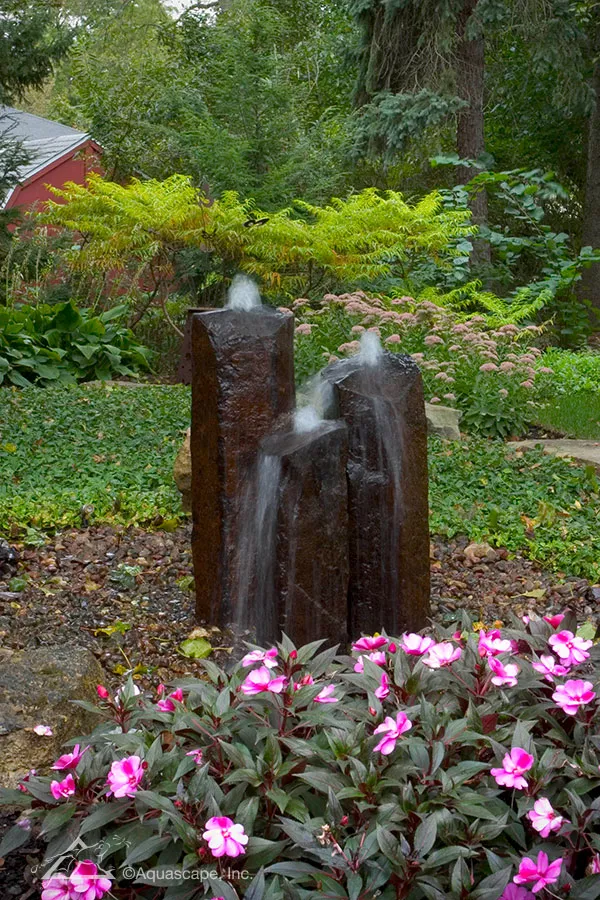 Fountains are the perfect way to add a splash of water to your landscape! Typically found in kits, they come in a variety of styles and sizes and can be installed in just a couple of hours. If you love the sound of water in the garden, a fountain is your perfect beginning. Place it in the middle of a garden bed for the birds to enjoy, tuck it next to a patio or window to enjoy the soothing sound, or place it by the front door to greet friends and visitors. The options are almost endless.
Patio Pond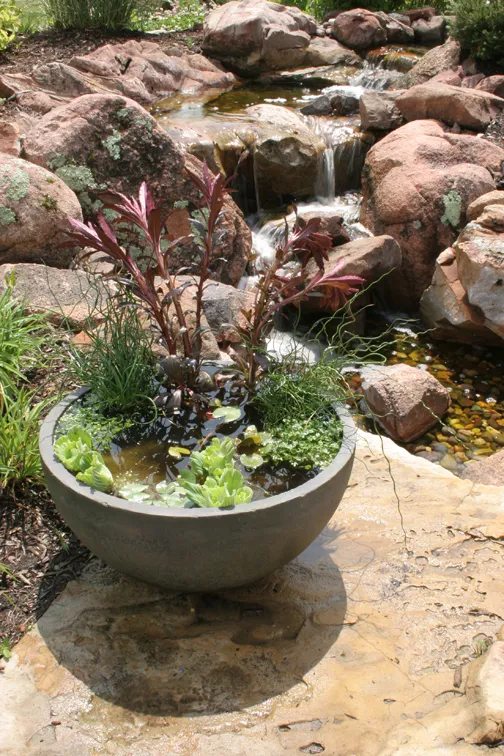 Interested in testing the waters of owning a pond? A container water garden is a great place to start! Patio Ponds can be placed anywhere and allow you the opportunity to enjoy small fish and aquatic plants. Add a small fountain and you'll enjoy the added benefit of the soothing sound of water! A patio pond is easily assembled in no time and provides unique beauty for you to enjoy.
As you consider your water feature options, you'll find your space and budget will also define the type of feature that's best for your lifestyle. A fountain or Pondless® Waterfall can be tucked into any corner of your landscape, whether it's located at the heart of an English knot garden, or situated in the midst of perennial flowers for birds and butterflies to enjoy. Water gardens with fish and plants can be small or expansive, with multiple waterfalls and streams. Add a bridge or stepping stones to provide up-close viewing vantages.
The range of options for adding a water feature to your landscape is almost limitless. You'll be sure to find the right solution that suits your needs and lifestyle for refreshing your landscape with a beautiful water feature.
Related posts
More and more people are sprucing up their backyards to create outdoor living environments where they can relax, de-stress, and entertain friends and family. We took a virtual trip across the country, compliments of Houzz, looking for gorgeous ponds…

Some pond enthusiasts like to actively tinker in and around their pond, while other water gardeners prefer to relax by the patio listening to the sound of the waterfalls. Maybe you're like most pond owners who enjoy a little of both activities!

Waterfalls are perhaps the most beautiful feature in a water garden. You can argue that you love your fish the most, or that your gorgeous water lilies are the favorite part of your pond, but the waterfall is what really makes it special.