Backyard Lighting Ideas for Your Pond, Waterfall, or Fountain
When you want to enjoy your water feature as the sun begins to set, be sure to add outdoor lighting. Most people think to add landscape lighting around a deck or patio, but don't neglect your water feature for optimal nighttime viewing! Here you'll find pretty backyard lighting ideas for your pond, waterfall, or fountain.
Add underwater lighting to a pond and you'll enjoy seeing your fish swim at night. It's almost magical watching them dart in and out of the lights.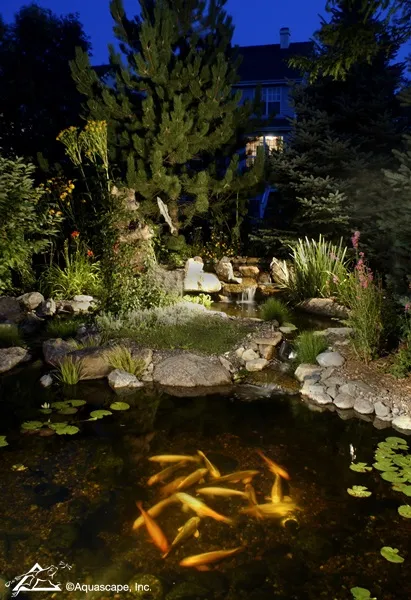 Waterfall and pond lights add an ethereal glow to your water garden, creating a memorable moment during the evening hours.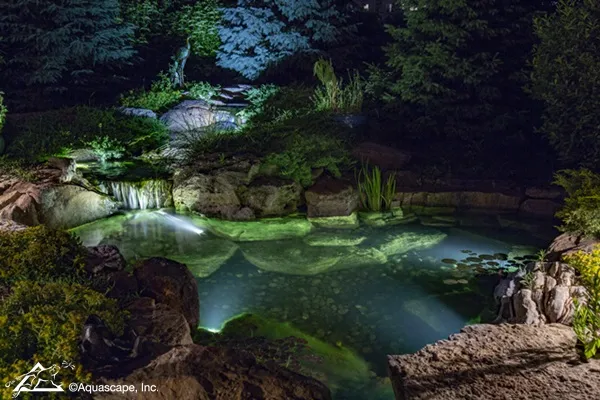 For water feature owners, backyard lighting ideas include both pond and landscape lights. Underwater lights allow you to see fish in the evening, while garden path lights accentuate the architectural elements of terrestrial plants.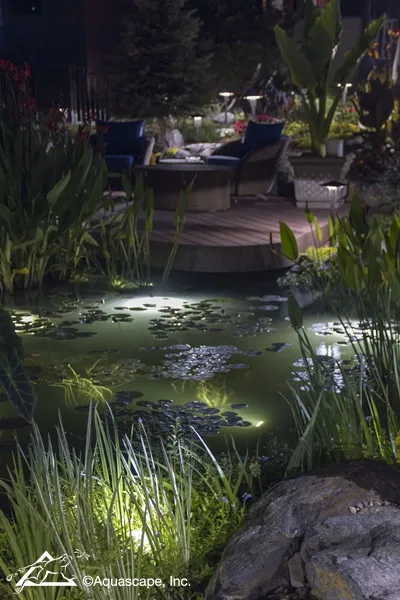 Underwater pond lights are a must for those with recreation ponds.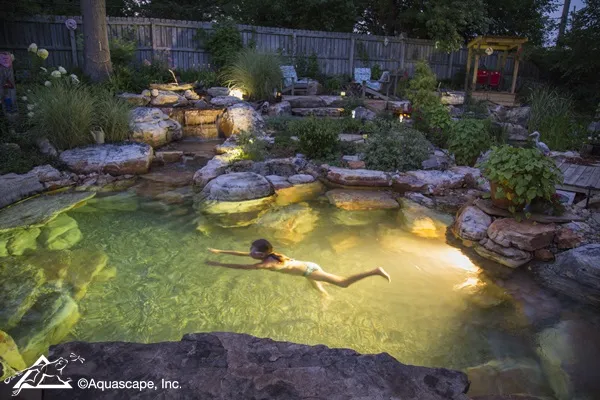 For a truly pretty effect add a waterfall light. You'll find your water feature takes on a whole new look at night.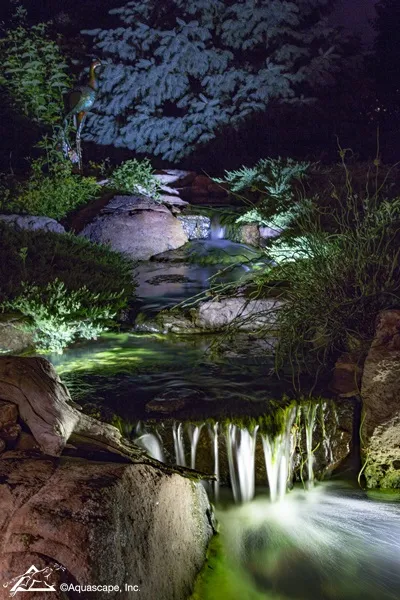 This waterfall on a large farm pond is used as a backdrop for wedding photographs. Spotlights are located at several points to show the depth and beauty of the falls.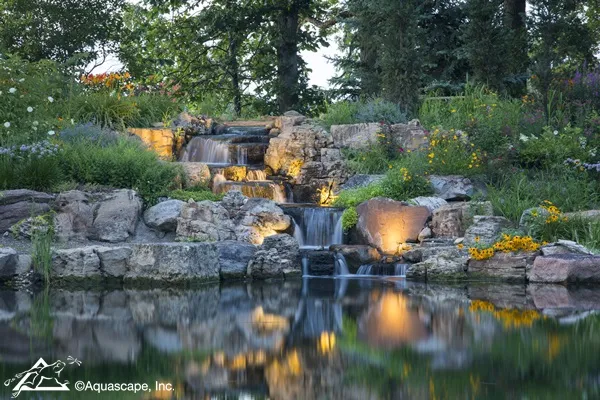 Water takes on a glowing effect when spilling over rocks. It's easy to be mesmerized by this peaceful scene.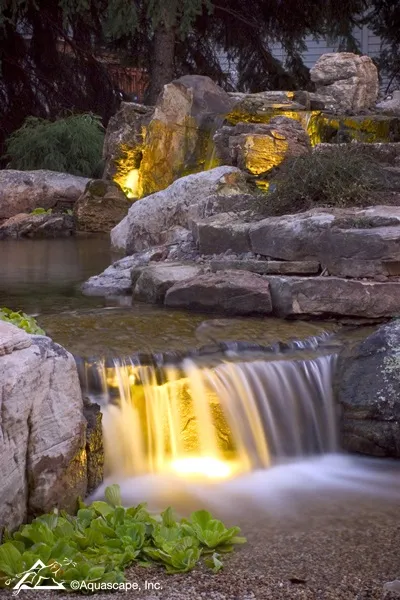 Place path lights at the top of the falls, and waterfall lights behind each drop of your waterfall.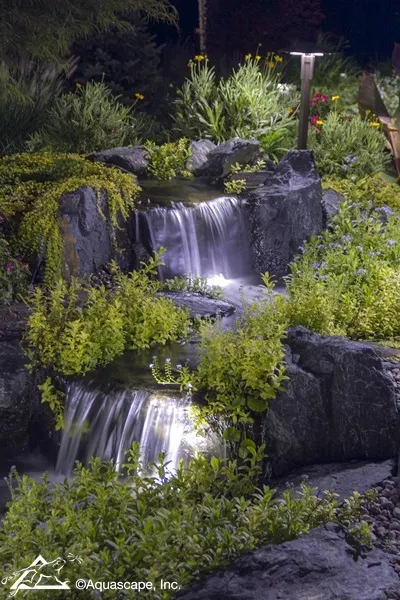 Remember to add small lights to a Patio Pond or container water garden. It looks equally pretty during the evening hours as it does during the day.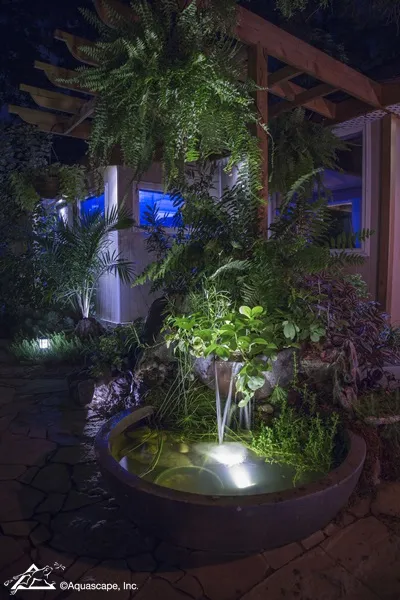 A small spotlight showcases a fountain in a front or backyard.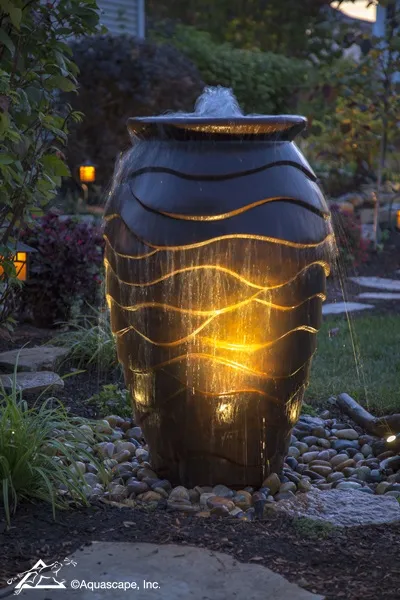 Another great backyard lighting idea for a fountain is to incorporate a small flame using the Aquascape Fire Fountain Add-On Kit. Everyone will ask how a fountain manages to maintain a pretty flame while the water is flowing.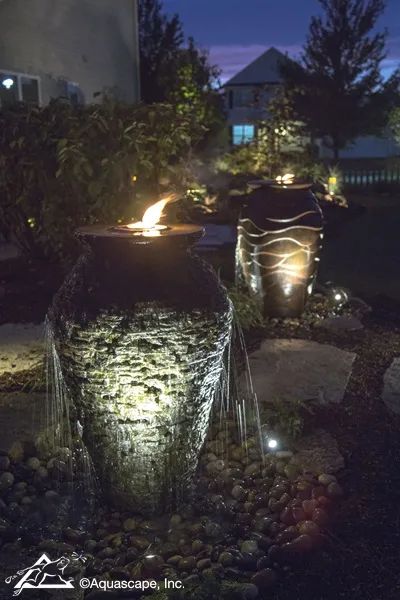 No matter what type of water feature you have, you can enhance its beauty well into the evening hours with the addition of pond and garden lighting.
Pin it for later: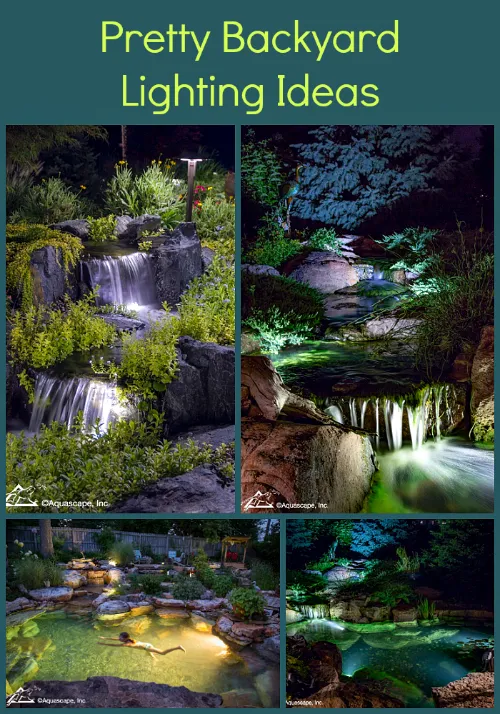 Related posts
There's more to having a pond than having fun. You can learn stuff from a pond too. When Mr. Osbourne asked me to write about the things I've learned from growing up around a pond, I wasn't sure if I could do it.

Backyard rustic waterfalls can take the shape of small, babbling brooks or loud, thunderous falls. Rock choice makes a big difference in the appearance of your waterfall, and many homeowners choose a rustic appearance for their water feature.

You're finally taking the plunge. You've decided you want the soothing sound of water in your landscape but aren't sure where to begin. Start by asking yourself, "What made me think about adding a water feature in the first place?