Aquascape Staff To Star In New Nat Geo WILD Series POND STARS
Watch Backyards and Community Spaces Transform Into Tranquil Retreats
We have some really exciting news to share with you! Beginning this fall, four members of the Aquascape team will appear in the new POND STARS TV series on Nat Geo WILD, premiering Tuesday, September 9th at 10 PM ET/PT. You'll be able to watch from the comfort of your home as some of the world's best pond builders turn barren plots into beautiful and inspiring aquatic ecosystems.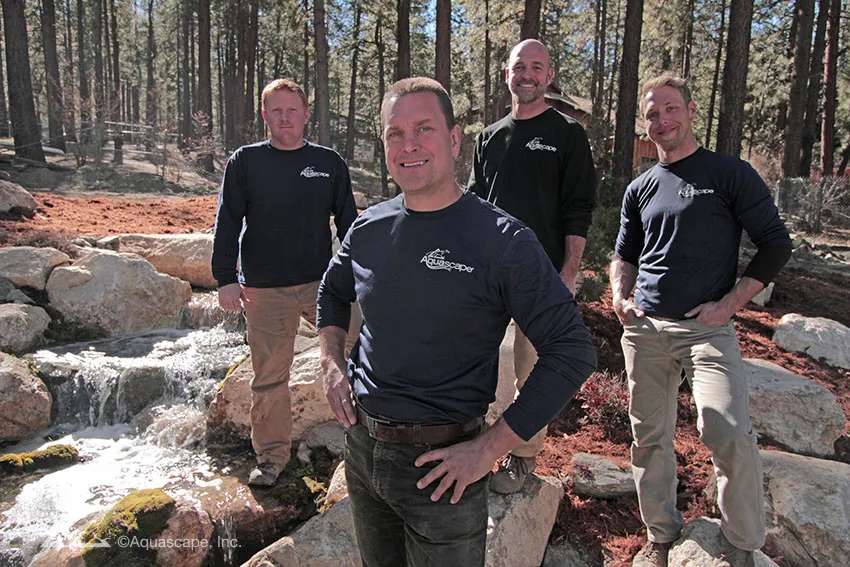 From the wetlands of Northern Florida to the mountains surrounding California's San Gabriel Valley, Nat Geo WILD's latest series introduces you to a new type of behind-the-scenes adventure and a number of furry, feathered and scaled critters. Led by longtime pond expert Greg Wittstock, or "The Boss," the team uses its unique expertise and appreciation for the outdoors to tackle these challenging assignments.
Wittstock, who has successfully developed a childhood hobby into Chicago-based Aquascape Inc. – North America's leading supplier of water gardening supplies – is joined by co-workers and outdoor enthusiasts Ed Beaulieu ("The Scientist"), Brian Helfrich ("The Foreman") and Chris Hanson ("The New Guy"). Together, the team presents more than 75 years of experience in the business, having spent decades both training and educating on backyard redesign. Each team member brings a distinct expertise and personality to the series' transformations and plays a pivotal role in reconnecting clients with the nature around them.
We hope you'll join us in watching the Pond Stars which premieres Tuesday, September 9, 2014 at 10 p.m. EDT / 7 p.m. PDT.
For more information on the show, please visit www.NatGeoWild.com or contact [email protected].
Related posts
You're finally taking the plunge. You've decided you want the soothing sound of water in your landscape but aren't sure where to begin. Start by asking yourself, "What made me think about adding a water feature in the first place?

Backyard rustic waterfalls can take the shape of small, babbling brooks or loud, thunderous falls. Rock choice makes a big difference in the appearance of your waterfall, and many homeowners choose a rustic appearance for their water feature.

Fortunately, you don't need a degree in environmental science to understand the cycle of nature that can influence the health of your pond.