Aquascape Staff To Star In New Nat Geo WILD Series POND STARS
Watch Backyards and Community Spaces Transform Into Tranquil Retreats
We have some really exciting news to share with you! Beginning this fall, four members of the Aquascape team will appear in the new POND STARS TV series on Nat Geo WILD, premiering Tuesday, September 9th at 10 PM ET/PT. You'll be able to watch from the comfort of your home as some of the world's best pond builders turn barren plots into beautiful and inspiring aquatic ecosystems.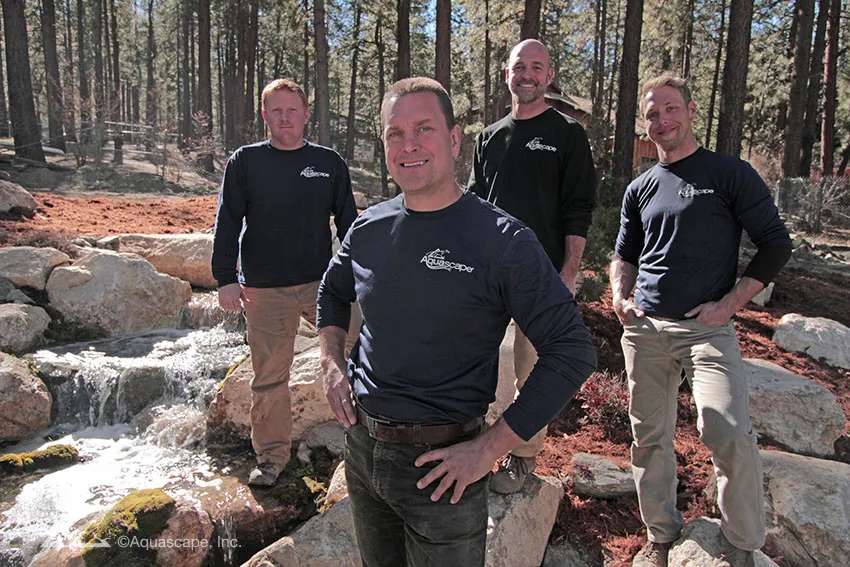 From the wetlands of Northern Florida to the mountains surrounding California's San Gabriel Valley, Nat Geo WILD's latest series introduces you to a new type of behind-the-scenes adventure and a number of furry, feathered and scaled critters. Led by longtime pond expert Greg Wittstock, or "The Boss," the team uses its unique expertise and appreciation for the outdoors to tackle these challenging assignments.
Wittstock, who has successfully developed a childhood hobby into Chicago-based Aquascape Inc. – North America's leading supplier of water gardening supplies – is joined by co-workers and outdoor enthusiasts Ed Beaulieu ("The Scientist"), Brian Helfrich ("The Foreman") and Chris Hanson ("The New Guy"). Together, the team presents more than 75 years of experience in the business, having spent decades both training and educating on backyard redesign. Each team member brings a distinct expertise and personality to the series' transformations and plays a pivotal role in reconnecting clients with the nature around them.
We hope you'll join us in watching the Pond Stars which premieres Tuesday, September 9, 2014 at 10 p.m. EDT / 7 p.m. PDT.
For more information on the show, please visit www.NatGeoWild.com or contact [email protected]
Related posts
Some pond enthusiasts like to actively tinker in and around their pond, while other water gardeners prefer to relax by the patio listening to the sound of the waterfalls. Maybe you're like most pond owners who enjoy a little of both activities!

There's more to having a pond than having fun. You can learn stuff from a pond too. When Mr. Osbourne asked me to write about the things I've learned from growing up around a pond, I wasn't sure if I could do it.

Spring is here and summer is right around the corner. April is a great month to consider what changes you'd like to make in your backyard. Since we love water features, we can't think of a better way to add beauty and interest to your outdoor living space