Five Ways to Enhance Your Pond
Being a pond owner when fish go dormant can be a bit trying on your patience. You gaze out icicle-laden windows longing for a glimpse of your beautiful koi. Rather than miss your pond fish, think about ways to enhance your pond for the upcoming season. We've got five ideas to get your creative juices flowing – and it's not too late to add these items to your Christmas list!
1. Pond Lighting
Light up your pond at night with LED white lights or color-changing lights. They're made for underwater use to enhance your evening viewing pleasure. You can place the lights on a timer for ease and convenience. Aquascape Color-Changing LED Lights also provide the flexibility in choosing which colors you want to display.

2. Landscape Lighting
In addition to pond lighting, consider landscape path lighting to illuminate edges of pathways, decks, and patios by the pond. There's no end to the combination of lighting layouts you can create.
3. Faux Driftwood
Driftwood enhances the natural look of a pond but is often expensive and sometimes hard to find the right size. Aquascape Faux Driftwood lasts a long time and features the look of real wood. Place it strategically to hide the skimmer or use it alongside the pond's edge for naturalization.

4. Fountain in a Pond
A popular trend in the pond world right now is to place a fountain in a shallow area of the pond. Aquascape urns and spheres lend themselves particularly well to creating a unique presentation within the pond.

5. Decorative Pond Spitters
Add a touch of whimsy to your pond with a decorative spitter. Aquascape offers polyresin spitters in a variety of styles that have the look of real brass but are lightweight and more economical. Here are just a few examples.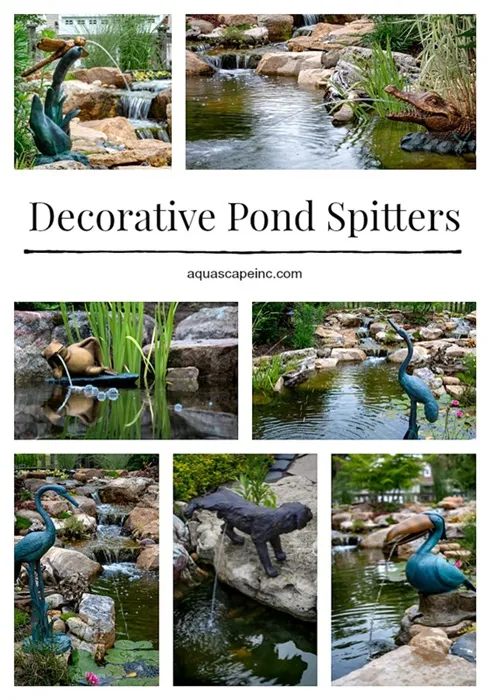 Be sure to let Santa know about the pond enhancements you'd like to add to your water garden! It will make his job of shopping so much easier.
Aquascape Lifestyles Magazine
Click Here to sign up and receive your own copy of Aquascape Lifestyles magazine, delivered quarterly to your inbox! The winter issue is coming soon!
Related posts
Watch Backyards and Community Spaces Transform Into Tranquil Retreats

There's more to having a pond than having fun. You can learn stuff from a pond too. When Mr. Osbourne asked me to write about the things I've learned from growing up around a pond, I wasn't sure if I could do it.

Newlyweds living in the suburbs of Chicago yearned for an entire backyard makeover after moving into their first home together.