The Only Pond Pump You Need! SLD Adjustable Flow

Pond Pumps
Superior Reliability + Adjustable Flow =
The SLD Adjustable Flow Pond Pump
Long lasting with a 3-year warranty

Control the flow of water via remote control or smartphone app

Designed to pass solids up to three inches in size

For use in pond skimmers and waterfall vaults
Features of SLD Adjustable Flow Pond Pumps
Learn the many features and benefits of SLD Adjustable Flow Pond Pumps.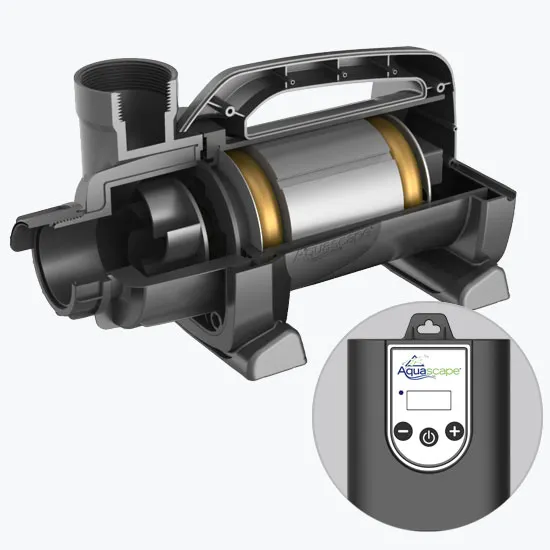 1
2
3
4
5
6
7
8
Easy Installation
Threaded 2" outlet allows for quick and easy installation in a variety of applications
Asynchronous Motor
Asynchronous motor technology provides superior reliability and longevity
Semi-vortex Impeller
Semi-vortex impeller design maximizes water flow and reduces maintenance
Durable Housing
Durable pump housing is built to last and will not corrode or rust
Efficient
Anti-vortexing shield prevents the pump from drawing air in low-water situations
Quiet Operation
Rubber feet prevent noise and vibration while in use
Smart Control Receiver
The included Smart Control Receiver connects to the Smart Control App, allowing you to control the pump with your smartphone or tablet
Integrated Control Panel
Integrated control panel with digital numeric display and quick and easy flow adjustment
Control Aquascape Water Features with Your Smartphone or Tablet
The Aquascape Smart Control App makes it easy to connect and control devices on your smartphone or tablet, providing a variety of wireless control functions, including flow adjustment and customized scheduling. To learn more about the Aquascape Smart Control App visit: https://www.aquascapeinc.com/smart-control-app
Want to Learn More about SLD Adjustable Flow Pond Pumps?
Looking for
Aquascape Products?