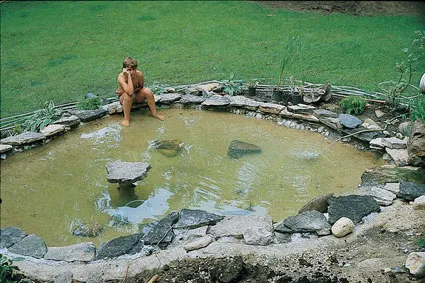 Born in 1970 so even I can calculate easily each year how old I am! Summit NJ, Dad Engineer, Mom English teacher (no I still can't spell!) first child, sister came two years later. Moved to Astabula OH till age 5. Remember riding my bike all around town (different era!) 1975 moved to a kids dream world Medford Lakes NJ. Life for next 7 years sports, turtles, sports, frogs, turtles, turtles and more turtles. LOVED NATURE AND WATER! (Foreshadowing) Moved to Wheaton IL in 6th grade. Hated it! No ponds! Brought my turtles with me (11 of 'em!) Built my own pond out of concrete. Leaked, turned green, turtles migrated away! Undaunted I ripped it out and rebuilt it again and again and again year after year after year. It became my classroom! Liked it more than school. I was big kid, tried football freshman year…LOVED IT! Coach Rex became my idol. Went from class clown to straight laced jock. Never got in trouble once in High School because loved and respected my coach. Believed in me more than I believed in myself. Accepted Christ – because of him (way cool.) Don't drink to this day – because of him. We won a state championship! I run my company today because of what I learned about creating a winning culture playing H.S. Football!
Went to my parents' alma mater. THE OHIO STATE UNIVERSITY (Go Bucks!) Probably should have been a Marine…better yet a Navy Seal! Joined a fraternity, played intramural sports, went to school (sometimes) too. Took an internship, first real job outside of life guarding. Didn't like reporting to "The Man." Heard "when you find a job you love you never have to work another day in your life." Thought about what I love, hmmm…PONDS! Told my mom next summer going to start pond building company and call it Aquascape Designs. She validated me and my idea (my mom rocks!) Got confidence to tell my dad. He asked what I needed – told him wheelbarrow and shovel (I already had strong back!) That Christmas got the wheelbarrow and shovel. June 1991 Aquascape Designs was born! Built 5 ponds in 3 months cleared 11K! I WAS RICH! Bought a truck went back to school. 6 months of school, 6 months of ponds next 2.5 years. Graduated 1994 B.A. Interpersonal Communication 2.01 GPA (Damn, studied 0.1% to hard!!!) BUSINESS EXPLODING Dad comes in (uh-oh!) Got my first patent on my garbage can skimmer and cattle trough waterfall filters (who would'a thunk it!) My dad conservative engineer (50 something) me wild-ass entrepreneur (20'ish) Oil and water! Family businesses suck. Dad left to do his own thing. Met hot Italian girl at bar. MESMERIZED! She played me like a fiddle! I marry Carla Gulisano and have my 2nd real boss. Inc. magazine names Aquascape Top 500 Fastest Growing Privately Held Company 4 years in a row. Success came fast and furious. Got a little to big for my britches. My son Ryan came into the world July 2000. Had to grow-up for real now! Fell in love with Christ Community Church. Met great friends and mentors. Blake came into the world 2003. Designed and built Aqualand, my dream a quarter million square foot workplace utopia. Whole 3rd floor dedicated to sports. Remember football?! "Those who sweat together stick together!" Had 195 teammates. Some rotten apples too! The economy tanked. Got rid of the rotten apples. Found my real team at about 100 people (Their my 300!) So many smart talented and dedicated people! My dad came back on board (introduced him to his grandkids for the first time. I'm mature enough now to see my dad for his gifts. I know my weaknesses. I married up! 2 phenomenal kids. Great dog named Buckeye (go figure.) Aqualand's roof fell down. Moved out while we rebuild. Found out who my "true" friends are. "A life without problems is the definition of hell." "Doing work worth doing is the greatest GIFT in life." "Helping someone else reach their fullest potential is the greatest satisfaction in life." BE HAPPY…NOW!
I post one picture a day on F.B. Gonn'a photo journal my life that way. Thanks for caring.
Carpe Diem!