Understand and Manage Your Business Financials with Confidence
If you're like most pond-building business owners, you love working outside and being your own boss. Moving heavy rock and getting dirty on the job doesn't bother you a bit but balancing your books and figuring out finances is one ball game you'd prefer not to play.
What if we could make the financial game a whole lot easier for you? And what if we could help you motivate your team to play along with you? When your employees act like business owners, they're more engaged, more fulfilled on the job, and more likely to stay part of your team instead of moving onto the "next best thing."
Aquascape has always been a proponent of open book management and sharing financials with employees. In fact, once a month the entire company gathers to review the numbers, celebrate wins, and identify areas that need improvement. In fact, a big blue thumb "thermometer" is posted outside the CFO's office to track monthly sales goals.
Unfortunately, not everyone likes numbers. We understand that and try to make running a business easier by measuring and tracking financial healthy with a break-even date. Your break-even date is an actual date on the calendar when your business generates neither a profit nor a loss. In other words, your costs "break even" with your sales. After this date, your company generates a positive return. The goal is to break even as early as possible in the year so your profits will be greater.
So how do you calculate your company's break-even date? Aquascape offers a free booklet called The Pond Builder's Guide to Break Even that makes it as pain-free as possible to understand important financial information such as your cash flow, income statements, and balance sheets.  We've even added "lemonade stand" exercises in the book to make it fun to learn how to run a healthy and profitable business.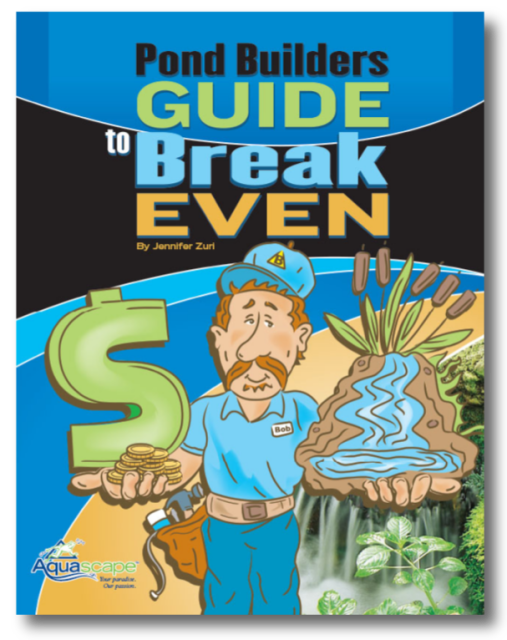 The guide will not only show you how to calculate your break-even date, but you'll learn how to manipulate that date so you can improve your financial outlook. We even show you how to use your break-even date to make important decisions such as knowing if you can afford to purchase a new truck or hire a new employee. You'll learn how business decisions can affect your bottom line and how you can predict the financial impact of those decisions.
Each chapter includes short quizzes to test your knowledge. Answers are provided at the end of the book so you can measure your comprehension. The guide also explains how to share financial information with your team so they can make decisions like a business owner and help to alleviate some of your stress.
The Pond Builder's Guide to Break Even will boost your confidence in making financial decisions and will help your company grow in profitability. Whether you're an experienced pond builder or are new to the industry, the guide provides valuable information in a fun and easy-to-understand way. You'll soon feel like an expert with your balance sheet and can rest easier knowing you have a sound formula to managing the financial side of your business.
Pond Builder's Guide to Break Even
Do you struggle with the financial side of your business? Download this free guide written specifically for pond business owners. You'll learn the simple break even formula for managing your company's financial health.