It's inevitable. Once you get several small pond projects under your belt, you yearn for that large project that will really put you on the map. Well, it may be big, and it may put you on the map, but is your business ready for it?
The truth is – large projects require more than just bidding against other contractors. It requires you to sit down and look at your business. Can  you really afford to ditch the one-day pond with amazing profit margins in exchange for a large project that is big dollar, but includes some variables beyond your control, including weather, that could cut into your productivity and ultimately, your profits?
The one-day pond is a sure thing, with guaranteed profit margins. And you can line those projects up, back-to-back, to make some serious money in a month. But what else is so great about small ponds?
Less you, more them
With smaller projects, you (the business owner) don't necessarily need to be onsite but can instead go on a design consultation and close another sale while your crew builds the pond. A larger job almost always requires that the head honcho be around to make sure everything is running according to schedule, and to make sure that large equipment is being handled properly.
Higher closing percentage
Another bonus of installing small water features is that your closing percentage will be much higher than it is with large projects. Smaller jobs are the bread and butter of a pond business, because there's always someone with a backyard who needs a small, and more economical pond.
A sure thing
Installing a small pond is an extremely efficient procedure, whereas you'll need to be more creative and resourceful when building a large pond. With a big project, you're always experimenting, hoping that the idea you scratched out on a piece of paper will work. And if something doesn't go quite the way you planned, you've put yourself behind schedule one more day.

Word of mouth
You'll likely find that referrals are more abundant with smaller projects. Once you complete a small water feature, calls begin to roll in from friends, neighbors, and co-workers of the newest pond owners. With larger ponds, not all the homeowners' friends can afford that two-week pond that covers the entire backyard. And with commercial projects, ownership of your creation changes hands and, in the multitude of contractors working on the job, your name can get lost in the shuffle.
It's all about you
You're your own boss on smaller residential projects. Other than the homeowner telling you to add a few feet here or there, you are the last word on the project. With larger features, you may have to deal with city codes and inspectors. With a small residential pond, no general contractor can stop you from laying your liner on the day you want.
The variables
Your exposure to weather-related setbacks is amplified with large projects. Your guesstimate of time and materials, which works okay on small jobs, won't work on large projects. It's one thing to have $5,000 in receivables and quite another to have a $25,000 receivable in limbo for 90 days as you wait for a final waiver to be signed.
Stick with the small stuff
At Aquascape, our saying is "everyone wants a water feature, they just don't know it yet," as opposed to "everyone wants a water feature, they just can't afford it." Entry-level ponds provide everyone with the opportunity to have a pond (especially if you offer financing), which means there are plenty of projects to go around.
Would you rather install a $7,000 project in year one for a customer and clear $3,500 – and then have a customer for life with maintenance and upgrade opportunities; or would you rather miss a sale entirely because your potential customer can't afford a $30,000 pond right now?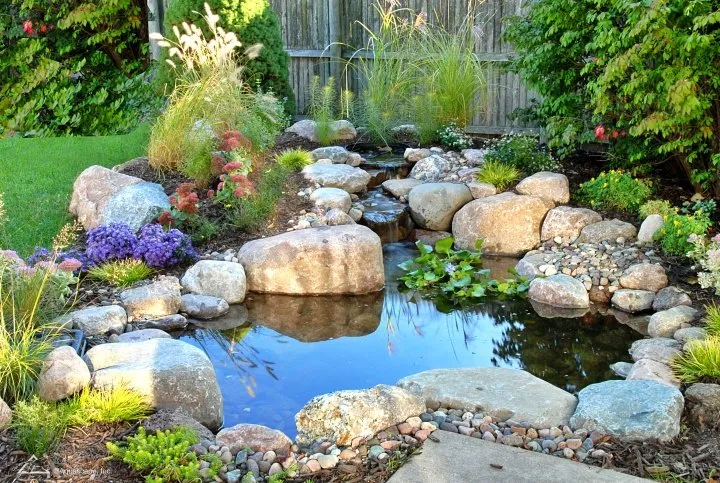 Looking to go even smaller?
If you have a customer who wants to hear and see water in their landscape but isn't quite ready yet for a pond or has a limited budget, then offer a small waterfall or fountain. Once they get their feet wet, literally, with a small feature, they're highly likely to become addicted to water gardening and will want bigger and better. Fountains and waterfalls attract birds and butterflies and become a refreshing source of enjoyment for humans and critters alike.
The bottom line
By installing smaller water features, your turnaround construction time is considerably shorter, and your profits will likely be greater due to increased efficiency and less chance of error in calculations. Most people who buy smaller water features will upgrade them in the future, creating a repeat customer for your business.
By providing smaller water features to your customers, two things will happen. First, you'll close more jobs and second, you'll increase a customer's lifetime value. Finally, keep in mind that a small project that's added onto later, often means more total dollars than a larger project alone.