Aquascape's Collaboration with The Urban Rescue Ranch Achieves Success
Ostrich kisses, prairie dog belly rubs, and capybara snack time. What could be more appealing to a pond builder than crafting a water feature at a wildlife rescue sanctuary?  How about the opportunity to have your handiwork showcased to millions of people across the internet?
Such was the case when two talented Certified Aquascape Contractors collaborated with The Urban Rescue Ranch and Aquascape to create a large pond and wetland filtration system on the Texas property that's home to a variety of critters rescued from unhappy endings.
Shawn Baker, social media community manager at Aquascape, Inc., reached out to Ben Christie at The Urban Rescue Ranch to see if there was interest in collaborating on a water feature installation that would be aired on YouTube. The pond would serve as a watering hole and playground for Ben's menagerie of animals. The answer was a resounding yes, but when construction schedules conflicted, Aquascape* contacted Lamar Stampley of Prairie Creek Ponds to get the job done, because he's a talented builder and his business is located near Urban Rescue Ranch.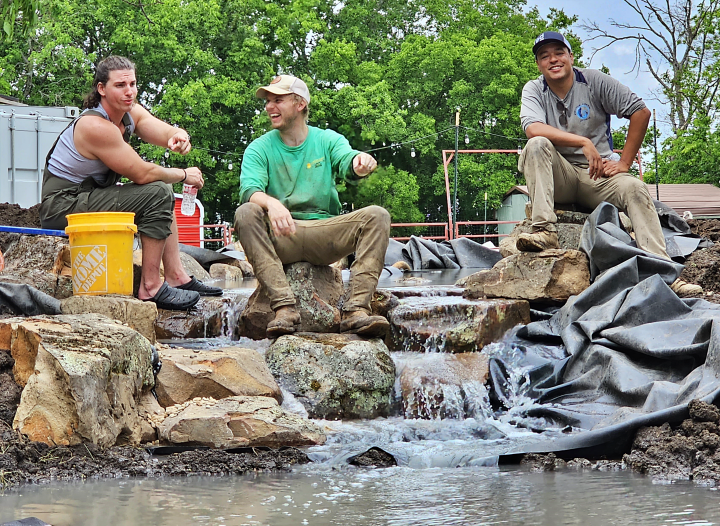 Since a multitude of animals need to have access to the water feature at the ranch, ample filtration of the pond is a must. Lamar confessed he didn't have a lot of experience with wetland filtration and wanted additional help.
As fate would have it, the perfect pairing was made at Aquascape's winter retreat in Puerto Rico. Lamar was sitting at the bar when Dave Blocksom of Pondscapes of Charlotte came over and introduced himself. The two talked about The Urban Rescue Ranch project and Lamar's need for help and Dave thought, "why not?" Dave had plenty of experience with wetland filters, and since his company creates YouTube videos of their work, he saw the potential for exposure working with Ben at The Urban Rescue Ranch who has over one million followers on YouTube alone.
The animal pond at Urban Rescue Ranch took a week to complete with plenty of filming to capture the construction process along with the antics of the animals (spoiler alert – Dave gets attacked by an ostrich). The project video created by Pondscapes of Charlotte became a viral sensation with over 250,000 views and 5,000 new subscribers to their channel. "Sometimes as a business owner, you have to take a leap of faith, and that's what we did when we decided to work on the collaboration with The Urban Rescue Ranch," states Dave.
Three employees from Pondscapes of Charlotte, located in North Carolina, flew to Texas for the project and donated their time, including Dave's son Brad, and Evan Brandhorst, the company videographer.  Dave claims that as a business owner, whenever he asks, "why am I doing this," good things always happen. His crew enjoyed the experience and were thrilled with the virality of the video on their YouTube channel.
Lamar has  published a series of shorts videos of the build on his YouTube channel. "The main thing I got out of this collaboration, is the relationship I now have with Ben at The Urban Rescue Ranch," admits Lamar who also gained social media followers from the collaboration. In addition, Lamar will provide maintenance on Ben's new water feature.
Asked whether social media has been beneficial to his pond business, Lamar says yes. Recently one of his followers reached out to him and stated she'd been watching his work for two years on YouTube while saving for a turtle pond. She's finally ready to get her turtle pond. Others have also reached out via Facebook messenger or direct messages, asking about Lamar's work. He says he plans to do more collaborations in the future, noting the importance of working with other Certified Aquascape Contractors. "Don't be an island," Lamar advises. "Put yourself out there and network with other pond professionals."
Dave and Brad also hope to do more collaborations, especially in the Charlotte area where there is an abundance of pro athletes. Read their article about The Urban Rescue Ranch experience.
*Aquascape donated all product for the collaboration with The Urban Rescue Ranch.
If you know of an Aquascape collaboration opportunity with a social media influencer and would like Aquascape's help, please direct them to our collaboration form.
Watch the project video created by Pondscapes of Charlotte: