Aquascape Academy Hands-on Training
YOU
EARN MORE

WHEN YOU

LEARN MORE!

Looking for a rewarding business opportunity? Want to expand your current landscaping, lawn care, or irrigation business with new products and services? Have an existing water feature business and need to sharpen your installation and business skills? Join us for the industry's premier hands-on training event and learn how rewarding and profitable it is to sell and install Aquascape water features.
SPACE IS LIMITED
Register Early
THIS IS THE ONE TRAINING EVENT YOU NEED TO ATTEND!
Everything Aquascape has learned throughout decades of experience operating the world's largest decorative water feature design and installation firm is available to you in a content-packed two-day training event!
Invest in yourself and your team by coming to Aqualand to learn EVERYTHING Aquascape does and how you can do it too! During your two days with Aquascape subject matter experts, you'll learn why water features are a smart choice for growing your business and expanding your profits. Hands-on construction segments and small-group business development workshops on the topics of business operations, marketing, human resources, and accounting are held in a climate-controlled training facility and provide valuable, in-the-field experience for both new and experienced water feature installers.
EACH ATTENDEE RECEIVES:
The Aquascape Operating Manual – a $3 MILLION value!
A certificate of course completion
Regular email communications, webinars, and events to stay connected with Aquascape
Direct access to customizable business, marketing, and sales tools
Continued support from Aquascape staff and our extensive network of Certified Aquascape Contractors
[Aquascape Continuing Education Units awarded to Certified Aquascape Contractors (CACs) for attendance]
HANDS-ON TRAINING HIGHLIGHTS
Are you NEW to Aquascape water features? Join our subject matter experts for a rookie training track conducted throughout the two-day training event. We'll show you how easy it is to market, sell, and install basic water features to existing and potential customers.
A rookie is NEW to the Aquascape water feature business opportunity. A rookie is NOT a foreman or laborer who recently joined the crew of an existing Aquascape contractor, CAC, or otherwise.
FUN, GAMES AND NETWORKING
A visit to Aqualand isn't complete without enjoying it's many recreational amenities. Be sure to pack your athletic gear, including gym shoes and a swimsuit, so you can take full advantage of our fitness center, sport courts, cold plunge and hot tub! You'll have ample time for networking and game play with fellow attendees during the evening on Day One.
If installation, business operations, marketing, human resources, and accounting workshops weren't enough, we've added two new workshops to our training curriculum. Join the Aquascape Product Team and learn more about our systematic approach to water feature installation or attend the Advanced Build Techniques session and learn from a seasoned veteran of the Aquascape Construction crew.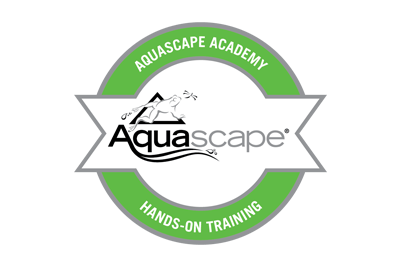 2019/2020 Academy Schedule:
DEC 10-11, 2019
JAN 22-23, 2020
FEB 5-6, 2020
MAR 16-17, 2020
MAR 18-19, 2020
APR 20-21, 2020
APR 22-23, 2020
Times:
Day 1:
8 a.m. – 10 p.m.
(includes lunch and dinner)
Day 2:
8:30 a.m. – 4 p.m.
(includes lunch)
Place:
Cost: $275 USD
Includes – Aquascape Operating Manual

*

, meals, and local ground transportation between Holiday Inn and Aqualand are included.
PLEASE NOTE: Attendees are responsible for booking local hotel accommodations.
*Academy attendees wishing to opt out of receiving an Operating Manual are eligible for a $50 discount at checkout.
Aquascape Academy Training Dates
SPACE IS LIMITED – Register Early
Select the date you would like to attend.
Aquascape Academy Hands-on Training
| | |
| --- | --- |
| | Sold Out |
| | Sold Out |
| | Sold Out |
| | In stock |
| | In stock |
| | In stock |
If you intend to participate in hands-on training and build water features in our indoor sandbox, please pack what you'd need for a day in the field, including work boots if you have them.
If you plan to join us for a game of wally-ball, basketball, soccer, or wish to use our fitness center (which includes a cold plunge, hot tub, steam room, and sauna), please pack athletic wear, sneakers, and a swimsuit.
If you want to maximize your time with Aquascape subject matter experts in the areas of marketing and accounting, please pack your laptop or iPad.
If you've attended Aquascape Academy in the past and have an existing Operating Manual, please feel free to bring it along and build your library of resources.