Faux Stump Propane Tank Cover
Cover unsightly propane tanks or other landscape components discretely and easily with the Aquascape Faux Stump Propane Tank Cover. The stump cover features an extremely realistic oak appearance that looks great in any setting. The cover is designed specifically to conceal standard twenty-pound propane tanks, which are commonly used to fuel fire pits and fire and water features. This cover comes equipped with the proper ventilation and access needed for maximum safety and convenience. The ventilation ports ensure safe use and are positioned at both sides of the cover, allowing them to be used as convenient handles for lifting the cover or providing quick access to the tank valve. The cover can also be used to hide other landscape components, including power outlet posts, aerators, control panels, transformers, and more. The cover features durable and lightweight construction, designed to stand up to the elements and provide years of enjoyment.
Dimensions: 15"L x 15"W x 18"H
Coming Soon!
Ideal for covering standard twenty-pound propane tanks
Includes safety ventilation and handles for easy removal and valve access
Extremely realistic finish replicates oak stump
Also great for covering power outlet posts, transformers, and more
Durable and lightweight polyresin construction
Features of Faux Stump Propane Tank Cover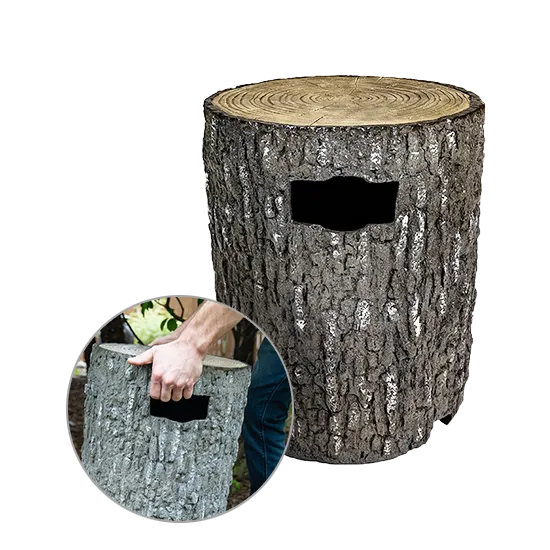 1
2
3
4
5
6
Construction
Durable and lightweight construction is built to last
Finish
Realistic faux oak stump finish blends well into any setting
Bottom Ventilation
Integrated mouse holes at the bottom where the gas line exits
Tank Ventilation
Required ventilation for a standard propane tank ensures safe use
Handles
Handles on both sides for quick and easy removal
Tank Adjustment
Side access makes it easy to adjust the valve without removing the cover