Faux Stone Fire Pit
Bring warmth to your backyard with the Aquascape Faux Stone Fire Pit. This impressive fire pit system is designed for installation in a wide variety of applications, including in and around ponds and water features. The durable and long-lasting glass fiber reinforced concrete (GFRC) construction is built to last and the extremely realistic faux stone finish will provide years of enjoyment.
Each system includes the Faux Stone Fire Pit, Auto-Ignite Flame Control System with push button ignition and flame control for a safe and easy installation, gas tubing, power cables, and a propane tank regulator.
Feature Size: 41.5"L x 34.25"W x 14.25"H
Cast concrete is a hand-finished process. As such, GFRC finishes will vary by unit. There will be a color variance of up to 15% in each unit. There may also be uneven texture or pattern as well as small holes in the surface caused by air or water trapped on the surface during casting. This is a normal trait of cast concrete and is not covered under warranty.
$2,999.99
WARNING - California Proposition 65

Learn More

This product contains chemicals known to the State of California to cause cancer and birth defects or other reproductive harm. For more information go to www.p65warnings.ca.gov

Ce produit contient des produits chimiques reconnus par l'État de Californie pour causer le cancer et des malformations congénitales ou d'autres problèmes de reproduction. Pour plus d'informations, visitez www.p65warnings.ca.gov
Creates an impressive fire pit
Complete fire system eliminates guesswork
Quick and easy setup
Includes push button, auto-ignite flame control system
Durable GFRC Construction
Feature Size: 41.5"L x 34.25"W x 14.25"H
Features of Faux Stone Fire Pit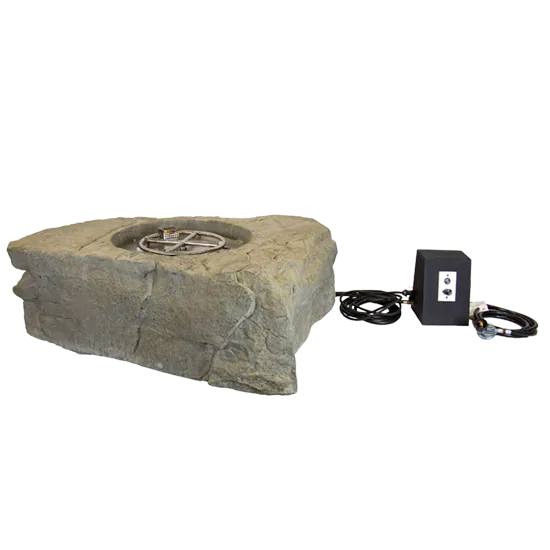 1
2
3
4
5
6
7
8
Construction
Durable GFRC construction, made to look like real stone.
Burner
60,000 BTU - 12" stainless steel burner ring, with 18" burner pan
Ignition System
Innovative burner ignition system with thermocouple sensor for safe operation
Control Box
Auto-Ignite Flame Control System for easy startup and flame adjustment
Battery Pack
Integrated, waterproof, battery pack prevents the need to plug into a power source
Power Cable
Auto-Ignite Power Cable – 10'
Gas Hose
Rubber Gas Hose – 3/8" x 10"
Propane Regulator
Propane Tank Regulator and Hose – 3/8" x 10'
Owner's Manual and Instructions
Videos