AquaGarden Mini Pond Kit
The Aquascape AquaGarden Mini Pond Kit makes it simple and easy to add the sights and sounds of a water garden to any location. Setup is quick and easy, simply place in your ideal location, add the planting substrate/biological filter media, finish with the decorative gravel, fill with water, and enjoy. If desired, a few small fish and a wide variety of plants can be added to create your very own one-of-a-kind aquatic paradise.
The integrated plant and waterfall filter provides an ideal location for a variety of plants while acting as a biological filter to keep the water clean and clear. A tranquil waterfall provides soothing sounds and enjoyment, and the LED waterfall light can be used to illuminate the water as it cascades into the pond. The lower pond area holds 5 to 7 gallons of water and is a great place for floating plants, a small water lily, or even a few small fish to create a recirculating aquaponics system.
The durable injection-molded construction is lightweight, long-lasting, and features a rippled, textured finish. The kit includes all media and substrate needed, including expanded clay grow/biological media and decorative gravel for both the waterfall and pond. The container measures 23.5″ in diameter and 9 7/8″ tall.
$169.98
WARNING - California Proposition 65

Learn More

This product contains chemicals known to the State of California to cause cancer and birth defects or other reproductive harm. For more information go to www.p65warnings.ca.gov

Ce produit contient des produits chimiques reconnus par l'État de Californie pour causer le cancer et des malformations congénitales ou d'autres problèmes de reproduction. Pour plus d'informations, visitez www.p65warnings.ca.gov
Complete pond, waterfall, and water garden kit includes everything needed
Provides a relaxing focal point for patios, offices, balconies, bedrooms, gardens, and more
Quick and easy setup
Tranquil waterfall provides soothing sounds and enjoyment
If desired, add plants or a few small fish
Related Posts
See how easy it is to build an Aquascape ecosystem pond using our tried-and-true 20-steps process and DIY Pond Kits
Container water gardening is a rapidly-growing garden hobby and provides a whole new opportunity for an exciting group…
Features of AquaGarden Mini Pond Kit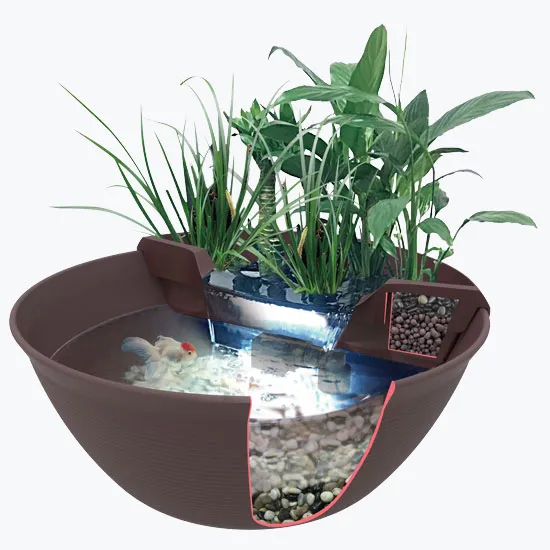 1
2
3
4
5
6
7
Built to Last
Durable, injection-molded container is lightweight and built to last
Integrated Filter
Integrated plant and waterfall filter cleans water and houses plants
Pump Included
Pump with low-suction attachment maximizes water usage and circulation
Integrated Light
Integrated waterfall light illuminates the waterfall.
Grow Media
Expanded clay grow media provides an ideal environment for plant growth
Disguise Grow Media
Decorative gravel in upper waterfall weighs down and disguises the grow media
Decorative Gravel
Decorative gravel in lower pond beautifies the pond and provides surface area for beneficial bacteria to help keep the water clean
Owner's Manual and Instructions
Videos