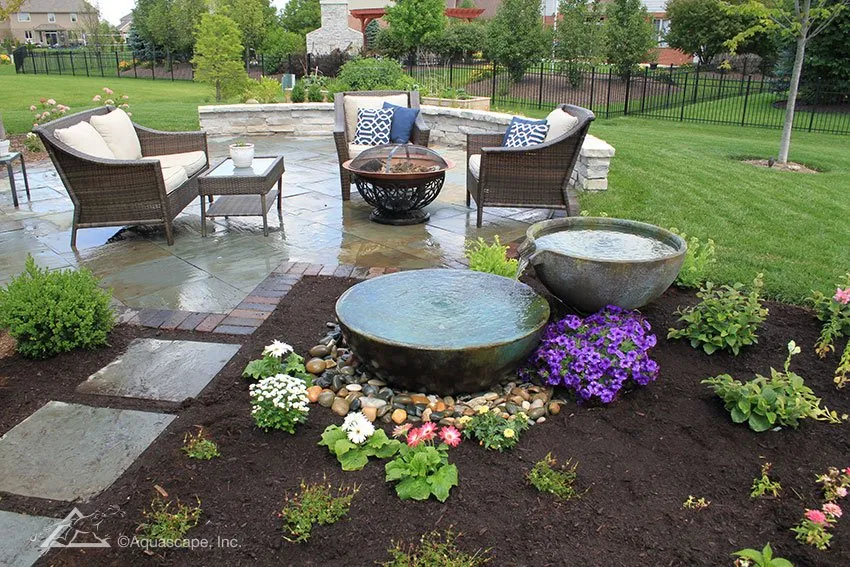 Aquascape Water Feature Pumps
One of the most important elements in your water feature is the pump because it continually turns the water over and provides critical aeration to keep water clean and clear. Since your pump is the workhorse of your water feature, you want to make sure you choose a long-lasting pump that's efficient to operate. All Aquascape pumps come with a warranty and are known to function properly for years, even if you run the pump 24 hours a day. Choose from one of our pond, waterfall, or fountain pumps and rest assured you're getting the best quality at the best value.
For Use in Pond Skimmers or Directly in the Pond
Whether you need a pump that fits inside a skimmer or is placed directly in the pond, Aquascape has several models from which to choose. You'll enjoy our quality line of pumps in a range of flow rates to suit any pond. We even offer pumps with adjustable flow rates that you can control with a remote or from your smartphone or tablet using the Aquascape Smart Control App. Aquascape is always on the leading edge of technology to provide you with the best products.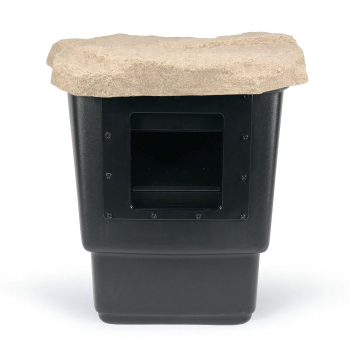 For Use in Waterfall Vaults
Aquascape pumps are made to be placed inside a sub-surface vault which makes them easy to access and helps protect them from the elements. Just like our pond pumps, the waterfall pumps come in a range of sizes with a few adjustable flow options, too.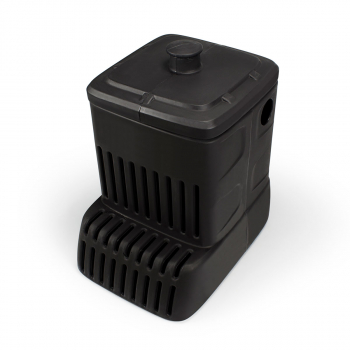 For Use Outside the Pond
If you're looking for a non-submersible pump for your water feature look no further than the EXT Pond Pump  line by Aquascape. Our external pond pumps are ideal for water feature applications requiring high flow with high efficiency in a non-submersible style pump.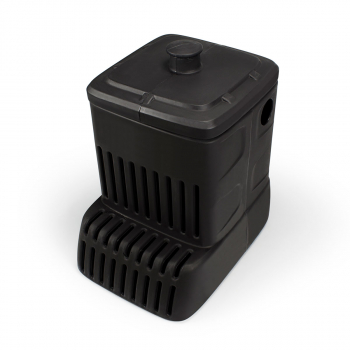 Available in four models with maximum flow rates of
12,500 – 18,400 gph
External pond pumps are ideal for supplying water flow to waterfalls, wetland filters, and water jets
For Use with Decorative Fountains and Spitters
Our fountain pumps range in flow rates from as little as 70 gph for small spitters to 2,000 gph for large fountains. Aquascape fountain pumps include a flow control valve to customize water flow.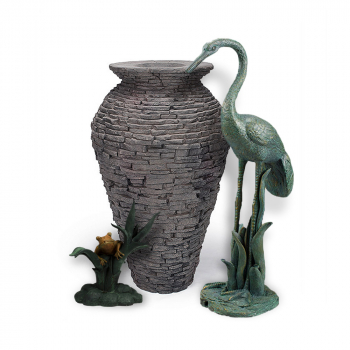 Other Pump Products
Aquascape offers a cleanout pump and hose for those interested in cleaning their own pond, along with a pump cleaning solution and optional accessories.
Pump FAQs
Below you'll find answers to frequently asked questions we get asked about Aquascape pumps.

Can Aquascape pumps be used in salt water applications?
Aquascape pumps cannot be used in a saltwater aquarium or saltwater pool. They can however be used in ponds that have been treated with (pond) salt.
Are Aquascape pumps the same as typical sump pumps?
A sump pump is not designed for continuous duty and can cost more than 10x the electrical cost to operate. Aquascape manufactures pumps with high quality components that are energy-efficient and designed for continuous duty. It will typically take several months to recover the cost of the pump compared to the original savings of purchasing a less expensive sump pump, but it will then continue to pay for itself every month after with lower energy costs.
Do I have to remove the pump for the winter?
If you live in a region that experiences freezing weather where the surface of the water feature will ice-over, you will need to make a decision if you are going to continue to operate the waterfall or shut it down for the winter. Operating the waterfall during the winter will reward you with the beautiful ice formations around the falls and stream beds, but you also have to consider that there will be a little maintenance required during this time of year, such as adding water due to evaporation and making sure ice dams don't form in the stream and waterfalls, which could cause water loss over the edge of the stream. Due to winter maintenance required, many pond owners in cold climates simply choose to turn off the waterfalls during the winter. If you choose to turn off the waterfall you will need to remove the pump from the filter and store it in a frost-free location, such as a garage or basement. Consult the pump's owners manual for more information on properly storing your pump.
What is the operating cost for your pumps?
There is a wide range of operating costs for our pumps depending on the size and style of pump. The average cost for a backyard water feature is about $18-25 per month. Rates are going to depend on the cost of electricity in your area.
Need a Pond Builder?
Schedule a consultation with a friendly
Certified Aquascape Contractor
Looking for
Aquascape Products?