Enter to Win $5000 in Aquascape Products in the DIY Pond Build Contest
TEAM Aquascape is searching the globe for homeowner-built water features. Any DIY pond or waterfall built by a homeowner qualifies for submission into the contest. Contestants who submit pictures of their water feature online have a chance to win $5000 in Aquascape products. The grand prize winner will be hand-selected by Brian Helfrich and Chris Hanson of TEAM Aquascape.
"It doesn't have to be an Aquascape water feature. We want to see someone who enjoys the water gardening lifestyle and allow them the opportunity to enhance their pond or waterfall or build an all-new water feature using our products," says Brian Helfrich, vice president of construction at Aquascape, Inc. "There are lots of talented pond builders with a day job who are passionate about their water feature. This is a great opportunity for them to showcase their work to the experts and possibly win $5000 in Aquascape products."
For online submission, contestants must fill out the entry form at http://www.diypondcontest.com/ with photos of their water feature. Submissions are due by Sept. 30, 2021, at midnight. The winner will be announced on TEAM Aquascape social media platforms which may include Facebook, Instagram, and/or YouTube. Employees of Aquascape, Inc., Certified Aquascape Contractors, and Aquascape retailers or distributors are not eligible to participate in this contest. Green industry professionals and applicants of the CAC Program are welcome to participate.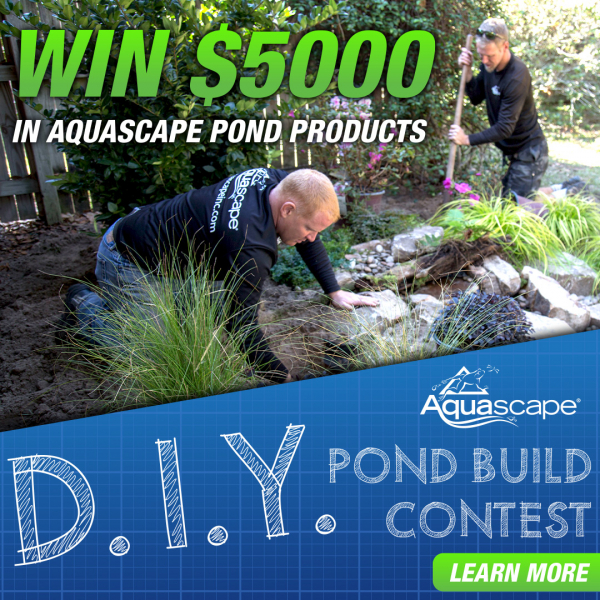 Related posts
Aquascape Inc. welcomes all water feature artists to submit their work for a chance to be recognized as Artist of the Year. This award is typically reserved internally for Certified Aquascape Contractors but now all pond builders are in contention. For submission, contractors post photos or videos of their finest projects on social media tagging…

A team of Aquascape Foundation volunteers installed a 32,000-gallon rainwater harvesting system at Master Cares Christian School in Kyotera, Uganda the week of January 6, 2020. The newly installed Aquascape Rainwater Harvesting System provides clean drinking water for approximately 550 school children and 200 staff members year-round and allows students and teachers to focus on…

Aquascape, Inc. is taking ponds and waterfalls to the next level with an innovative offering of adjustable flow pumps and deluxe kits. The Aquascape SLD Adjustable Flow Pond Pump is the only asynchronous, solids-handling, adjustable flow, WiFi connected, smart device-controlled pump in the water gardening industry. "Pond owners will be amazed by all the features…