Brian Helfrich Joins Atlantis Water Gardens to Build Fire Prevention Pond
Brian Helfrich, vice president of construction at Aquascape Inc. in St. Charles, Illinois, is partnering with Jaak Harju of Atlantis Water Gardens in Denville, New Jersey, to design and construct an innovative, sustainable fire prevention pond for Matt Pfister, a resident of Yucaipa, California. Pfister has endured two close calls from local wildfires over the past five years, each conflagration coming within a couple hundred yards of his mountaintop home overlooking Los Angeles, the most recent being July 2021.
Helfrich is combining his expertise with Pfister's longtime experience with drainage and pipelaying to install a sustainable pond that will hold 130,000 gallons of water, and consists of 600 tons of rock, all of which Pfister is excavating from his own property. The pond will be designed such that water will be drawn from the bottom of the pond to a pumphouse, which then can be distributed to fire hydrants around his property to irrigate the area and combat fires. With Helfrich and Atlantis Water Garden's assistance, this unique fire prevention pond concept also will serve as a large recreation pond – one that will be able to accommodate wildlife survival, aquatic entertainment for Pfister's 16 grandchildren – and community events.
"The project will serve many functions for the community", Helfrich said. "First and foremost, it will be a safeguard to help prevent spread of future wildfires in the immediate area through its inventive pumping system. And then it will also be essentially an aquatic attraction for people near and far. The pond and property will be used for weddings, church and youth group activities, and more. Jaak [Harju] and I were able to help Pfister create a pond with this unprecedented combination of characteristics and capabilities."
The first phase of the project was done in December, in which the foundation of the pond was placed with liner, rock and plumbing pipe. The pond is currently in its second phase of construction, placing additional stone and filling the pond. The project forecasts to be completed by summer 2022.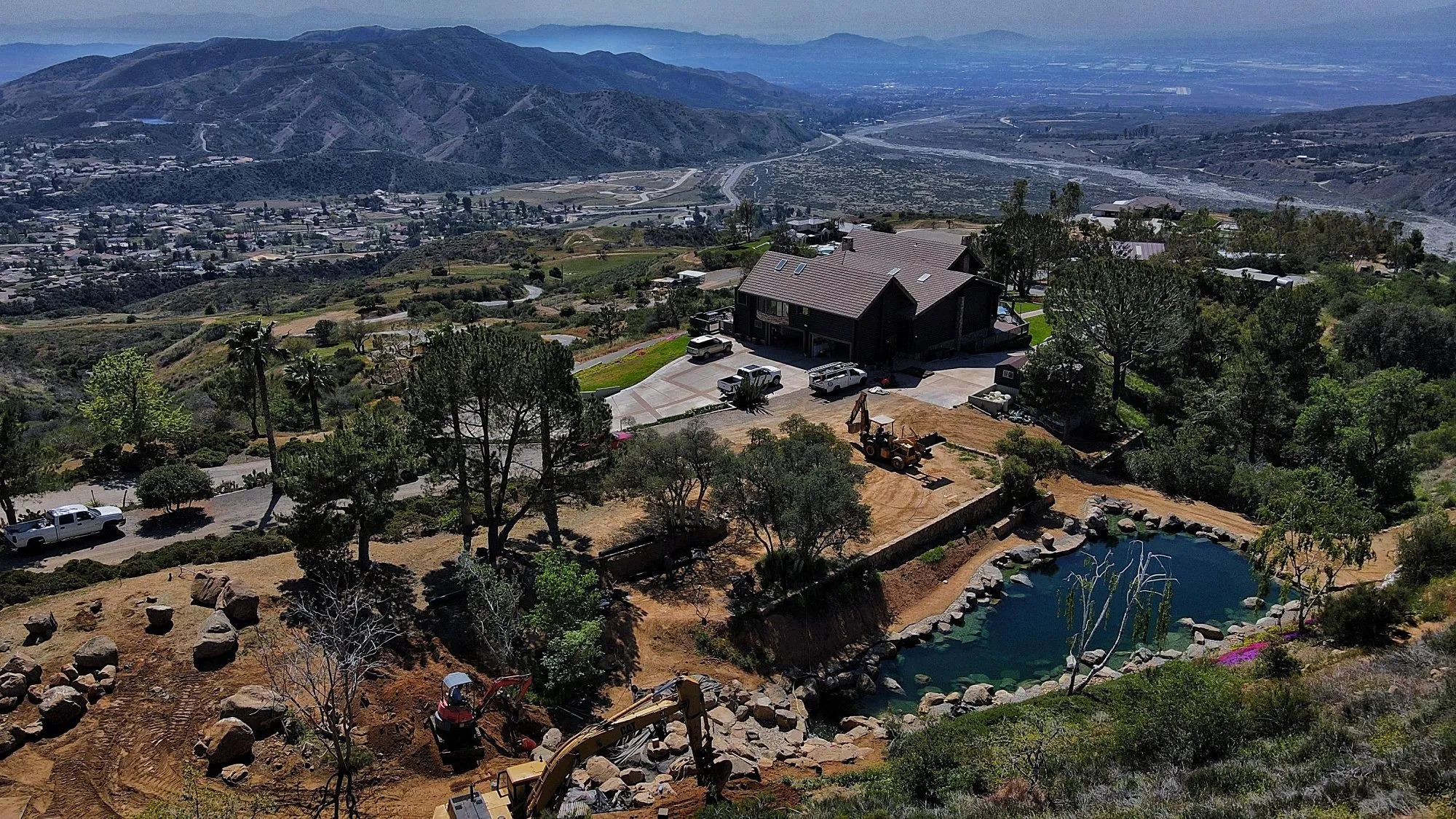 Related posts
Aquascape, Inc. creator of the #1 contractor-installed water garden, adds to their selection of pond and landscape lighting products with the Aquascape LED Color-Changing Lights and Smart Control App. Simply plug the lights into the Smart Control Hub (sold separately) and pair with the Aquascape Smart Control App to control your lights at anytime from…

A team of Aquascape Foundation volunteers installed a 32,000-gallon rainwater harvesting system at Master Cares Christian School in Kyotera, Uganda the week of January 6, 2020. The newly installed Aquascape Rainwater Harvesting System provides clean drinking water for approximately 550 school children and 200 staff members year-round and allows students and teachers to focus on…

Founder and CEO of Aquascape Inc., Greg Wittstock, announces a DIY Pond Build Contest open to homeowners across the globe. To enter, contestants must build an ecosystem pond using Aquascape products or take pictures of an Aquascape pond they already built. Wittstock will hand-select the winner and visit them in-person to feature their pond in…