Aquascape Recaps the First-Ever Virtual Pondemonium®
After hosting the event in-person for more than 20 years, Aquascape, Inc. presented the first-ever virtual Pondemonium® on August 26-27.
Distributors, contractors, and retailers from around the globe participated in the preeminent business training and networking event for the water garden industry. The two-day online broadcast featured over 90 sessions led by Aquascape team members, award-winning pond builders, digital influencers, industry experts, and more.
"I'm extremely proud of our team for overcoming the obstacles that come with hosting a virtual event. Due to the global pandemic, this was our first time hosting Pondemonium in this fashion, and we were still able to connect with hundreds of water feature professionals and provide a wealth of valuable content for our customers," says Greg Wittstock, owner and CEO of Aquascape, Inc. "Nothing can replace the dynamic of an in-person event, but on the plus side, attendees now have access to more training content than ever before."
The 90-day extended access option for the virtual event allows registrants to go back and attend any of the 94 training sessions they missed due to schedule constraints. Past attendee numbers for Pondemonium events hovered between 400 and 500. This year's event welcomed 855 registrants from 11 different countries. All pre-recorded sessions featured live chat rooms, which allowed presenters to interact with attendees and answer any of their questions as the sessions aired while online meeting events held via Zoom enabled attendees to connect with presenters virtually.
2020 Pondemonium award winners included: Nick Needham of Pond King Water Gardens in Eagan, MN for Digital Influencer of the Year; Dean Pipito of Aquatica in Wales, WI for Conservationist of the Year; Thomas Smith of Garden State Koi in Warwick, NY for Distributor of the Year; Jason Duffney of Earth Works in Jacksonville, FL for Businessman of the Year; Mark Wilson of Any Pond Limited in Daventry, UK for Certified Aquascape Contractor of the Year; Tim Wood of Aquatic Edge in Pittsburgh, PA for Aquascape Artist of the Year.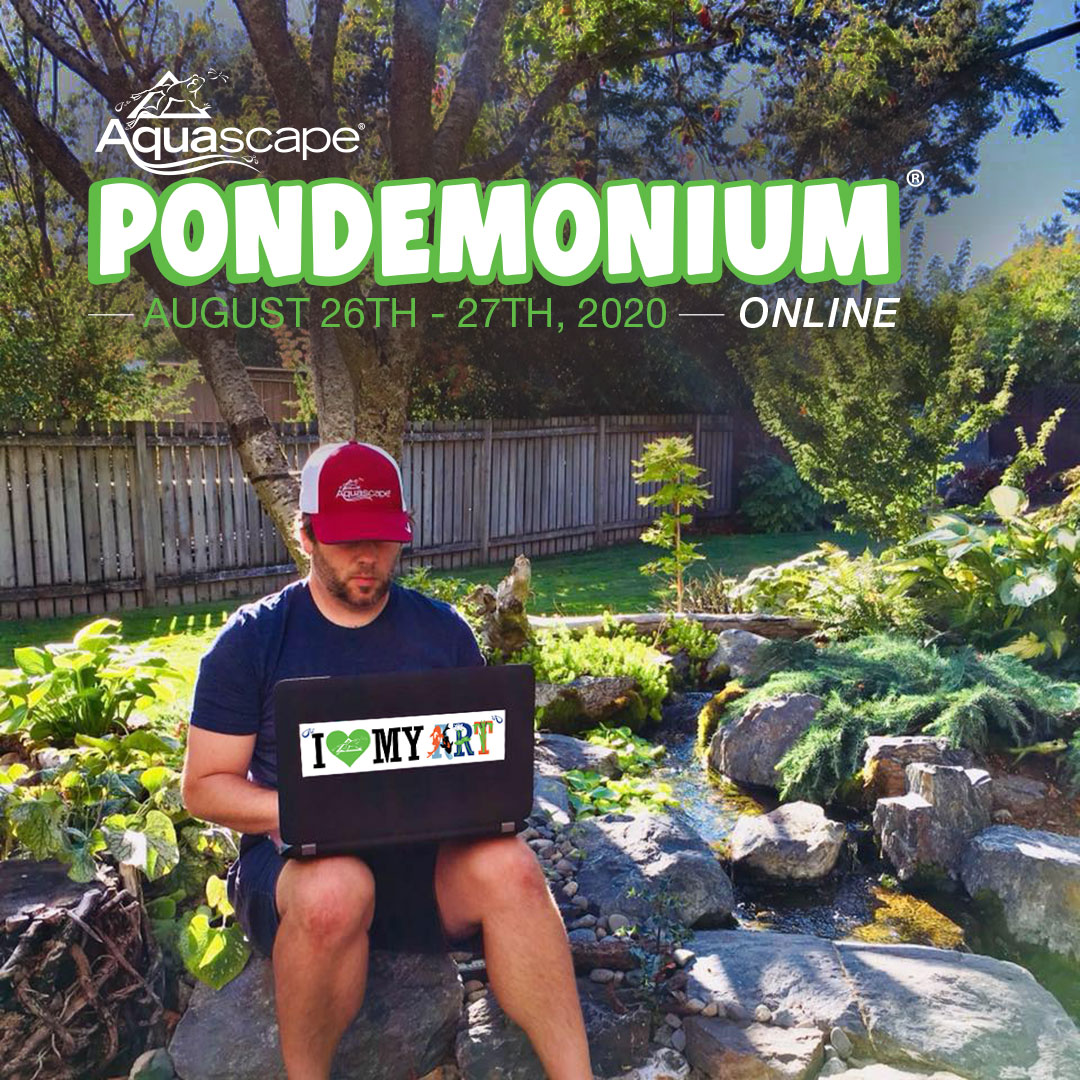 Related posts
Aquascape, Inc. is simplifying fall pond care with protective netting, cold water bacteria, and cold water fish food. Aquascape Protective Pond Netting captures leaves and other debris to keep water features clean, clear, and healthy. Now is the time to take appropriate measures to ensure healthy fish and pond water for next year's spring season.…

Founder and CEO of Aquascape Inc., Greg Wittstock, announces a DIY Pond Build Contest open to homeowners across the globe. To enter, contestants must build an ecosystem pond using Aquascape products or take pictures of an Aquascape pond they already built. Wittstock will hand-select the winner and visit them in-person to feature their pond in…

AquLocal news radio station, WBBM News Radio, visited Aquascape, Inc. to interview Founder and CEO, Greg Wittstock. Julie Mann asked Greg about his journey from pond hobbyist at the age of 12, to his successful company today. Listen to the podcast and watch the video below: