Aquascape Inc. Introduces Convenient Smart Control App and Devices for Pond Owners
Aquascape Inc., North America's leading innovator in the water gardening industry, reveals a new Smart Control App allowing pond owners to automate and manage their water feature settings from anywhere using a smartphone or tablet. The app allows users to organize, automate, and control their color-changing lights using the Smart Control Hub, their adjustable flow pumps using the Smart Control Receiver and any outdoor electronics using the Smart Control Plug.
"Our Smart Control App and devices give customers a simple all-encompassing experience for managing and monitoring their pond," says Dave Kelly, vice president of product development for Aquascape Inc. "The flexibility it allows is particularly a plus. You can turn your lights on at sunset with ease, and schedule them to turn off before you head to work in the morning. The app helps you stay mindful of energy consumption by displaying the energy output for your connected devices."
The Aquascape Smart Control devices feature:
WiFi Pairing
Easy voice control with Alexa and Google
Compatibility with iPhone and Android operating systems
Weather-resistant, injection-molded housing
Hang tab for quick, secure mounting
Integrated display for pump flow setting
Adequate wireless coverage necessary: 2.4 GHz supported
The Smart Control App and devices are perfect for pond owners looking to control all adjustable aspects of their water feature in one easy-to-use app. Automated lighting options remove the need for photocells and timers, while the dynamic scheduling feature allows customers to turn products on and off based on real-time energy consumption data.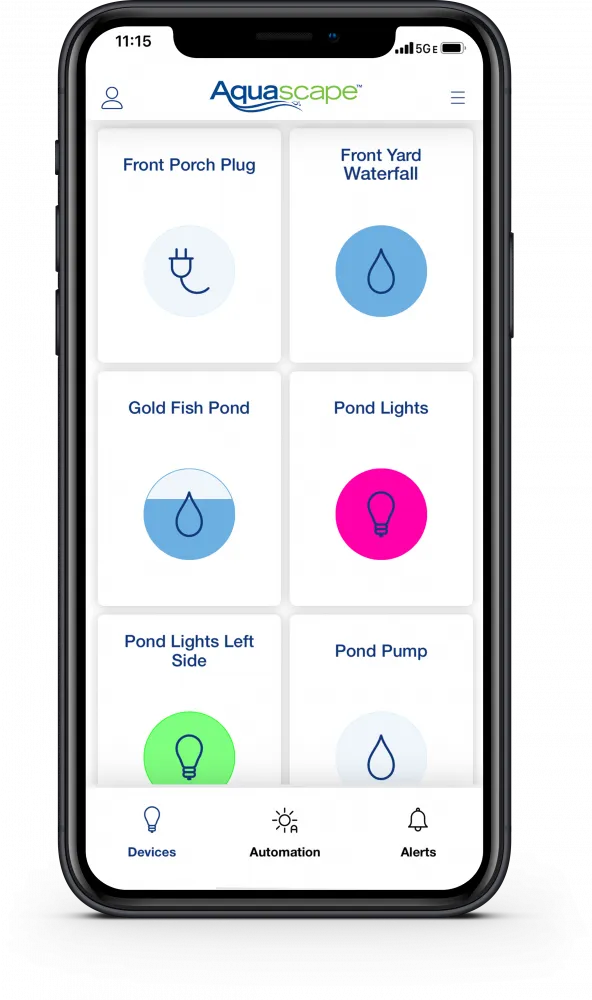 Related posts
Aquascape, Inc. is taking ponds and waterfalls to the next level with an innovative offering of adjustable flow pumps and deluxe kits. The Aquascape SLD Adjustable Flow Pond Pump is the only asynchronous, solids-handling, adjustable flow, WiFi connected, smart device-controlled pump in the water gardening industry. "Pond owners will be amazed by all the features…

Aquascape, Inc. invites the public to join them for their annual Water Garden Weekend from May 15th – 16th.  Aquascape, the innovative leader of water features in North America and inventor of the low-maintenance ecosystem pond, is located at 901 Aqualand Way in St. Charles, Illinois, the Water Garden Capital of the World. Daytime event…

A team of Aquascape Inc. employees and Aquascape Artists of the Year installed a 22-by-50-foot ecosystem pond with a 70-foot stream for NBA Hall of Famer, Shaquille O'Neal. Over three days, the Aquascape team transformed the big man's front yard into an oasis. The newly installed water feature occupies Shaq's home in Atlanta right next…