Outdoor Fountain Kits
Aquascape outdoor fountain kits make it easy to add a splash of water to any space in your yard, making them an ideal choice if you desire a smaller water feature. Available in a variety of options, you're sure to find one that suits your unique style. Perfect for the do-it-yourselfer!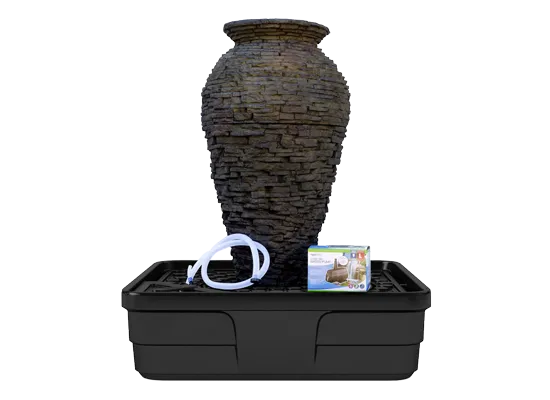 Simple Installation
Outdoor fountain kits come with all the necessary components to install a recirculating fountain on your own or with a friend in just a few hours. A sub-surface basin holds the water and pump, which pushes the water up through the fountain for a stunning display. Install just one fountain, or group several together for a truly unique water feature. Just add plants, flowers, decorative rock, or mulch to complete your project. Then sit back, relax, and enjoy the soothing sights and sounds of running water in the garden. You'll enjoy seeing the birds and butterflies that come to visit your new decorative fountain.
Urn Kits
Aquascape offers three different styles of urn fountains in a variety of sizes. The lightweight, durable fiber-resin composite construction is built to last. The stunning finish gives the appearance of real stone or ceramic. Add the element of fire to your urn fountain with the Aquascape Fire Fountain Add-On Kit (sold separately).
Stone Fountain Kits
Create an impressive, recirculating, real-stone fountain with the Mongolian basalt columns. Each stone is core-drilled making installation easy. You'll enjoy the look and feel of real stone while watching water cascade beautifully over the sides of your fountain.
Stacked Slate Kits
Our stacked slate fountain products are made of lightweight, durable fiber-resin composite that is built to last and provides the look and beauty of real stacked slate stone. Water is pumped through the center of the fountain and gracefully cascades over the stacked slate texture, creating an impressive effect.
Spillway Bowl and Basin Kit
The large spillway bowl and basin create a unique, recirculating fountain that's sure to become the focal point in your yard. Link the bowls together in a wide variety of configurations or keep it simple with just one bowl or basin. You'll enjoy the soothing sight and sound of water in your landscape.
Need a Pond Builder?
Schedule a consultation with a friendly
Certified Aquascape Contractor
Looking for
Aquascape Products?