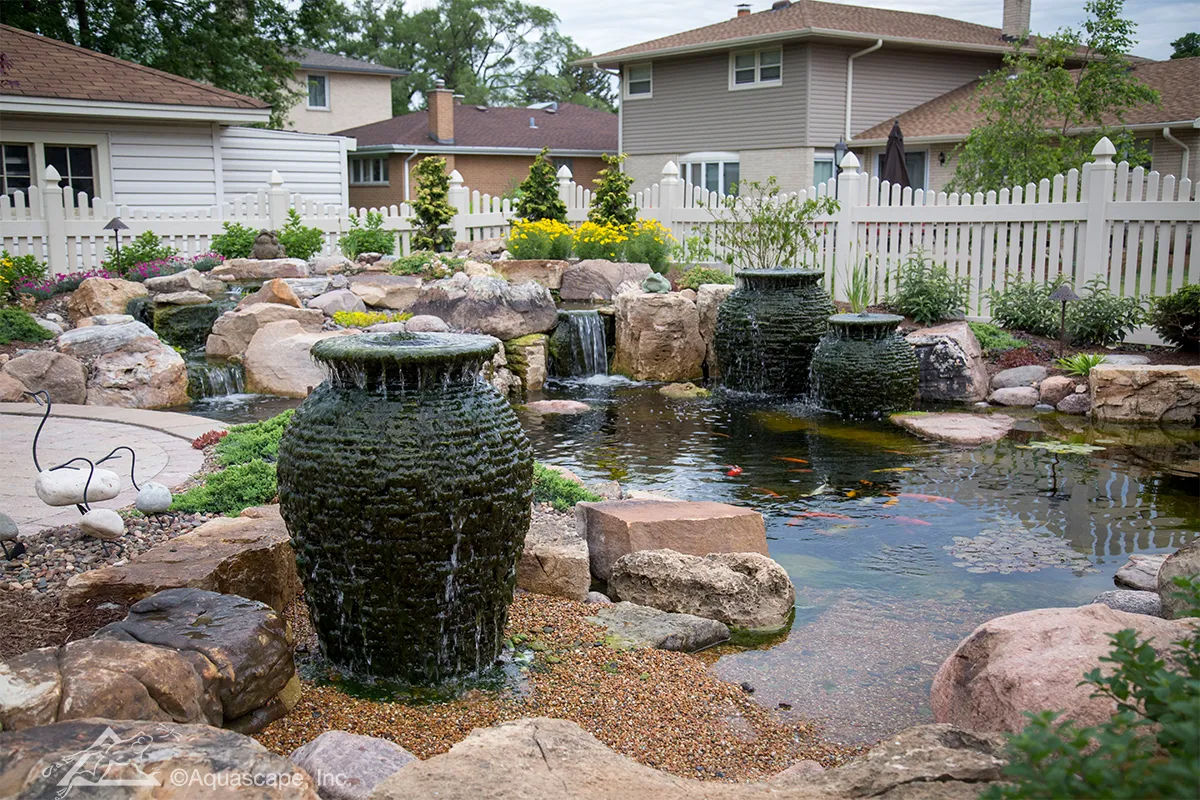 Easy Setup and Maintenance
Fountains are the easiest and quickest way to start Living the Aquascape Lifestyle®. These fountains can be stand-alone features or installed into an existing pond to add a unique decorative accent to your water garden. Fountains make it easy to add the relaxing sights and sounds of water to any location.
Stacked Slate and Scalloped Urns
Urn fountains come in three different sizes and in three different styles to allow you to be creative and design your yard the way you want. The lightweight, durable fiber-resin composite construction is built to last and provides the look and beauty of real ceramic or rock.
Faux Basalt Columns
Aquascape Faux Basalt Column Fountains make it easier than ever to create an impressive, recirculating fountain. The fountains are molded from real basalts and handmade in the USA using fiberglass, resin, and real stone to provide an extremely realistic and durable fountain.
Faux Basalt Column Options
Stacked Slate Sphere Fountain
The Stacked Slate Sphere is the perfect addition to any backyard. Water is pumped up through the center of the fountain and gracefully cascades over the stacked slate texture, creating an impressive effect. Also, add the element of fire to your stacked slate sphere fountain with the Aquascape Fire Fountain Add-On Kit (item #78221 sold separately).
Stone Fountains
Stone columns incorporate the sights and sounds of water into any environment, providing a stunning, three piece, natural stone water feature. The 3-piece sets include stones of three varying heights. No two columns are the same, providing each stone with unique qualities.
Bowl Fountains
The possibilities are endless, install the spillway bowls and basins as a stand-alone feature or link several together for an inspired display. Please keep in mind these bowls are sold as stand-alone fountains. To create this decorative water feature in your outdoor living space you will also need a water pump and reservoir such as the AquaBasin® 45.
Wall Fountains
Aquascape Stacked Slate Walls are constructed to use singly or patterned together to create unique design configurations for any landscape. Use add-on pieces for extra height or line them up to create a curving wall. The design possibilities are almost endless!
Need a Pond Builder?
Schedule a consultation with a friendly
Certified Aquascape Contractor
Looking for
Aquascape Products?