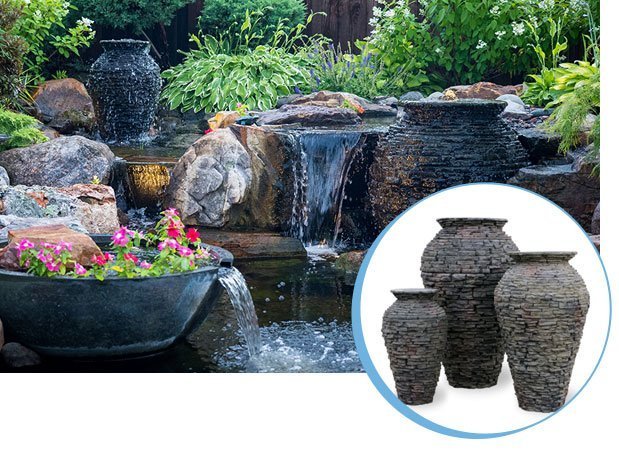 Choosing a Fountain Pump
When selecting a fountain pump, you want to choose a reliable and efficient pump that you can count on for years of enjoyment. Aquascape offers two lines of fountain pumps in a range of flow rates: Ultra pumps and Statuary pumps. All of our fountain pumps come with a 3-year limited warranty.
Our Ultra fountain pumps range in flow rates from 400 gph up to 2000 gph and pair perfectly with any of our beautiful fountain toppers. An included flow control valve lets you dial up or turn down the amount of water flow. Ultra pumps can also be used in small ponds and waterfalls.
Aquascape Statuary pumps range in size from 70 gph to 320 gph and are perfect for small decorative spitters like our bamboo and polyresin options. Each pump has an included flow control so you can easily customize the flow of water running through your spitter.
If you have an existing fountain that needs a replacement pump, simply choose the same gph from our line of fountain pumps that matches your existing pump's flow rate.
Fountain Pumps
For Use with Decorative Fountains and Spitters
Available in six models with maximum flow rates of
400 – 2,000 gph
Ideal for fountains and small external filters
Can be used in small ponds
Magnetically-driven motor technology
Available in four models with maximum flow rates of
70 – 320 gph
Ideal for small fountains and ornamental spitters
Magnetically-driven motor technology
Need a Pond Builder?
Schedule a consultation with a friendly
Certified Aquascape Contractor
Looking for
Aquascape Products?