Enjoy a
Clean and Healthy Pond!
Find & Connect with a Nearby Certified Aquascape Contractor
Your water feature deserves the best maintenance and care, so why not hire the best in the industry? Sign up to schedule a pond maintenance, cleaning, or repair consultation with a trained and knowledgeable Certified Aquascape Contractor.
When you're ready to get your project started, we recommend working with a Certified Aquascape Contractor (CAC).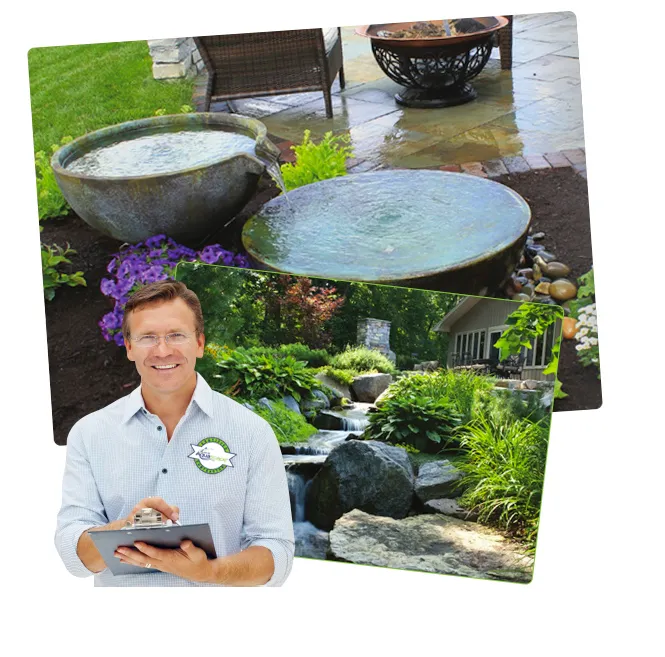 Waterfall and Pond Maintenance
A knowledgeable pond contractor can create the proper maintenance schedule for your pond, waterfall, or fountain. Most Certified Aquascape Contractors offer convenient maintenance packages so that you can keep your water feature looking its best all season long!
Waterfall and Pond Cleaning
On occasion, your waterfall or pond might need a deep cleaning that goes beyond general maintenance. A Certified Aquascape Contractor can assess the status of your water feature and let you know if a spring or fall cleaning is in order.
Waterfall and Pond Repair
If a pond or waterfall is poorly installed, you might experience a host of problems that keep you from truly enjoying your water feature. Services range from finding and fixing a leak, to rebuilding a problematic water feature. Connect with a Certified Aquascape Contractor today to schedule an appointment to repair your pond or waterfall so it functions the way Mother Nature intended!
The Certified Aquascape Contractor (CAC) is familiar with the installation of Aquascape's products. The CAC is not an employee, agent, or in any other way associated with Aquascape, Inc. Any agreement or contract you reach with the CAC is solely between you and the CAC. Aquascape, Inc. has no responsibility for, nor does Aquascape insure or guarantee in any way the performance of the CAC.