AquaSurge® Pond Pumps
Ideal for use in Pond Skimmers and Pondless® Waterfall Vaults
AquaSurge and AquaSurge Adjustable Flow Pond Pumps
Ideal for use in ponds, pondless waterfalls, and other water feature applications, Aquascape AquaSurge asynchronous pumps are designed for use in skimmer and waterfall-filter systems. Extremely energy-efficient, AquaSurge pumps are made for continuous use in either horizontal or vertical orientation.
AquaSurge pumps will not corrode or rust, and their rubber feet prevent noise and vibration while in use, making them a top choice for discriminating homeowners and pond professionals alike.
Excellent Energy Efficiency
Aquascape uses asynchronous motor technology in its AquaSurge pumps, providing high torque, trouble-free performance at higher head heights as well as excellent energy efficiency compared to magnetically driven pond pumps. The unique ceramic shaft with cooling port also prevents the pump from overheating.
You'll save hundreds of dollars over traditional water pumps, and its oil-free design helps prevent pond contamination.
Features of AquaSurge Pond Pumps
Learn the many features and benefits of AquaSurge Pond Pumps, ranging in flow rates from 2,000 to 5,000 GPH. This energy-efficient pump is a popular choice for a variety of water features.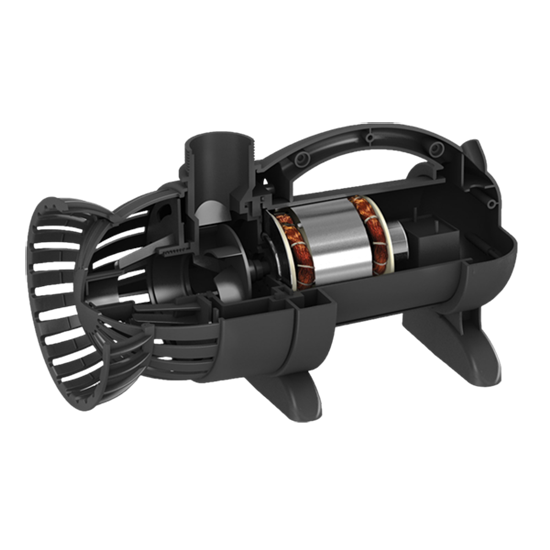 1
2
3
4
5
6
7
Compact Size
Small compact size makes the AquaSurge® the perfect pump for pond skimmers.
Cord Protection
Stainless steel rotor assembly resists corrosion and provides years of trouble-free operation.
Powerful and Efficient Motor
Asynchronous motor makes this pump more powerful and more efficient than traditional mag-drive, or magnetically driven pond pumps.
Unique Cooling
The unique ceramic shaft with cooling port prevents the pump from overheating.
Threaded Disconnect
The simple and secure threaded disconnect allows for the pump to be easily removed from the skimmer for maintenance or winterization.
Quite Operation
Integrated rubber feet prevent noise and vibration.
Horizontal or Vertical Placement
Can be installed horizontally or vertically using the included pump stand.
Included Accessories
Pump Stand
Included pump stand allows for vertical positioning within your skimmer or Pondless Waterfall Vault.
AquaSurge Pump Fittings
Multiple fittings included to simplify plumbing connections.
Including a rotational ball output which allows the discharge position to be easily adjusted.
AquaSurge Adjustable Flow Pond Pumps Also Include
Adjustable Flow Pond Pump Remote and Receiver
AquaSurge Adjustable Flow Pond Pumps also include a compact and ergonomic remote which allows you to wirelessly control flow settings.
The remote features flow adjustment buttons; on/off control and a numeric flow indicator so you can view your customized water flow setting.
AquaSurge® Low Suction Intake Attachment
Ideal for maximizing the amount of usable water in water features and preventing pump damage. The attachment connects directly to the intake of AquaSurge® pumps to allow the pump to operate in shallow conditions, including the AquaBasin® 45.
LEARN MORE
Optional Accessory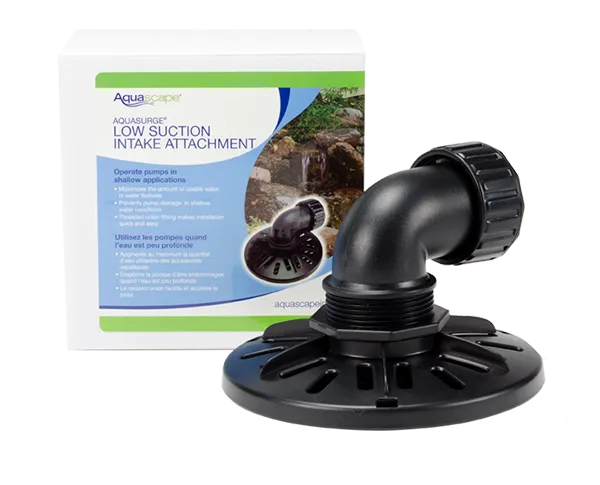 AquaSurge Pond and Pondless Waterfall Applications

Compare AquaSurge and AquaSurge Adjustable Flow Pond Pump Models
AquaSurge 2000
AquaSurge 3000
AquaSurge 4000
AquaSurge 5000
AquaSurge Adjustable
Flow Pond Pump
2000-4000
AquaSurge Adjustable
Flow Pond Pump
4000-8000
View Product
View Product
View Product
View Product
View Product
View Product
Model Number
91017
91018
91019
91020
45009
45010
Maximum
Flow Rate (GPH)
2193
3196
3947
5284
3947
7793
Adjustable Flow
--
--
--
--
Maximum
Head Height
12.5 feet
15 feet
18.5 feet
24 feet
18.5 feet
28 feet
Motor Type
Asynchronous
Asynchronous
Asynchronous
Asynchronous
Asynchronous
Asynchronous
Wattage
160
165
215
360
180 to 215
500 to 660
Amperage
1.3
1.4
1.82
3
1.82
5.5
Power Cord
Length
20 feet
20 feet
20 feet
20 feet
20 feet
20 feet
Pump Discharge
Diameter
1.5-inch MPT
1.5-inch MPT
1.5-inch MPT
1.5-inch MPT
1.5-inch MPT
1.5-inch MPT
Optimum
Pipe Diameter
1.5 or 2 inch
1.5 or 2 inch
1.5 or 2 inch
1.5 or 2 inch
2 or 3 inch
2 or 3 inch
Pump
Dimensions
12 x 5.5 x 7 inches
(LxWxH)
12 x 5.5 x 7 inches
(LxWxH)
12 x 5.5 x 7 inches
(LxWxH)
12 x 5.5 x 7 inches
(LxWxH)
12 x 5.5 x 7 inches
(LxWxH)
12 x 5.5 x 7 inches
(LxWxH)
Remote & Receiver
--
--
--
--
Warranty (Limited)
3 years
3 years
3 years
3 years
3 years
3 years
AquaSurge and AquaSurge Adjustable Flow Pond Pump Flow Chart (GPH)