AquascapePRO® Pond Pumps
Ideal for use in skimmer and falls filters systems as well as Pondless® Waterfall Vaults
AquascapePRO® Pond Pumps
AquascapePRO® Pond Pumps and waterfall pumps are ideal for use in skimmer filters and Pondless Waterfall applications. Known for their durability and performance, AquascapePRO pond pumps' heavy-duty construction provides strength and corrosion resistance, ensuring years of trouble-free use. AquascapePRO Pond Pumps provide high flow-rates and work efficiently in higher head height applications. Their rubber feet ensure quiet pump operation by reducing vibration. All AquascapePRO Pond Pumps carry a 2-Year Limited Warranty.
Compare AquascapePRO® Pumps
| | | | | |
| --- | --- | --- | --- | --- |
| | AquascapePRO 3000 | AquascapePRO 4500 | AquascapePRO 7500 | AquascapePRO 10,000 |
| Model Number | 20002 | 20003 | 20004 | 20006 |
| Maximum Flow Rate (GPH) | 2,900 | 4,500 | 6,700 | 10,600 |
| Maximum Head Height | 20 feet | 33 feet | 42 feet | 28 feet |
| Motor Type | Direct Drive | Direct Drive | Direct Drive | Direct Drive |
| Wattage | 280 | 625 | 1200 | 1240 |
| Amperage | 2.6 | 5.4 | 10 | 11 |
| Power Cord Length | 20 feet | 20 feet | 20 feet | 20 feet |
| Pump Discharge Diameter | 2 inch | 2 inch | 2 inch | 2 inch |
| Ideal Pipe Diameter | 1.5 or 2 inch | 2 or 3 inch | 2 or 3 inch | 3 inch |
| Pump Dimensions | 12 x 6 x 7 inches (LxWxH) | 13 x 6.5 x 7 inches (LxWxH) | 13 x 6.5 x 7 inches (LxWxH) | 12.5 x 9 x 17 inches (LxWxH) |
| Warranty (Limited) | 2 years | 2 years | 2 years | 2 years |
| | View Product | View Product | View Product | View Product |
Selecting the Proper Pump Size
Once you've determined which Aquascape pump family best suits your water feature application, you'll need to select the proper size pump.
Length in Feet
Width in Feet
Avg Depth in Feet
Elevation in Feet
Pipe Length in Feet
Pipe Diameter
Confirm your Water Feature Type
What type of water feature do you have? Select where the pump will be used, either in a "Pond" or "Pondless" water feature.

Pond
Pondless
Pond Volume
A basic pond pump will have the capability of turning the total volume of water over once per hour. Therefore, before choosing a pond pump, you need to know the number of gallons of water in your feature. You can find the volume of your pond in gallons with this useful equation:
(Length x Width x Average Depth x 7.48) x 0.8 = Pond Volume*
*Length, Width and Depth are measured in feet. We multiply by 0.8 to account for rocks in the pond.
Stream Volume
Before choosing a pump for your Pondless Waterfall, it would help to know approximately how many gallons of water your basin needs to hold. To do that, we will need to determine how much water is in the stream. You can find the volume of your stream in gallons with this useful equation:
(Stream Length x Stream Width x (Average Stream Depth x 0.25) x 7.48 = Stream Volume*
*Length and Width are measured in feet. For the purposes of this calculator we are assuming an average depth of 1 inch.
---
Your pump needs to remain fully submerged while running and the stream is full. We recommend the basin is large enough to hold double the amount of water found in the stream.
Stream Volume x 2 = Gallons in Basin
Flow Rate
Most pond pumps are rated by the gallons of water they're able to pump per hour (gph). As a general rule of thumb, a pump with a flow rate of 125 gph is needed for every inch of your waterfall width. So if the widest point in the waterfall is two feet wide, you'll need a pump with a flow rate of 3000 gph. Higher flow rates can be used if you want to produce a stronger, more dramatic water flow.
Waterfall Width x 125 = Apprx. Flow Rate*
*Waterfall width measured in inches
Head Height
Head height, also known as total dynamic head, represents the height water needs to be lifted (static head) plus the friction experienced by the water as it runs through the pipes (dynamic head).
Dynamic head is the amount of resistance caused by the plumbing. Water velocity (flow rate), pipe diameter, length and pipe material all play a role in dynamic head. Additional resistance will also be caused by fittings such as elbows and valves. Since this equipment is typically buried in the ground, sometimes an estimation of dynamic head needs to be used.
The calculation below is a simple way to estimate the approximate head height.
Static Head in feet + (Pipe Length in feet x 0.1) = Apprx. Head Height*
*Static head: The height difference between the surface of the pond and the waterfall
Pipe length: We're calculating 1 ft head per 10 ft tubing
Fittings: additional fittings would add 1 ft of head each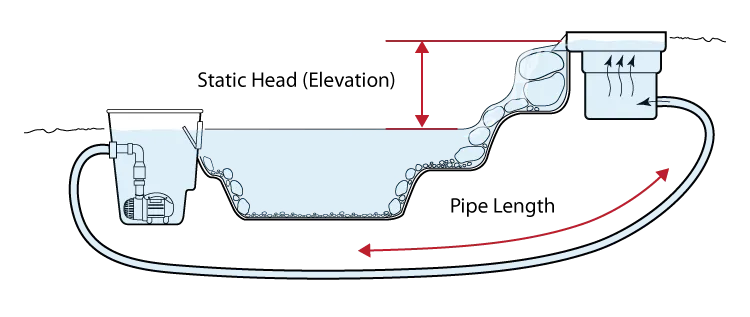 ---
The pond calculator is designed to help you find the pump you need for your project. Be advised that variables outside of this calculator, such as pipe diameter or number of elbows used, can influence proper pump selection. If your pond project exceeds the performance from a single pump, please contact Aquascape Customer Care for additional help.
AquascapePRO® Pump Flow Chart (GPH)
If your pond requires a pump that doesn't fall into the "Best Operating Zone" for our AquascapePro pumps, consider choosing one of our AquaSurge® pond pumps.
Need a Pond Builder?
Schedule a consultation with a friendly
Certified Aquascape Contractor
Looking for
Aquascape Products?